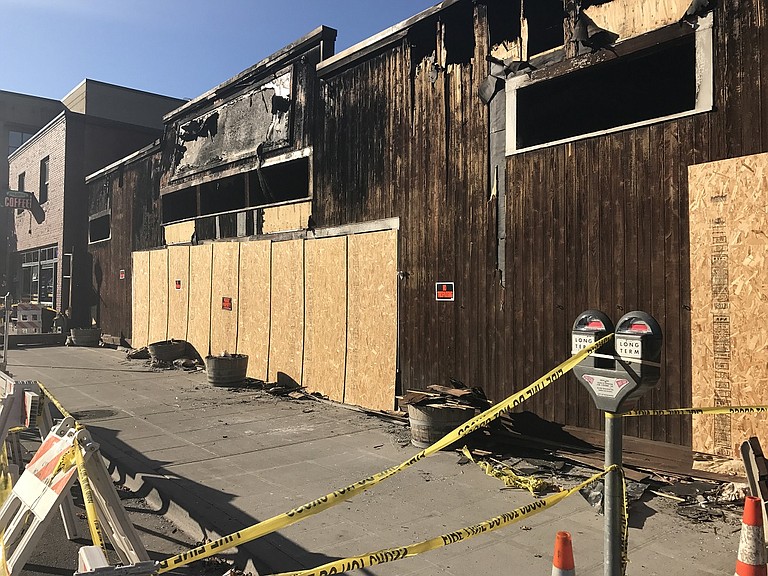 Saturday, October 7, 2017
Arson has been ruled out in the Kayak Shed fire, but the specific cause of the fire has not been determined.
That's the latest in the investigation of the Sept. 27 fire, according to Scott Reynier of Columbia Insurance, Thursday afternoon. The nighttime fire all but leveled the 110-year-old building, owned by Schlosser Family Trust. Reynier is working with the various insurance agency investigators and State Fire Marshal's Office in coordinating the investigation.
The investigation will likely take through Saturday, as there is "extensive forensic evidence to look at," Reynier said. The investigation report will be released next week, as early as Monday, according to Reynier. The report will be compiled by an investigator from The Traveler, the insurance company representing the Kayak Shed.
Vinnie Schlosser said Thursday, "We're just trying to filter through everything. It's an old building and we're trying to get her taken care of and make it safe." He said there have been reports of trespassers in the building, which is extremely unsafe to enter. Once demolition is complete, chain link fencing will be erected around the site.
Reynier said the demolition permit has been issued to Beam Excavation, but the firm will wait until the investigation and other documentation is done before starting the work, perhaps next week. He said the participation of multiple parties, combined with the size of the fire, leads to a complicated investigation process.
"Due to the large-scale of the fire, and the large scale of the financial loss, we need to let all parties activate all their resources, from a legal standpoint, to put themselves in the best possible position going forward." There is a lot of forensic work to do," Reynier said.
Kayak Shed owner John Hart has said he has no timeline for opening up a new shop, but has been considering potential locations.
•
The aroma of roasting coffee returned to the sidewalk in front of Ground café Thursday. While mixed with the burnt smells from the neighboring Kayak Shed fire, it signals the fact that Ground's Mike Van Sisseren was able to jerry rig the roaster and get it working again. The roaster was heavily damaged by water and last week Hood River News reported that the machine might have been another casualty of the fire. New parts are on order and Van Sisseren plans to complete the repairs next week. Van Sisseren and co-owner Carin Agren are still able to serve their own coffee and, as of this writing, won't have to rely on plan B, the offer of grinds from other roasters in town.