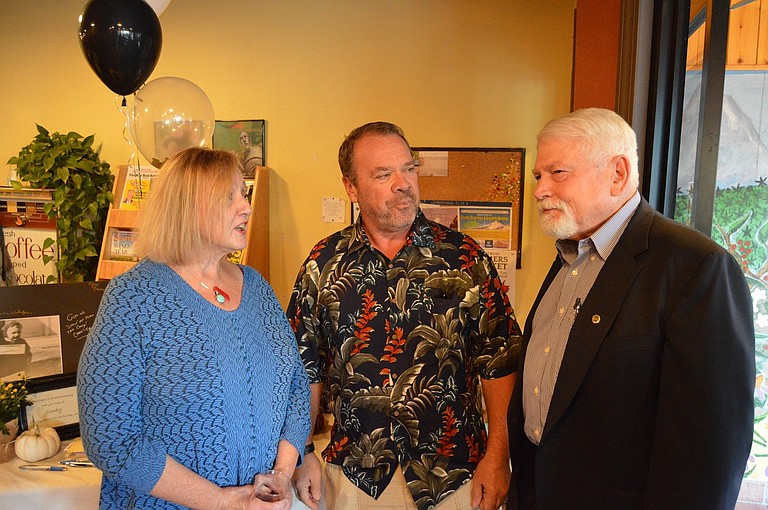 Saturday, October 7, 2017
Cindy Walbridge's long and productive career with the City of Hood River came to an official end at one of her favorite places.
Dog River Coffee, where Walbridge was seen most mornings fueling up on caffeine, was the scene of a well-attended reception Wednesday honoring Walbridge for her 27 years as planning director.
"It's been a great pleasure to work with her, both an excellent director and wonderful human being and a great asset to the City of Hood River and the whole community," said City Manager Steve Wheeler. "I'm happy for her. It is good for, her but a loss to the city and the body of knowledge she has," Wheeler said, noting that Walbridge will be available to have her brain picked, and could be retained on small-scale contracts. "It remains to be seen; we're honoring her retirement, too," Wheeler said.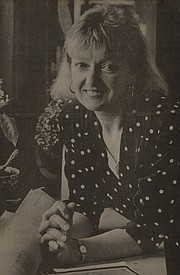 Among those at the reception was her successor, Planning Director Dustin Nilsen.
Before starting with the City of Hood River, Walbridge served as associate planner for Hood River County for three years. Walbridge also worked in planning for the City of Lake Oswego and then Crook County.
Walbridge started with the City of Hood River on Jan. 17, 1990, as "City Planner/Administrator of the Urban Renewal Agency." Walbridge graduated in 1981 from Portland State University with a major in geography and received a certificate in urban studies.
City council and the community also feted Walbridge at her last city council meeting Sept. 18. Mayor Paul Blackburn read her list of accomplishments, starting with the fact that she survived six city managers, and served as acting city manager numerous times, including during two major fires.In her time, the city grown 35 percent, from 4,677 to over 7,700 today.
Walbridge held critical roles in making major redevelopments a success, including:
• Designation of downtown as a National Historic District
• Waterfront Park
• State Street renovations
• Indian Creek Trail connectivity
• Transformation of the waterfront area, from mostly vacant industrial to what it is today
• Promoted affordable housing by leading the effort to change the zoning designation on Lot 700, Morrison Park, from Open Space/ Public Facility to Urban High Density Residential
Blackburn said she worked to move forward transformational policy initiatives, such as:
• Annexation for all new sewer service connections
• Revised code for Accessory Dwelling Units and Townhomes to promote housing availability
• Short-term rental restrictions and licensing.
•
Walbridge stated in a 1992 Hood River News column many of the themes she continued to promote to this day:
"My vision for the future of the City of Hood River is to maintain the existing tree-lined neighborhood with an emphasis on neighborhood character, a pedestrian-oriented downtown which integrates loft housing and apartments, parks and government, and a lesser dependence on the automobile for daily errands. As expansion occurs, small neighborhood commercial corners should be established at intersections throughout the Urban Growth Boundary."
She wrote, "Accomplishment of meaningful change to achieve my vision for the city will not happen with the wave of a magic wand, but rather through evolution and the gradual amendments at the ordinances as our emphasis shifts to evaluation of the impact of a use, as opposed to the segregation of uses."
Walbridge added, "The future character of Hood River will be based on our ability to retain and establish new uses at a people level with folks making eye contact across the street, and unguarded park conversations a common occurrence."