Originally published October 7, 2017 at midnight, updated October 7, 2017 at midnight
The City of Hood River was presented the 2017 Helen and Alan Berg Good Governance award at the 92nd Annual League of Oregon Cities (LOC) conference last week in Portland.
The award recognized the city for its Latino outreach program. Created in 1998, the Good Governance award honors city programs that connect citizens within a community. In 2010, it was renamed in honor of the late Mr. and Mrs. Berg, former mayors of Corvallis and presidents of the League of Oregon Cities.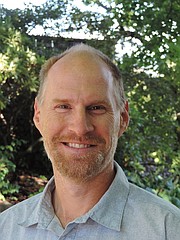 "We are honored to receive this award, as it is only one of two the League gives out, so it is exciting," said City Manager Steve Wheeler.
The Latino outreach program "demonstrates a city's effort to engage a disconnected segment of its constituency and ultimately create a more inclusive community," the LOC said in a press release.
It states: "In order to improve the representation of Hood River's Latino residents, Mayor Paul Blackburn (in 2015) formed a special Latino Advisory Council that would 'inform, empower and listen.'
"Since then, participation in community affairs by the city's Latino population has increased significantly."
In addition to the monthly Latino Advisory Council meetings, Blackburn has spoken at St. Mary's Catholic Church and on Radio Tierra, and before other Latino audiences to talk about city projects and gain input from the Latino population. Blackburn and city staff are now regular speakers on the local Spanish-language radio station.
Latinos form 40 percent of the local school enrollment and "a third or more in the city and county," Blackburn said in a 2015 Hood River News article on the city's Latino outreach efforts. "It is so very important we reach out to the Latino community. When I spoke from the pulpit, the people were so grateful for that, and pleased have the mayor there.
"The priest said this is the first time we have had a city official speak Spanish," said Blackburn, who was elected in November 2014, and is believed to be the only non-native Spanish-speaking mayor in Oregon. "It's been a great way to reach out," he said.
"Any time you can engage and do outreach is always valuable, I think it's been really helpful," Wheeler said. "But the credit for this award has to go to Mayor Paul Blackburn. He developed it and has really been the force behind it and made it happen. It's because of his efforts." Blackburn was unavailable for comment, as he is traveling to the Hood River Sister City of Tsuruta, Japan, for the 40th anniversary Sister City celebration.
The advisory council is primarily made up of native Spanish speakers, but is ad hoc, meaning the group can change from meeting to meeting and is open to anyone in the community. The next meeting will likely be in November, according to Wheeler.
City department heads have attended in the past, but Wheeler said one refinement to the Latino Advisory Council process is that all six city department managers are now appointed to attend the council meetings on a rotating basis: Police Chief Neal Holste, Fire Chief Leonard Damian, Planning Director Dustin Nilsen, Public Works Director Mark Lago, Finance Director/Assistant City Manager Will Norris, and Wheeler.
"It is really helpful to staff to be present, and to be part of that collaboration," Wheeler said.