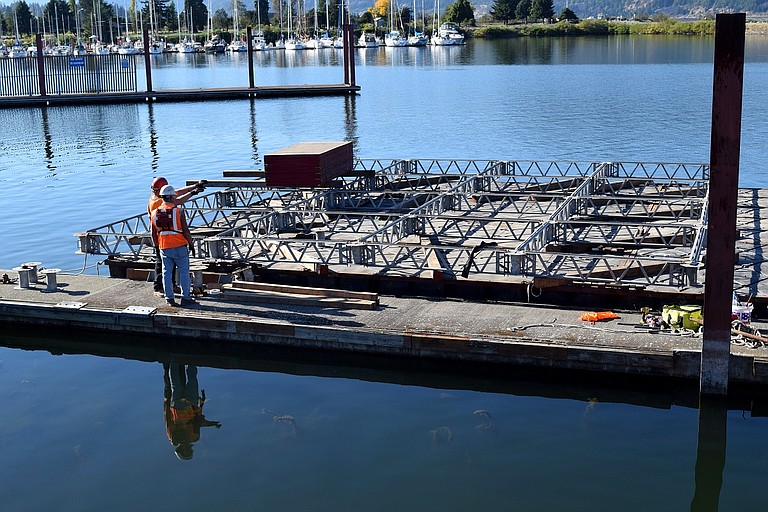 Wednesday, October 11, 2017
UPDATE: The four-hour total bridge closure planned for Thursday, Oct. 12 has been cancelled. Bridge engineers and work crews were able to complete the testing and equipment staging ahead of schedule.
---
The Hood River-White Salmon Bridge will see a busy October as bridge works presses on, but some anticipated closures have been lifted.
There will be two late night, four-hour full closures of the bridge late Wednesday and Thursday evening. These closures will go from 11 p.m. to 3 a.m., Oct. 11-12. Only emergency response vehicles will be allowed to cross during those times.
On a brighter note — for daytime commutes — daytime single lane closures previously planned for a larger window of Oct. 11-25 have been cancelled.
On Monday and Tuesday, motorists saw delays mid-day while crews worked on the bridge — the endeavor required full lifts of the bridge. The port advised bridge users to cross the Columbia River in The Dalles or Cascade Locks if possible during those hours.
Emergency repair work stemmed from an act of vandalism to the bridge lift span's electrical and mechanical controls that occurred on or around Sept. 21.
The incident left graffiti and damaged equipment, including cut wires and damaged control systems that operate the bridge's lift span. The control room had been broken into, and spray painted letters and images were found on the bridge's north tower.
Hood River Police are investigating the incident. Anyone with information is encouraged to contact detective Anthony Frasier at 541-387-5257.
For more information about bridge closures, contact the Port of Hood River by phone at 541-386-1645, or via email to porthr@gorge.net.