Wednesday, October 11, 2017
Matthew Frost and Kiki Hosaka, both Hood River Valley High School seniors, have been selected as the Hood River Elks Lodge September Students of the Month.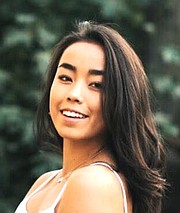 Hosaka is the daughter of Tammy and Terry Hosaka. Hosaka is one busy girl. Her community service ranges far and wide. At HRV, she is a student ambassador, and she works to make the school an open, welcoming place to all who enter it. She is also a Link Day leader, and helps to orient the incoming freshmen to their new school. She has contributed hours working for the FISH Food Bank by collecting cans and money and working onsite. She served as a counselor for the middle school's Outdoor Camp, and has donated hours as the school DJ.
Hosaka regularly participates in Community Work Day and donates her pay back to a non-profit organization chosen by the student government, of which she is also a part. She has done a great deal of volunteering through various sports, including as a youth soccer camp counselor and working at middle school track meets. She's helped set up the Evening of Excellence for the National Honor Society, and the annual STEM Fair in downtown Hood River. Additionally, she has served as a math tutor for younger students.
Hosaka is also a student-athlete. She has taken a slew of advanced placement and honors courses at HRV. She's a varsity soccer player and track athlete. She was chosen to be an Academy dancer for the Columbia Gorge Dance Academy. She participates on numerous clubs at HRV, including the Asian Club and Eagle Army. She's been a leader her entire high school career, as an energetic member of the school's ASB team, and a student facilitator in her work as an Asian American Youth Leadership Conference Student Ambassador. She's even found time to babysit and work at Yum frozen yogurt shop and at Sixth St. Bistro.
Hosaka has one sister, Megumi, who is a junior at the University of Washington. Hosaka plans to attend a four-year university, possibly Chapman University in Orange, Calif. She hopes to major in education or a medical related field. In keeping with her sense of community, Hosaka is donating her award money to the Girls' Soccer team's fundraiser for the Eagle Creek fire.
•
Frost is the son of Lynne and Mark Frost. He has two sisters, Catherine, who attends HRV, and Elizabeth, who is a seventh grader at Hood River Middle School.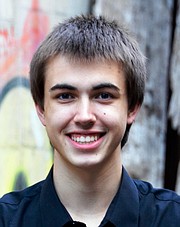 Frost is an exemplary student at HRVHS, holding a 4.0 GPA while taking advanced classes such as AP Calculus, AP Physics, AP U.S. History, Robotics and Engineering, AP English Literature and Composition, AP Spanish, and AP Government and Politics. He also participates in Wind and Jazz Ensemble and is an AVID Peer Tutor. He has taken classes at Columbia Gorge Community College and carries a 4.0 GPA there as well. He has been a member of the First Tech Challenge Robotics team at HRVHS since 2015 and serves as mechanical captain. His duties include managing the planning, design, programming, and building of a robot from scratch for international competition. As captain, he organizes meetings, delegates tasks, helps with fundraising, documents activities, and gives community presentations.
Frost has earned many awards including Student of the Month at HRVHS four times. He was a LINK Leader for freshmen students, was selected by HRVHS faculty to be a student ambassador to assist new students at the school, he is a National Honor Society member and has competed in the World Championships for Robotics and was the FIRST Tech Challenge Inspire Winner five times.
Frost has completed Piano Syllabus Levels 1-10 and received Superior Solo and Duet ratings. He competed in the Oregon Bach Festival in piano and has made it to the State Level twice. He was a member of the Boy Scouts Order of the Arrow and earned his Eagle Scout award by planning and completing the landscaping at the new School Based Health Center at HRVHS. He is currently a member of Boy Scout Troop 28 and served as Troop Guide, where he instructed the entire troop, working with members on their ranks and merit badges.
Helping others is something that Frost does freely and well. He tutors fellow students in math, chemistry, and biology. He has been a counselor at Robotics summer camps and at Cub Scout camps. He has worked with the local Lions club on the Christmas project, FISH Food Bank, Hood River Venture Crew, Trail Keepers of Oregon, Community Work Day, fundraised for Hood River Adopt-a-Dog by playing piano, participated in the Lila May Tutu Trot, and has assisted in the set up and management of swim meets, E-car Races, and FIRST Lego League Tournaments.
Frost has helped increase interest in Robotics locally by visiting area schools and presenting at school assemblies and conferences. He has helped his neighbors by doing landscape clean-up, has helped people move, weeded school gardens, collected and sent shoes to Africa for Soles for Souls, and has helped other Scout members with their Eagle Scout projects. Frost is interested in pursuing mechanical engineering or computer science, and his first-choice college is the Massachusetts Institute of Technology.