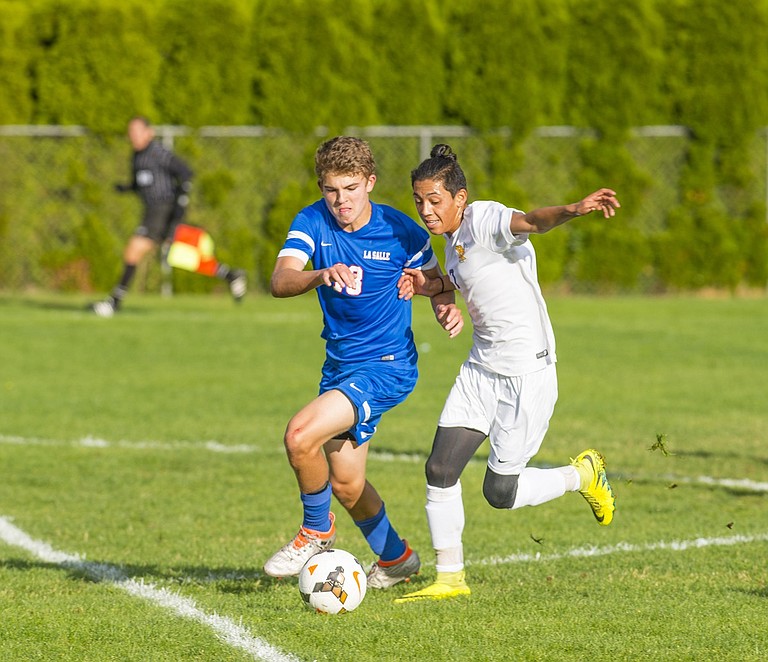 Originally published October 11, 2017 at midnight, updated October 11, 2017 at midnight
After nine games this season, the HRV boys soccer team has an unfamiliar record.
With their recent tie against Franklin on Saturday, the boys are now 5-2-2 heading into the final four games of the season before 5A State playoffs.
Last week against Hermiston, the Eagles were able to tie the game up in the second half to survive a scare from the Bulldogs.
This past weekend, the Eagles lost the lead with only a little over a minute remaining in the game.
Up 2-1 with one minute and 30 seconds left, the head official called a penalty kick against HRV — an apparent hand ball on the play.
Franklin would capitalize and tie the game at 2-2.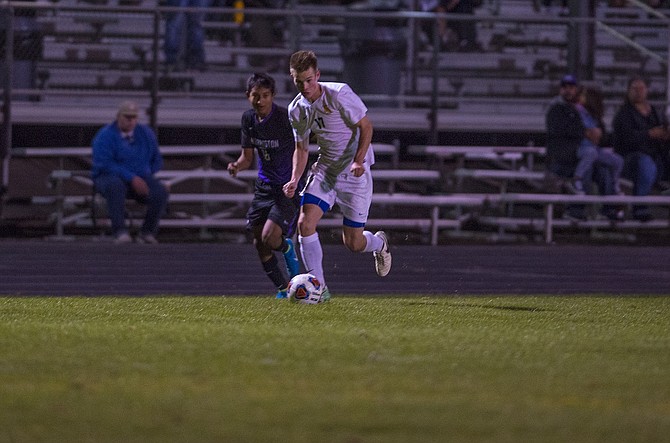 "We allowed the other team too many chances to get into our penalty area and eventually it hurt us," said Head Coach Jaime Rivera. "Our biggest issues right now have been the quality of our defending which leads to being vulnerable to the counter attack, and lack of offensive support which leads to too much dribbling and a stalled offense."
The first goal of the game was scored when the Eagles were stalling on offense, as a lazy pass was made and a Franklin forward capitalized on the error. The Eagles found themselves down 1-0 only five minutes into the game.
Franklin would quickly put the pressure back on the Eagles after their first score, as they were issued a penalty kick minutes later.
"But senior goalkeeper Alex Rodriquez, who made some tremendous saves all game, stopped the penalty kick that would've put Franklin up 2-0," said Rivera. "Instead of being down 2-0, we mounted numerous attacks, earning serval corner kicks, and eventually in a scramble for the ball off a corner, captain Saul Chavarria slotted one away from close range to make it 1-1."
The Eagles second goal was put in the back of the net by Westley Carter, who finished off an assist that was served up by fellow forward Angel Sonato.
Although there was a lot to be upset about on the outcome of this game, Rivera was still pleased with certain areas of the team's play.
"Offensively, we were able to generate offense with quick passing and movement off the ball, especially when we are on the counter attack and that's a good I took away from this game," said Rivera. "But a negative I saw against Franklin was we allowed them time to get into a defensive set, which kills our offense."
The Eagles would travel to The Dalles on Tuesday, Oct. 10 (results not available at press time) in hopes to break their two-game streak of ties.
On Thursday, Oct. 12, the Eagles will play a home game at Westside against Pendleton at 4 p.m.
"I know I sound like a broken record but we need to defend better if we want to win," said Rivera.