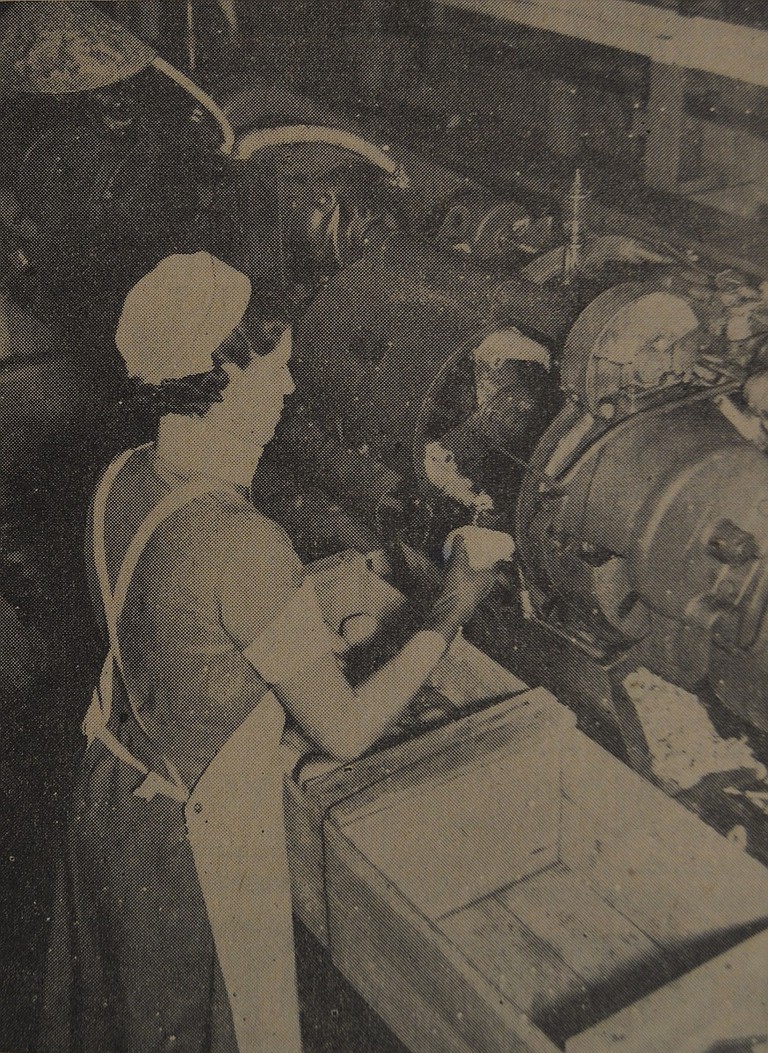 Wednesday, October 11, 2017
1917 — 100 years ago
The new war taxes designed to raise $2,500,000,000 under the provisions of the revenue bill signed last week by President Wilson is now effective. In the form of levies on incomes, excess profits, liquor, tobacco, transportation and various luxuries and amusements, the law either directly or indirectly affects everyone in the county. One of the first results is the advance in distilled beverage prices caused by an assessment of $2.10 a gallon.
VERBATIM: Women Seek Voice In Planning
Women seeking a more active part in city government appeared before the city council Monday to make their request a formal one.
A delegation from four women's organizations, representing even larger number of groups, asked that Mayor Robert Neilson consider naming a woman to the city planning committee. Terms of two members are due to be filled.
The women's organizations even had a list of names of possible appointees.
"For your convenience," said Mrs. Clara Rose, spokesman for the group, "we have contacted the following women who would serve on the city planning commission if appointed."
The list included Mrs. Mary Ann Hanks, Mrs. Robert N. Hackett, Mrs. Donald Emry, Mrs. Russ Guppy, Mrs. John M. Sieverkropp, Mrs. G.C. Crossland, Mrs. James Mallon and Mrs. Charlyn Henderson.
Those in the delegation appearing at Monday's meeting included Mrs. Rose and Myrtle Byers, Mrs. Dan Hanners, and Mrs. Joe Young. Mrs. Rose and Mrs. Hanners represented the American Association of University Women; Mrs. Young the Soroptimists; Mrs. Byers the Business and Professional Women.
Council members and the mayor, discussing the request with the women, asserted that the planning commission was a technical group to make rulings on ordinance provisions — and that it was not a body to initiate action on such things as parks and recreation.
But the group, which indicated an interest in parks development, stuck to its recommendation for a woman on the planning commission.
"We think the women of Hood River can contribute much in the future planning and development of this area and should be given an opportunity to serve," Mrs. Rose said. At present, none of the planning members is a woman.
No action was taken at Monday's council meeting, and the mayor was left to consider the request as he prepares to fill the two appointees.
— Hood River News, October 12, 1967
1927 — 90 years ago
A survey is being made by the local chamber of commerce of the number of chickens in Hood River County. A list of names which includes all who purchase chicken feed was obtained, and a letter mailed to each, asking that a card, giving the number of chickens owned, be filled out and returned. Up to the end of last week, data compiled accounted for 14,899 chickens owned in this county and many more are to be heard from.
1937 — 80 years ago
George L. Jubitz, who, with his son, Gilbert H., are now in possession of the Franz hardware store, admits that he already likes Hood River, but he will like it even more when he has succeeded in locating a home for his family, so that he can start calling himself a permanent resident of this county. Like many others before him, Jubitz has already run into that thorough proposition of finding a desirable house for rent, but a few of his newly-made friends have their lines out and, in due time, a home may be snagged for this newest family to arrive here.
1947 — 70 years ago
While the combined vote of Oregon communities snowed under the proposed sales tax and the new cigarette tax, voters of Hood River indorsed both tax proposals. The sales tax was favored by majorities in three of the town precincts, North, Waucoma and Heights, but Park precinct found the opposition stronger. In rural sections, majorities in favor of the sales tax were recorded in Dee, Frankton, Oak Grove, Odell, Pine Grove and Center, while Barrett, Mt. Hood, Parkdale and Cascade Locks disclosed majorities in opposition to the sales tax.
1957 — 60 years ago
Wy'east is presenting its annual all-school carnival, October 12, in the Wy'east gymnasium. The event will begin at 8 p.m. Money received from the carnival is one of the main sources of revenue for the student body. Princesses have been chosen from each class. Representing the senior class is Patricia Kiplinger; juniors, Roberta Reams; sophomores, Judy Hanson; and freshman, Joan Udelius. Students of each class will help determine whether or not the princess from their class will become queen or not by selling door-prize tickets.
1967 — 50 years ago
A 20-unit condominium apartment complex is scheduled for construction in Hood River, and developers say plans will be complete on several model units by the end of this month. The project is planned on property immediately east of the Anderson Funeral Home. The company is in the process of the construction of Anderson Funeral Home on Belmont. Anderson firm members are making finals plans for the move from Sixth and State to Belmont. The owners plan to have an open house on Nov. 4 and a private dedication and open house Nov. 5 to introduce the new facility to the public.
1977 — 40 years ago
Two historic names will have permanent places in the county through County Board of Commissioners road naming action Monday. The board voted to name a new road between Belmont and Avalon Way "Henderson Road," and established the road on Ruthton Point as "Morton Road" after hearing sponsors and a group of opponents who wanted to retain the name "Ruthton Road." Dr. J. Warner Henderson presented the proposal on naming Henderson Road, noting he had lived here 46 years, and that most of the road comes from his property. "I instigated it in the first place," he said. He also noted historical significance added by the fact that his mother was born here over 100 years ago.
1987 — 30 years ago
Pine Grove Elementary School students have joined the computer world, and they are inviting the public to visit their school during October — designated by Congress as "National Computer Learning Month" — to join in their celebration of computer technology. Third grade instructor Sharlene Wilkins has been very involved in the school's computer program and will serve as advisor for the school's chapter of "Apple Computer Club International," which held its first meeting during the noon hour on Oct. 6.
1997 — 20 years ago
Act III Theaters is proposing to build a six-plex movie theater just east of Walmart that could seat a fifth of Hood River's 5,110 population — all at one time. To put the 1,008 seat, 22,536 square foot complex into scale, consider that the Henderson community Stadium — which will fill to capacity at the football homecoming game next week — seats 800.
2007 — 10 years ago
Team Malibu, Team DeSoto and Team Scotch Broom wrestled weeds, old wood, tires, car parts, a bed, bags of trash and pieces of metal of all sorts from Indian Creek Saturday morning. Trash, much of it buried on hillsides, was found and removed by about 30 volunteers in a vigorous work party at the Columbia Gorge Community College Hood River site, now under construction just southeast of 13th and Pacific on the Heights. The work party was coordinated by the college, Hood River Watershed Group, Farmers Irrigation District and the Hood River County Parks and Recreation District, who will share use and development of the creek and future trails section after the college is built in fall 2008.
— Compiled by Trisha Walker, News staff writer