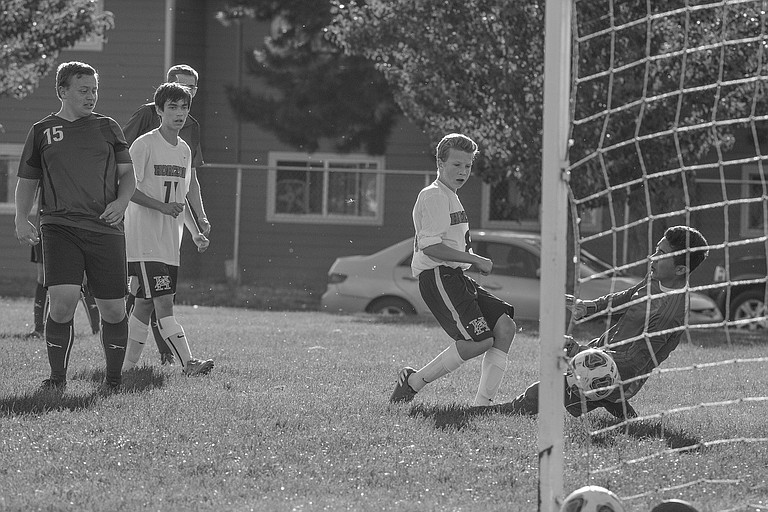 Originally published October 14, 2017 at midnight, updated October 14, 2017 at midnight
The Horizon Hawks soccer team had won two games in a row before their matchup with Southwest Christian, currently ranked 10th in 3A/2A/1A standings, on Wednesday.
The Hawks fell to the Wildcats 4-3 in a game that went down to the wire.
Goals from Kai Robertson and Kaitlyn Wenz put the Hawks up 2-1 heading into halftime.
Robertson scored the first goal off a header and then would get the assist on the next goal from Wenz, who found the far post and slid it past the keeper.
But within the first minutes of the second half, the Wildcats tied the game at 2-2.
Within the next 10 minutes, the Wildcat offense would add two more goals and push their lead to 4-2.
With time not on their side, the Hawks earned a crucial penalty kick late in this game.
Robertson scored his second goal off the penalty kick and with seven minutes left in the game, the Hawks were down one goal, 4-3.
"Kai (Robertson) was involved with every goal and was instrumental in the game against Southwest Christian," said Head Coach Andrew Stenberg.
However, the Hawks weren't able to stage a comeback and the loss puts them at 4-6 on the season, with a 4-5 league record.
Before their loss on the road, Horizon handily beat Central Christian 8-0 on Oct. 9.
Five different Hawks scored against Central Christian, including a four-goal performance by forward ad captain Kyle Brown.
Brown scored the first three goals of this contest in the 16th, 19th and 23rd minute.
Wenz would add to the 3-0 scoreboard in the 29th minute, making it 4-0 heading into halftime.
In the second half, Ethan Fuller, Brown, Ian Gray and Connor Wells all scored for the Hawks.
"Against Central Christian, we worked a lot on possessing the ball and working together. We moved people around and got everyone some playing time," said Stenberg. "Kyle was able to find the back of the net multiple times off some good ball movement and crosses.
"In both game this week, the team came out fast and ready to play," said Stenberg. "It's nice to see that from them moving forward."
The Hawks played their third game of the week on Friday, Oct. 13 (results not available at press time) at home against C.S. Lewis Academy.