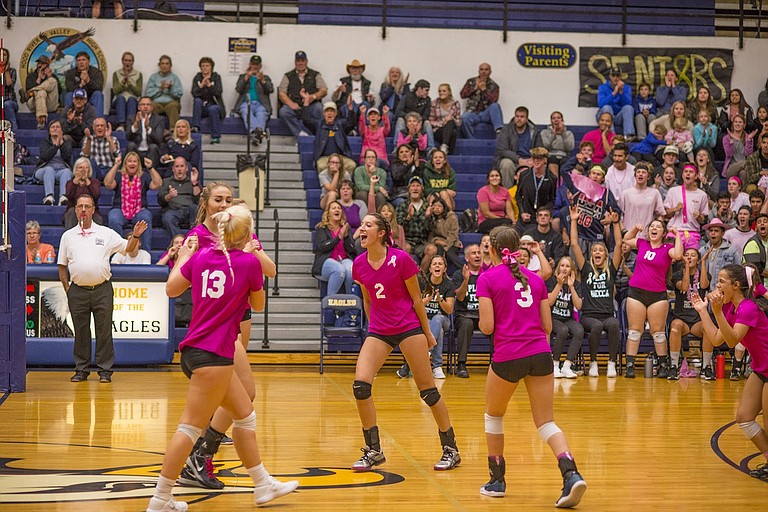 Originally published October 14, 2017 at midnight, updated October 14, 2017 at midnight
HRV volleyball played Tuesday night in a game that was nothing like their other 17 this season.
Not only were Columbia River Conference title aspirations on the line, but the team was also paying tribute to former HRV volleyball player Rebecca Johnston.
Johnston, an outside hitter for the Eagles last year, began her freshman year of college this year playing volleyball at Whitman College in Walla Walla.
Unfortunately, Rebecca has been diagnosed with Osteosarcoma, which is a rare and aggressive form of childhood bone cancer and "her volleyball career is definitely up in the air," said Julie Johnston, Rebecca's mother.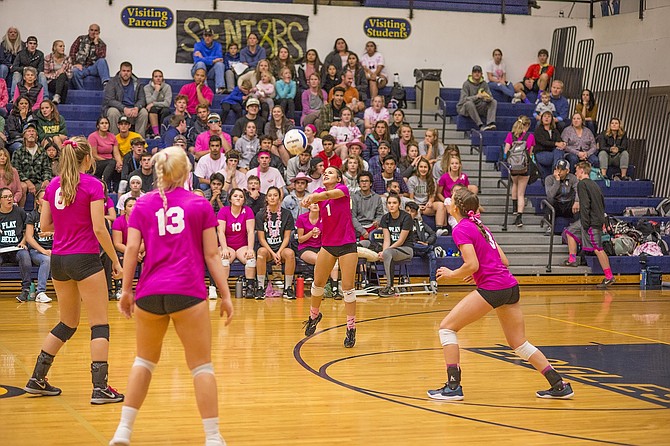 On Tuesday against Pendleton, the girls from HRV honored Johnston by wearing warm-up t-shirts that read, "Play for Becca," on the front. On the back it showed Johnston's name and below her name was the number she wore with the Eagles, "Johnston, 01."
"Ever since Rebecca has been diagnosed we have received such an outpouring of love and support from every aspect of our community and what has been most special has been the care shown from her volleyball community at the High School here in Hood River," said Julie. "The players, coaches, parents and school have really embraced Rebecca in this time and have really lifted her up. It is comforting for Rebecca to know that even though she had to leave her volleyball family and friends at Whitman College she still has a huge support team from her HRV volleyball family and friends and that she is not alone in this fight."
Despite all that has happened, Rebecca is continuing to finish some of her classes remotely with Whitman College and "she understands that this is just a bump in the road," said Julie.
This match against Pendleton was also HRV's breast cancer awareness game, as the coaching staff and players on the bench wore pink ribbons on their t-shirts, while players wore pink uniforms and students in attendance filled the stands with pink.
With much to play for, the girls would have to face the Buckaroos down two key players who sat out with injuries: Shae Duffy and Katie Kennedy.
"It is hard when 80 percent of your offense is sitting on your bench," Head Coach Scott Walker said. "But it really has been a blessing in disguise."
The team rallied together Tuesday night and took down the Buckaroos 3-1.
"The support last night from the bench and on the floor was phenomenal," Walker said. "It is a lot of fun as a coach watching the girls perform 'together' like they did."
The girls dropped their first set 25-20 in part due to an unfamiliar lineup without Duffy and Kennedy, but would quickly find their rhythm.
The Eagles handled the Buckaroos in the following set, 25-17.
Hannah McNerney ended the second set with an ace, getting the crowd on their feet and providing a spark heading into a pivotal third set.
The teams would practically exchange points in the third set up until Pendleton called a timeout with the game all tied up at 23.
With no clear indication of which team had momentum coming out of the timeout, Kennedy James took matters into her own hands.
James fired a strike that found a gap on the right side of the court to put the Eagles up 24-23, giving the Eagles the extra boost needed to finish off the set to win 25-23.
Winning this set "helped with our confidence going into the fourth, to know that we could gut one out when we had to," Walker said.
The Eagles would finish off the Buckaroos in the fourth 25-18, putting them ahead of Pendleton in the league standings.
Leaders in kills against Pendleton were James (19) and Emily Curtis (14).
Assists were handled as usual by McNerney (20) and Curtis (16).
The girls totaled 75 digs Tuesday night and just about everyone got involved in the action on defense.
Madi James (25) led the Eagles in digs and was followed by Kennedy James (14), Leticia Martinez (12), Haylee Baker (8), Curtis (6), Emilie Ellifritz (6), McNerney (3) and Carli Stroud (1).
Seven girls also contributed to the Eagles 6.5 total blocks: Stroud (2), McNerney (1.5), Baker (1), Kaylin Winans (0.5), Ellifritz (0.5), James (0.5) and Curtis (0.5).
"I play all of my girls, but some of them don't get a lot of game experience, so when you lose some players who get a ton of playing time, game experience becomes a necessity," said Walker. "The other girls could always do the things they were doing, but maybe didn't have the self-confidence to perform the way they could. With Kennedy and Duffy sitting on the bench it gave some role players opportunities to realize that they really can play at a high level in a game situation."
---
For the Eagles, beating Pendleton put them one step closer to a CRC title, but would need to win at least one of their last two games of the season, and on Thursday they did just that.
HRV volleyball are CRC champions for a third year in a row after they went on to beat the Bulldogs in four sets.
The Eagles would surprisingly drop their first set against Hermiston (25-21), but the Eagles wouldn't let the Bulldogs steal senior night away from them and get in their way of the CRC title all in the same night.
HRV would go on and win the next three sets (25-13, 25-22 and 25-20).
With playoffs quickly approaching, Walker hopes Kennedy and Duffy are back on the court soon. "We are hoping Katie and Shae will be available next week, but we have to prepare like they are unavailable until we are sure they can play."
The last game of the regular season for volleyball is next Tuesday, Oct. 17 on the road against The Dalles.