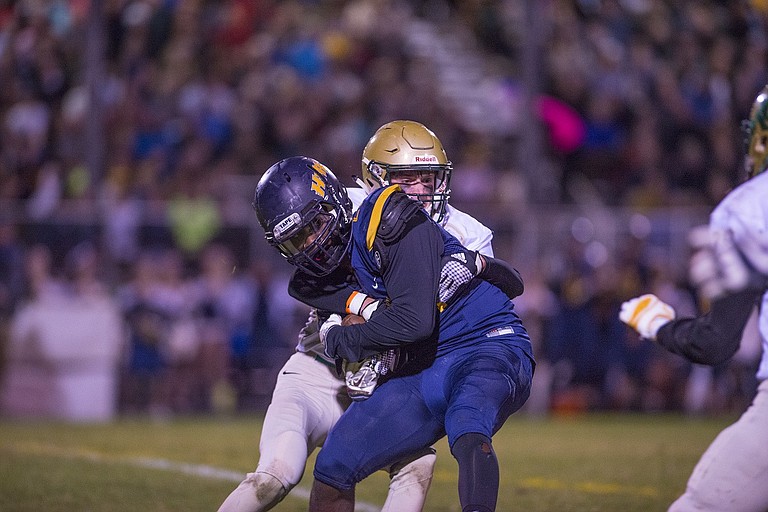 Originally published October 18, 2017 at midnight, updated October 18, 2017 at midnight
At this point in the season for the HRV football team, "there's nothing to lose now," said Head Coach Caleb Sperry. "We just have to go out there and have fun playing the game we love."
There's no easy way to put it, but the HRV football team has lost four games in a row after their 32-6 loss at home against Pendleton on homecoming night.
And it only gets tougher for the Eagles.
In their last home game of the season this Friday, the Eagles go up against Mountain View, one of three teams that remains undefeated in 5A with a 7-0 record.
Mountain View is coming off a 62-6 victory at home against Ridgeview and are currently ranked second in 5A OSAA standings, only behind Crescent Valley.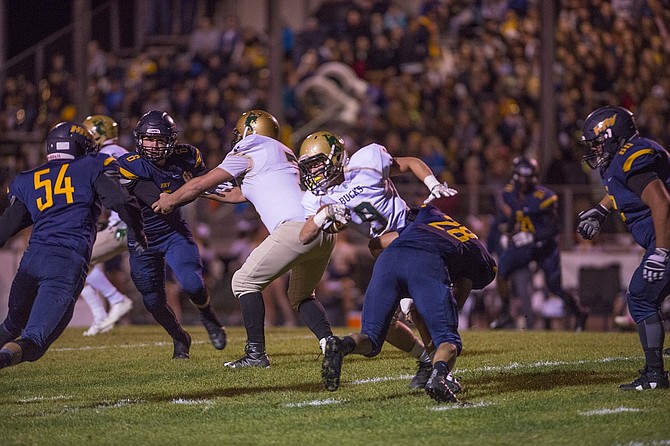 And to make things worse for the Eagles, Mountain View has scored an average of 36 points this season while only allowing 10 points per game.
Not a good sign after losing by a 26-point margin last week to Pendleton.
Against Pendleton, the Eagles were able to get off to a fast start, but couldn't sustain that momentum through four quarters.
Halfway into the first quarter, HRV put the first points up on the board thanks to halfback Brandon Rivera.
Rivera took a handoff and bumped it outside, where he would follow his blockers and break loose for a 27-yard touchdown run. The Eagles would come out following the score and miss the extra point, 6-0.
This would be the only drive of the game for the Eagles that ended within the opposing 40-yard line.
Pendleton went on and scored their first touchdown of the game with six minutes left in the second quarter off a five-yard passing touchdown.
Despite the offensive struggles in the first half, the Eagles were only down 7-6 heading into halftime.
"Our offense was never able to reward our defense," Sperry said. "Our defense actually played an outstanding game through two and a half quarters, but with us continuing to play poorly on offense, the defense eventually began to wear and tear."
The Eagles offensively would make it very easy for Pendleton to take control of this game following halftime.
In the second half, this Eagles' offense only had five first downs and an average starting field position at the 26 yard-line.
These statistics for the Eagles played right into Pendleton's favor as they were able to force the Eagles into three and outs deep in their territory, meaning great ensuing field position for the Buckaroos as their average field position was near the 49-yard line.
Halfway into the third, Pendleton began their dominating performance with a six-yard rushing touchdown, 14-6.
The next possession for the Eagles ended in a quick three and out.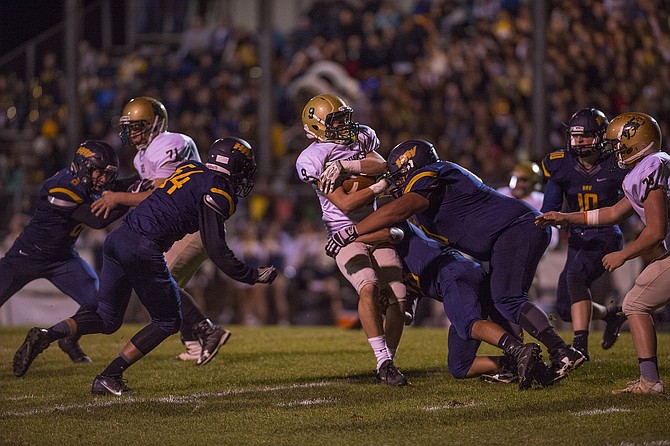 And only about a minute after their first score of the third quarter, the Buckaroos would strike in a hurry as their halfback Aiden Patterson busted through a gap in the trenches and would eventually reach the end zone to cap off a 55-yard carry.
Pendleton would score two more times in the fourth quarter and the Eagles would drop their homecoming game 32-6.

"Last Friday we just couldn't convert and that was really frustrating," said Sperry. "Offense did a real poor job of helping our defense and it led to a disappointing loss in front of our home crowd for the first time this season."
The Eagles on offense tallied in only 153 total yards, their lowest of the season.
Caden Leiblein continued his recent struggles at the quarterback position for the Eagles, ending his night with 11 completions on 25 attempts for 77 yards and one interception.
Leiblein usually has a rushing attack to fall back on, giving him a chance to take some shots down the field, but for the first time this season the running game was non-existent.
Rivera with 55 yards and a touchdown led the Eagles in rushing, but the other five athletes who carried the ball last Friday only added 21 more yards to Rivera's total, leading to another low on the season for the Eagles with 76 total rushing yards.
Despite the lack of offensive efficiency, Sperry said, "We had some decent drives going and we just couldn't finish them out.
"I just feel like we're an assignment away from breaking a big play, but we will miss a block, catch, throw or whatever it may be and the total outcome of that is we miss great opportunities."
The Eagles also had a season high minus-2 margin in the turnover battle and on first and second downs only averaged around two yards per play.
It wasn't the way the Eagles had it drawn up against Pendleton, but there's no need to dwell in the past as a powerhouse comes into Henderson Stadium this week.
Heading into their matchup against Mountain View, Sperry needs his team to "finish their job and compete.
"Against Pendleton, we were forced off the field on a lot of our third and fourth downs and we were only about a yard away from the first down marker on a few of those downs, so we must do a better job of converting if we want to win games," Sperry said. "And focusing on your job and minimizing our mistakes will be a focus as we head into this week's game."
HRV (2-4 overall, 1-4 league) looks to pull off the upset on Oct. 20 with a scheduled kickoff time of 7 p.m. against Mountain View (7-0, 5-0) in HRV's senior night and HOF game at Henderson Stadium.
"There's plenty to get excited about heading into this week's game," said Sperry. "We get to test ourselves and we just need to go out and play the game and have each other's back as we step on that home field for one last time."