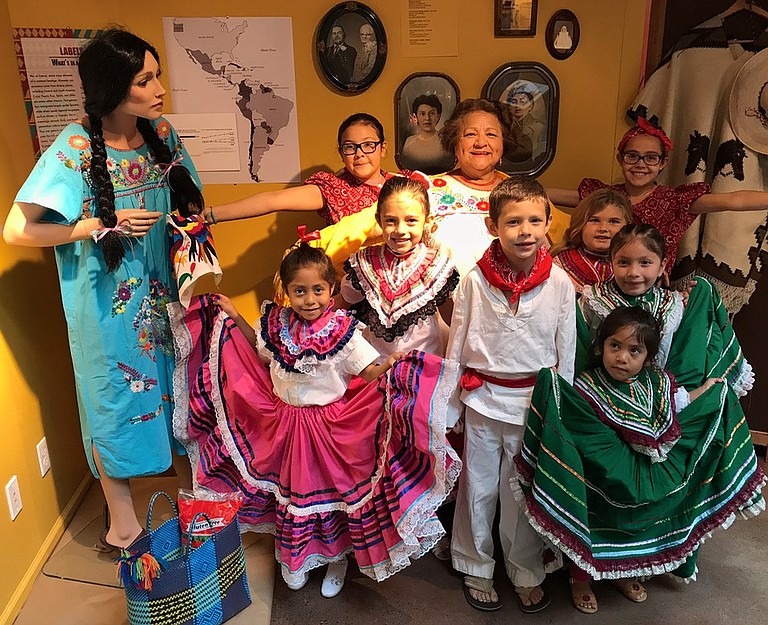 Wednesday, October 18, 2017
The creative spirit of Latino culture currently enlivens The History Museum. "Sharing History/Building Community" opened last week with the laughter of children, classic Latino folklorico music and dance, and dozens of visitors enjoying the new exhibition, as well as traditional sweets.
This new exhibition explores the historical context and contemporary realities of the Latino experience in the Hood River area. From 16th century Spanish explorers, to the desperately needed World War II-era workers of the Braceros Program, to the riddles of 21st-century immigration, the installation traces the path our Latino friends and neighbors have traveled to share this beautiful place with us. We celebrate their rich culture, and importantly we salute their contribution to the economic vitality of our area.
The museum's Latino Advisory Committee crafted the exhibition storyline and shared objects for temporary display that showcase Latino culture. The story begins with the earliest Hispanic presence in Oregon, when 16th-century Spanish explorers sailed up and down the West coast charting potential harbors and settlement sites. Settling throughout the "New World," Spanish colonizers mixed with indigenous peoples of Mexico, Central and South America, and the Caribbean. Today, Latinos share this common heritage, but their ancestors come from many different and distinct places.
The special joy of museum work is the ability to bring together objects from the collection with pertinent items from the community.
For example, a Pre-Columbian clay figure belonging to the museum shares the stage with a small black wool llama. Purchased recently by a local resident, the llama is ridden by masked Zapatista riders (rebels?) from the Chiapas region of Mexico. Local dance impresario Sandy Salazar deserves a special shout out of appreciation, because she lent a number of family treasures to the exhibition.
Another special loan object is the Juanita's Chips mascot. Almost life-sized, this wooden burro (with sad eyes fringed by wonderful eyelashes) is both company logo and symbol of the determination and energy of Juanita Dominguez and her family. We thank Luis Dominguez for making this and other objects available for display.
Costumes, photographs, sensational newspaper articles, and numerous examples of traditional Latino arts and crafts tell the story of our own Latino community. "Sharing History/Building Community" traces how a desperately needed, but transient, labor force has joined and enriched our community. Today Latinos contribute to a wide-range of businesses, professions, education, politics, sports, and the arts, as well as the agriculture sector.
Their fascinating history needs to be told and celebrated, because undoubtedly Latinos are now essential contributors to Hood River County's economic and cultural life.
•
Dr. Lynn Federle Orr is executive director of The Museum of Hood River County and curator of the "Sharing History" exhibit.