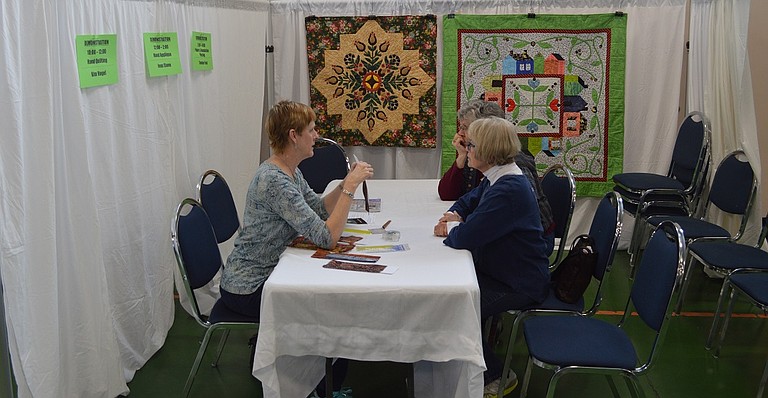 Wednesday, October 18, 2017
The Columbia River Gorge Quilters' Guild (CRGQG) have two shows running concurrently in Hood River and The Dalles this week. The 10th Annual Gorge Quilt Show is at the Hood River Armory this Friday and Saturday, Oct. 20-21. At the same time, The Dalles Art Center gallery is presenting a special exhibit of art quilts created by "Beyond the Block: Art Quilters of the Gorge." A combined total of nearly 150 quilts will be on display in the two locations.
More than 130 quilters are now part of the Gorge quilt guild, and the Hood River show displays a wide variety of the projects they've been working on this past year. The entries range from traditional bed quilts to throws and wall hangings that represent the entire spectrum of quilting today, including machine embroidery, folk art, graphic modern and art quilts.
"Our local quilters are creating work that is exhibiting, competing and winning awards in shows far outside the Gorge," said Kim Vogel, Guild President. "Our quilt show is your chance to see what these people are achieving with fabric and a sewing machine."
The show also includes booths to browse fabric and patterns and discover the latest advancements in machines for sewing, quilting and embroidery. Plus, bargains and super deals are back again this year at Quilt Market. "Our members clean out their sewing rooms and studios and we put it all on sale at great prices for you," Vogel added, "fabric, patterns, tools, books, magazines … the works. We also have a consignment boutique that includes a selection of handmade items for sale."
Throughout the show, there are on-going quilting demonstrations giving visitors a chance to see some new products and techniques, to ask questions and to learn more about quilting and the Gorge Guild.
The Armory is located at 1590 12th St. The show is open 10 a.m. to 5 p.m. daily. Admission is $6 (see ad in this newspaper for a $1 off coupon).
In addition to the annual show, a special exhibit of artwork by Beyond the Block is currently on display in the gallery at Dalles Art Center. Beyond the Block is a group of fiber artists belonging to the Gorge guild who are committed to creating art utilizing quilting techniques. The show will be exhibited through Nov. 11. The gallery is located at 220 E. 4th and is open Tuesday - Saturday, 11 a.m. to 5 p.m.
To find out more about the Gorge guild, their activities and information about their meetings and events, visit www.gorgequilters-guild.org.