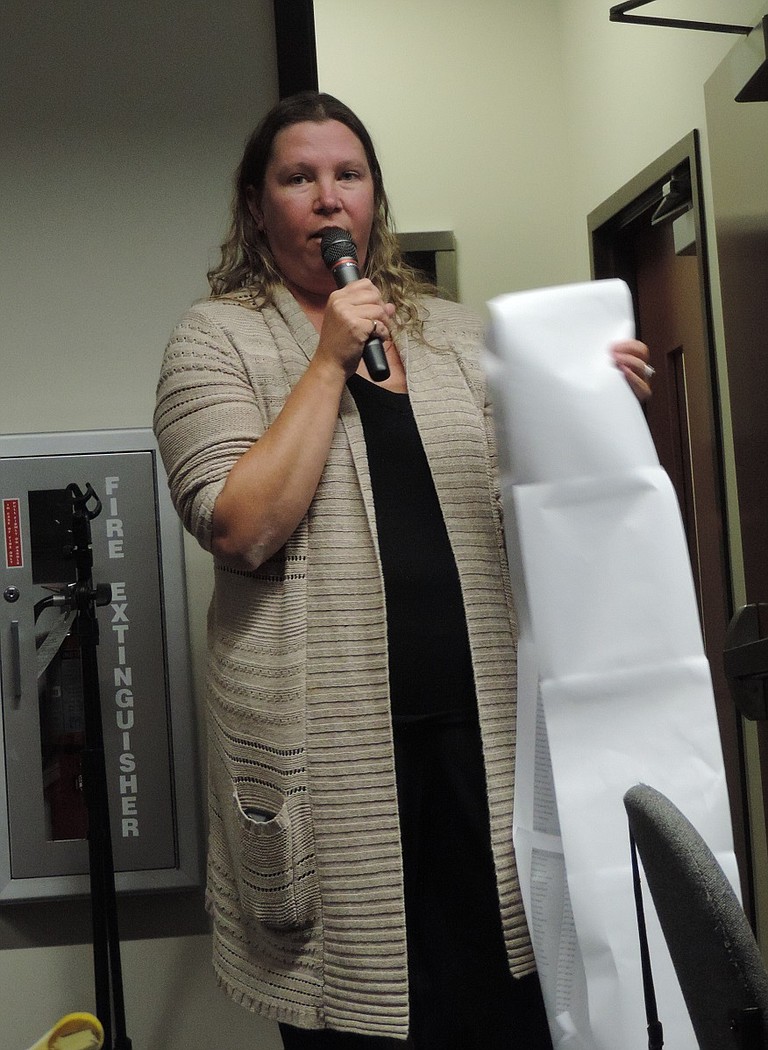 Wednesday, October 18, 2017
The wide-ranging Westside Area Concept Plan (WACP) moved on, with plenty of grinding gears, to its next phase, initial review by Hood River City Council, following an often-contentious meeting the evening of Oct. 11 at the Hood River Fire Hall. About 100 people filled the meeting room.
The WACP is the work of two committees that have heard community input and provided guidance on proposals by the Angelo Group consultants on the plan that includes specific steps including rezoning, designation of parks and trails, as well as new and revised vehicle routes in the 436-acre Westside Planning Area — generally Hood River west of Rand Road, and including county areas within the Urban Growth Boundary.
Next stop for WACP is the Nov. 11 goal setting session, where city council will review how WACP fits city priorities and determine how and when to proceed with the document, Planning Director Dustin Nilsen said Tuesday. The session, at Hood River Library, starts at 8 a.m. and is open to the public.
Consultant Joe Dills said, "This is not a finished plan by any means. There is still plenty of work to do. This represents a bridge between what the community has been doing and the developing work (of TAC and PAC) and the planning commission, which will be the recipient, and who will refine and tweak it, and, should the city decide to, adopt it," Dills said.
The meetings at the fire hall were the final ones of a year-long process by the Technical Advisory Committee (TAC), held in the afternoon, and the evening meeting of the Project Advisory Committee (PAC).
More than 25 community members rose to speak, with all but a few expressing strong disagreement of any plan to rezone Westside private properties to higher density. The goal of that move is to increase the supply of affordable or work force housing, and uses the 2015 Housing Needs Assessment study (HNA) by the city as its basis. City council has listed promoting of affordable housing as its top goal since 2015.
"This represents a good chance to move the needle on some of the long-term priorities the city has had," said Joel Madsen, executive director of the Mid-Columbia Housing Authority.
But most speakers, while acknowledging the high need for affordable housing, said that goal can be achieved through existing zoning if it comes with public agency cooperation in developing multi-family housing, and that the plan contains no assurance that housing built in rezoned areas would remain as affordable homes. Opponents also suggested that a drop in projected annual population growth to 1.4 percent from the 2 percent cited in the HNA pointed to less urgency in any change in zoning.
Kristi Chapman, a Westside resident, said, "We need to start over and take another look." She displayed the paper print-out of an online petition she conducted and garnered more than 1,000 signatures against WACP. She submitted a packet of petitioners' comments. PAC member Eileen Garvin argued that "we need to demonstrate to Hood River that somehow we have a housing crisis and a need for affordable housing. The change in percentages does not change the need."
PAC member Heather Staten said the planning commission "will put (WACP) through their own extremely extensive process, change a lot of it, have a lot of public input, and I think we're ready to get rid of this and let it be someone else's work."
The strongest opponents to the plan were members of the PAC itself: Susan Crowley, Bob Schuppe, Denise McCravey and Brian Becker, who submitted "dissenting statement" that said the plan had inadequate public review and requested that the planning commission not consider "at this time" a blanket amendment of the present zoning ordinances and zoning map, nor applying any of the WCAP recommendations city-wide, stating, "residents outside the Westside have received no notice they may be affected."
The statement also urged the city to "establish a process for extensive public participation and feedback to occur before the city initiates any zoning code, map or Comp Plan."