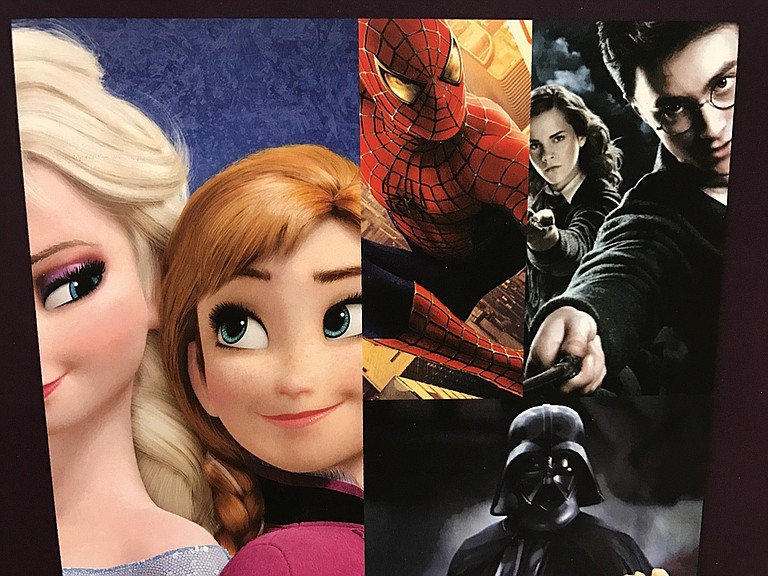 Saturday, October 21, 2017
More than 80 schoolchildren were treated Tuesday night to a special dress rehearsal by the Columbia Gorge Orchestra Association's Sinfonietta. The Sinfonietta concert was comprised of musical selections from popular movies — songs the young crowd immediately recognized from "Star Wars," "Spider-Man," and "Frozen," to name a few.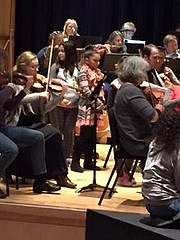 Sinfonietta orchestra member Ed Price noted that the children were one the most enthusiastic and attentive crowds he had performed for in a while.
"I just wish everyone could have been there to experience this, to see these kids screaming with delight when each song was announced," he said.
Director of the Sinfonietta, Mark Steighner, further delighted the crowds by allowing the kids to conduct the orchestra and to sit on stage, "up close" with the musicians.
CGOA Outreach Coordinator Corin Parker, who teaches music at Chenowith Elementary School in The Dalles, helped organize the event. Youth from several area schools around The Dalles were bused to the dress rehearsal, which was held at the Wy'east Performing Arts center in Odell. Parker noted that for all but a handful of the youth this was the first time they had ever seen a live orchestra.
"A Musical Movie Night" will be presented for the general public this weekend. The show features cinematic music from many classics, such as "Fantasia," "Harry Potter," "Superman," and "How to Train Your Dragon."
Conductor Mark Steighner says that in addition to the music, audiences may be surprised by some special guests in the lobby, so ready your camera phones. Additionally, Steighner encourages younger audience members to really get into the spirit of the concerts by dressing as their favorite character from any of the featured movies. Anyone coming in costume will get a free cookie. Pine Street Bakery will be providing baked goods for Friday's evening performance.
The Musical Movie Night Concerts are Oct. 20-21 at 7 p.m., and Oct. 22 at 2 p.m. in the Wy'east Performing Arts Center. Tickets are $15 for adults (18 and over), $10 for students and children (10-17) and free for kids under 10.
Groups of 10 or more receive a $2 discount per ticket.
Tickets are available at the door or through gorgeorchestra.org. Information about the Orchestra, Jazz Collective Big Band, Voci Choir, and Stages Theater is available on the CGOA website at www.gorgeorches-tra.org.