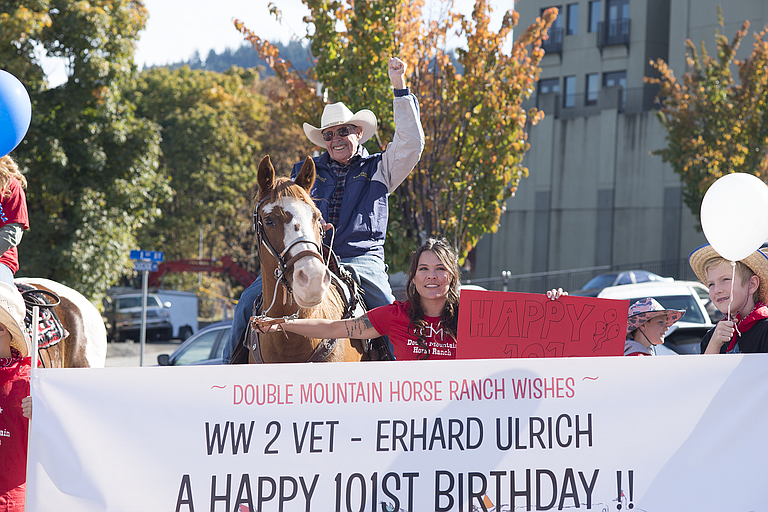 Originally published October 21, 2017 at midnight, updated October 21, 2017 at midnight
It's common for someone to drive a car, maintain a home, garden, travel, stay physically active and lend a helping hand in the community, but it's less common at the age of 101.
Erhard Ulrich, of Portland, who turned 101 on Sept. 20, continues to do all these things and more — and celebrated his birthday in Hood River last weekend.
Last year, Ulrich celebrated his 100th birthday ziplining in Warrenton at High Life Adventures.
This year's birthday, he wanted to bring back childhood memories.
As a 10-year-old boy in 1926, Ulrich would ride a horse nearly three miles to school every day; fast-forward 90 years later, and he would saddle up one more time.
On Oct. 15, Ulrich showed everyone he's still got it as he jumped up on a horse and rode through downtown Hood River.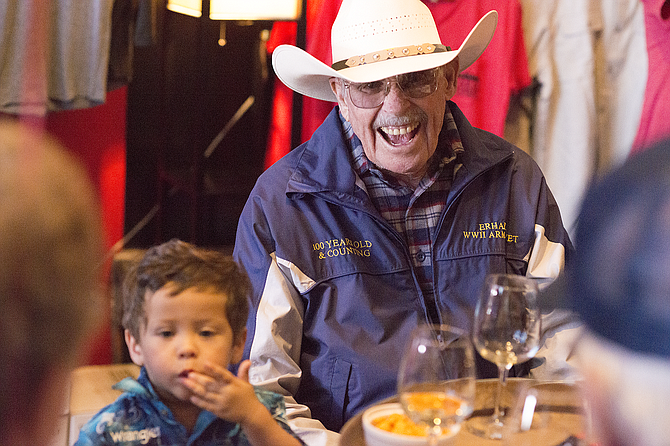 Courtney Chase accompanied her great-grandfather on the ride.
"My daughter, his great grand-daughter, was honored to get to ride along with him," said Angela Miyake, mother of Chase. "It's something that will always be in her memory. For her it was so special because her whole life she has rode horses and did gaming, but has never rode a horse with her great-grandpa before."
Alongside the two and their stallions were a crowd of people.
Most of those who celebrated with Ulrich were family, friends and the employees and children from Double Mountain Horse Ranch, who helped make the event possible.
But a lot of people just roaming the streets of downtown Hood River, and even those who got stuck in traffic as they made their way to the Naked Winery, where Ulrich and company ended the ride, wished him a happy birthday, bringing a smile to his face with every gallop.
The ride would come to an end, but the party was just getting started.
Ulrich arrived at Naked Winery for a celebration toast in his honor with none other than Bud Light in his glass.
If there's one thing you need to know about Ulrich, it's that he loves his Bud Light.
For his 100th birthday, his church group gave him 100 beers, all of which were obviously Bud Light. The rumor is Ulrich thinks 101 Bud Lights kind of has a nice ring to it — just saying.
The toast was to honor the amazing life that Ulrich has lived as he continues to do so.
For the first two years of Ulrich's life, he lived in Deshler, Neb., a farming community of German descendants. In 1918, Ulrich and his family would move to Clover, Idaho, to homestead a 40-acre farm, but would be forced to leave the farm as the Great Depression hit.
For the time being, his family would rent a farm in Eden, Idaho, and eventually would move to Boring in 1939, where his family bought a 40-acre strawberry and raspberry farm.
And then at the age of 23, Ulrich was drafted into the army during World War II, where he served mostly on the Aleutian Islands.
Ulrich is the oldest of 10 kids. He had eight brothers and one sister. Besides himself, two brothers and one sister are still alive. All of the boys in his family were drafted and served in the military; they all returned.
After the war, Ulrich bought a small farm in Boring and married Tillie Ann Wewer. The two would raise sheep and blackcaps until 1984, when Ulrich sold the farm and bought a house in Portland, where he currently lives independently.
Over the past 32 years, Ulrich continues to do it all — he has been in a hot air balloon, rode in the Fourth of July parade twice honoring him as a World War II Veteran, and went on the Oregon Honor Flight for World War II veterans to Washington, D.C.
"I've done a lot of things in my life," said Ulrich. "But seeing everyone here for my birthday was something I'll always remember."
The celebration wrapped up shortly after the toast, with Ulrich blowing out his "101" candle.
"It means a lot to me to have everyone here. I get to see a lot of family that most people from my generation don't get to see," said Ulrich. "I am fortunate to have all these people in my life and look forward to next year's birthday."
Miyake would like to thank Lindsey Ewald with Naked Winery, Margo Vankat with Double Mountain Horse Ranch and the city of Hood River for celebrating her great grandfather's 101st birthday.