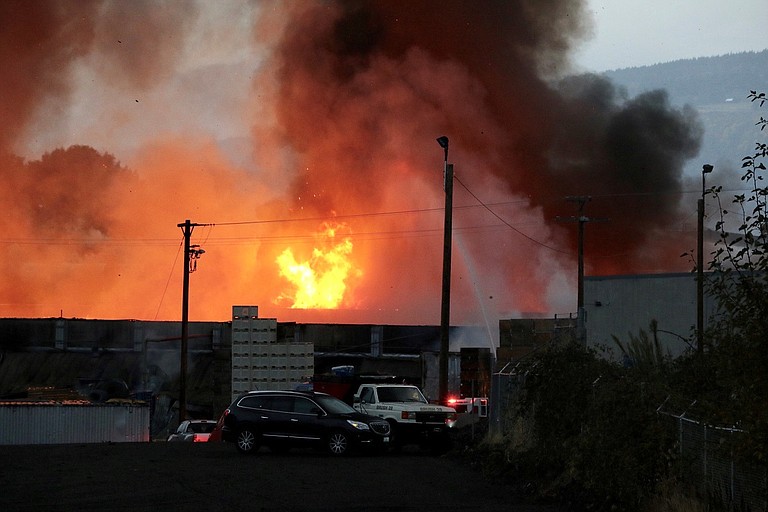 Originally published October 21, 2017 at midnight, updated October 21, 2017 at midnight
A packing line and an estimated 100,000-150,000 boxes of pears were destroyed by Wednesday's fire at the Underwood Fruit and Warehouse Company in Bingen and officials are scrambling to find a place to finish packing about 1,000 bins of pears.
Jeff Heater, field man for The Dalles Fruit Company, an affiliate of Underwood Fruit, said arrangements are being made to get about 150 employees back to work during the off-hours at another local plant. "A lot of other companies are reaching out to help us in any way possible," he said. "So, it's a matter of working out all of the logistics."
Heater said about 70 growers from the area, mostly from Hood River County, have their pears processed, packaged and marketed by Underwood Fruit. He said seven varieties come into the plant, mostly Bartlett, Anjou and Bosc, and the majority of the fruit lost in the fire had been boxed and was awaiting shipment to domestic and foreign markets.
Insurance will cover the losses of fruit and replacement of equipment and the building; Heater said the complex is on a hillside, which necessitated that structures be spread out on level ground, which stopped the spread of flames.
Heater said the fire caused a power outage that shut down the apple processing line. He said by next week that operation should be back up and running as usual.
The office at Underwood Fruit was also destroyed and Heater said that part of the business will now be housed at the affiliate office in Dallesport.