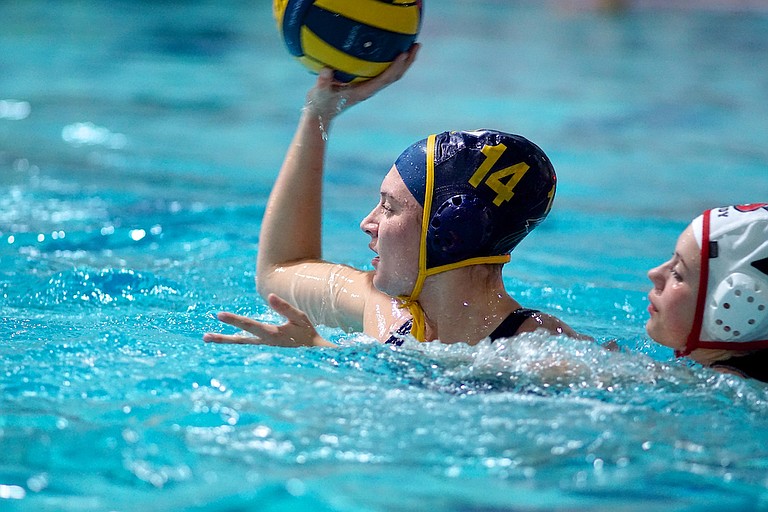 Originally published October 21, 2017 at midnight, updated October 21, 2017 at midnight
There's no stopping this HRV girls water polo team right now.
They're currently 9-0 in league play and 17-1 overall.
On Tuesday, the Eagles matched up with Reynolds for the fourth time this season, two of which were at tournaments, "so our team knew what to expect," said Head Coach Kellie Dunn.
"We know that they aren't able to match our speed and struggle against our strong pressure defense. For us, the key to winning this game was to simply shutdown Reynold's counter attack, which we did really well," she said.
The Eagles dominated the first two quarters, up 13-0 at the break.
"Our offense ran really smoothly with some fantastic passing and drives," said Dunn. "And our goalie Kat McElderry had a phenomenal game in the cage with 14 blocks."
HRV would beat the Raiders 16-7.
Goal leaders against the Raiders: Faith Ocheskey (5), Jaime Robinson (5), Madaket Greenleaf (2), Rose Finstad (2), Courtney Castaneda and Olivia Summerfield (1).
Assists leaders: Finstead (3), Robinson (2), Lauren Orr (2), Greenleaf, Amber Kennedy, Neilly Kendall, and Jenni Ruggles (1).
Steal Leaders: Robinson (4), Orr (3), Finstad (3), Kennedy, Castaneda, Summerfield and Ocheskey (1).
Their win against Reynolds came after a good game versus a tough opponent from Sandy on Oct. 12.
"Sandy always manages to pull together a really good game plan the second time we match up with them," said Dunn.
"They successfully cut off our counter attack, which is a huge part of how we get our goals, by leaving two players back on defense, which threw us off our game a bit," she said.
And in the first quarter, it was evident Sandy had the Eagles figured out, as HRV was only up 2-1.
But the Eagles "would make some adjustments and managed to find ways to get goals on the board," Dunn said.
HRV outscored Sandy the next two quarters 12-6 and would win the game 16-10.
"We kept Sandy held to just 10 goals thanks largely to great team defense backed up with McElderry in the cage," she said.
Goal leaders: Finstad (6), Robinson (4), Orr (3), Ocheskey (1) and Greenleaf (2).
Assists leaders: Robinson (4), Orr (2), Finstead, Summerfield, Greenleaf, Ocheskey and Ella Murdy (1).
The girls will travel to South Salem for a tournament this weekend as they prepare for the state playoffs.
Then next week on Monday, Oct. 23 the girls will travel to Hillsboro.