Saturday, October 21, 2017
Hood River Saddle Club writes: The turnout for September's Hood River Saddle Club (HRSC) spaghetti feed fundraiser was phenomenal!
The annual event funds scholarships given by the club to graduating high school seniors. The Mt. Hood Pony Club kids also held a silent auction fundraiser at the dinner. When the "sauce" had settled, it was a worthwhile effort for both groups.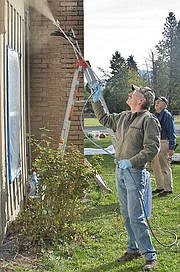 For many years, Ken and Helen Hansen, resident managers of the HRSC, have thrown all their energy into preparing for the feed. Helen's top-secret Bolognese sauce has mouths watering the minute tickets go on sale. Ticket sales involve many members of the club, with Ken and Helen topping the charts as 2017's top sellers. While the dinner normally occurs on a spring Saturday, this time Friday was chosen — making history with the highest attendance ever.
Much applause goes to Helen and kitchen helpers Myra Burkett, Tedi Paasch, Jeannie Sreenan, Karen Woodbury, Natalie Bronson, AnneMarie Slater, Susan and Marcy Schriever, Greta Hein, Hailey Jo Stoneburg, Bobbie Winans, Erin Woo and Tabitha Weiseth. The Mt. Hood Pony Club girls kept up with the pace, setting and clearing tables, serving dessert and beverages with big smiles and friendly service for all diners.
"Our community always generously supports the spaghetti feed," said Club President Kurt Osborne. "It's a great event for families, a chance to meet new people, and we truly enjoy spending an evening with neighbors, family and friends. Thanks to everyone for buying tickets and to several folks who made direct donations to our club. We live in a great place and appreciate everyone's support."
For horse owners who aren't familiar with the organization, the Hood River Saddle Club was established in 1945 and sits on 10 acres of horse-friendly land at the corner of Country Club Road and Belmont Drive. Members have free use of a 140-foot-by-270-foot outdoor sand arena, a 60-foot round pen for training purposes, a trail obstacle course, plus cross-country jumps for advanced riders. With easy in-and-out access, extensive parking is available for all vehicles, including oversized horse trailers.
Overnight camping for travelers with horses is also available at the club. Seven outdoor 12-by-12-foot pens, round pen and the bulk of the property are available for use at no charge, although donations are always welcomed.
The clubhouse, with a capacity of up to 85 people, offers a full kitchen, restrooms, fireplace, tables and chairs and is available for rent to the public for parties, weddings, reunions, meetings, conferences and other events.

Hood River Saddle Club offers opportunities for riders of all ages and abilities to take part in riding clinics, shows and a range of other events. Call Helen Hansen at 541-399-6654 or Kurt Osborne 541-490-6642 for more information.
Come and join us. We'd love to ride with you!