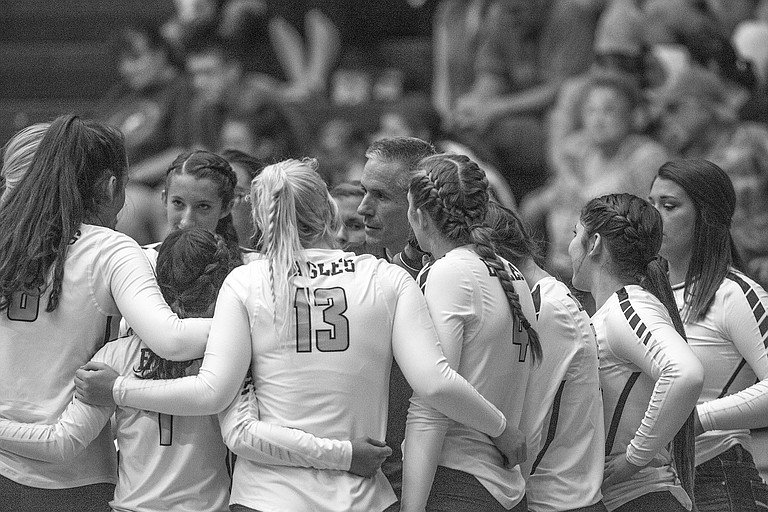 Originally published October 21, 2017 at midnight, updated October 21, 2017 at midnight
Volleyball ended their regular season Tuesday night on the road against The Dalles.
"The game was really up and down," said Head Coach Scott Walker.
The Eagles found themselves down early after losing the first set 25-13.
"We had a lot of trouble getting anything going in the first set, but Katie (Kennedy) really gave us a boost in the second," Walker said.
Kennedy, who led the Eagles with 18 kills on the night, helped the Eagles find a rhythm in the second set, winning 25-12.
"The Dalles served really well in the third and controlled the flow of the game when it mattered," said Walker.

HRV would be up late in the third set, 23-22, but The Dalles scored three points in a row to take the third set.
But the Eagles would respond with a dominating fourth set, winning 25-11 and would sneak away with a victory after controlling most of the fifth set, 15-11.
Kill leaders: Kennedy (18), Carli Stroud (6) and Emily Curtis (3).
Assist leaders: Hannah McNerney (19) and Curtis (18).
Ace leaders: Emilie Ellifritz (4), Kennedy (3), Leticia Martinez (3) and McNerney (2).
Block leaders: Kennedy (4), Curtis (2.5) and Kennedy James (2.5).
Dig leaders: James (9), Curtis (6), Martinez (6).
Tuesday night's game was the last of the regular season for HRV and they end 13-7 with an 8-1 league record.
"We now will play the waiting game until next Wednesday when we find out who we will play in the playoffs on the 28th," said Walker.