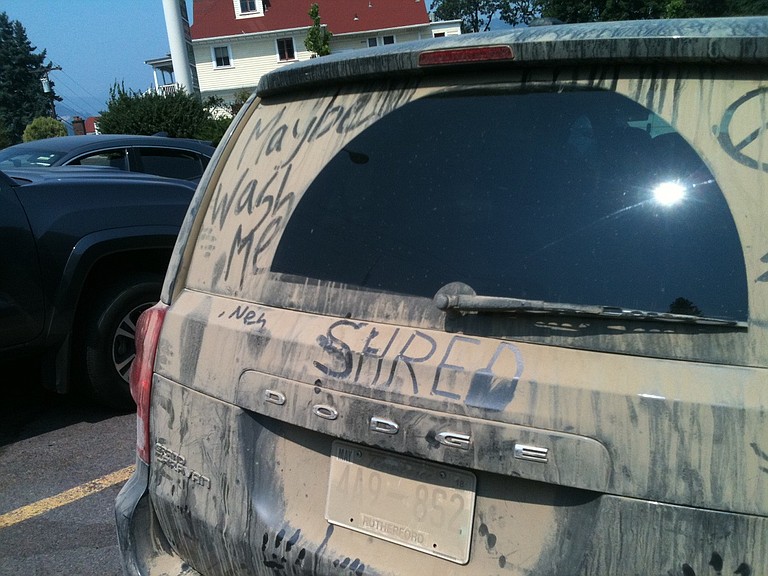 Saturday, October 21, 2017
WELL SAID: From The Tragically Hip (RIP Gord Downie): "Can we get it quiet enough?/ In here, I can hear God, cat paws on the keys/ And the wish for tomorrow is but a whisper from your lips and I fall to my knees/ I'm not afraid of convincingness, I'm just uncertain for sure."
WELL DONE: Tuesday is "Pizza With A Purpose" day again at Pelinti's on West Cascade, and the recipient this time is Westside School — 20 percent of all proceeds going to help students. While you're there, have a look at the mini-gallery of art by two employees: mixed media works by Lydia Bliss, who also pursues her passion as a musician, and pop art by Bobby Casey (aka Lost Cat Art). Casey designs the "Pizza With A Purpose" posters and he also drew the whimsical "mustache" coloring sheet given out to Pelinti customers young and old. Speaking of art, colored versions are on display at the counter.
BUMPER STICKER OF THE WEEK: "Caffeine is not a crime."
PRICED TO MOVE: One local resident put out a couch with a "Free" sign on it. No takers. So he changed the sign to $90, and overnight it was "stolen."
OPEN WELCOME: Last Porch, in August, noted that the "Welcome to Hood River" sign on West Cascade was "getting engulfed in blackberries." The next day, someone cut them back.
SIGN of the Week (and a stopper it is): "Now in stock: Pumkin-spiced brake pads." — River's Edge Towing signboard this week.
PROGRESS ADDITION: Good to see the long-awaited sidewalk completion in front of Sunset Motel on West Cascade. For two weeks during the work in progress, the owners had to put up signs directing pedestrians to the sidewalk on the other side of the street. Yet the closest sidewalk is three blocks east at 22nd — and only one on Cascade between 13th and Rand Road. So the next time the city requires a business owner to direct people to a sidewalk on the other side of the busiest street in town, it might consider convincing the state to allow it to add one somewhere along the way.
— Kirby Neumann-Rea