Saturday, October 21, 2017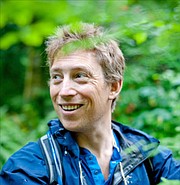 Waucoma Bookstore, Columbia Riverkeeper, and Double Mountain Brewery host "Upstream: Searching for Wild Salmon, from River to Table" author Langdon Cook for a book talk on Oct. 26 at 6:30 p.m. at Double Mountain.
From the award-winning author of "The Mushroom Hunters" comes the story of perhaps the last great wild food: salmon and what society can do to safeguard wild populations for future generations.
Cook goes in search of the salmon in "Upstream," a look at how these beloved fish have nourished humankind through the ages and why their destiny is so closely tied to our own, from the glacial rivers of Alaska to the rainforests of the Pacific Northwest to California's drought-stricken central valley and a wealth of places in between.