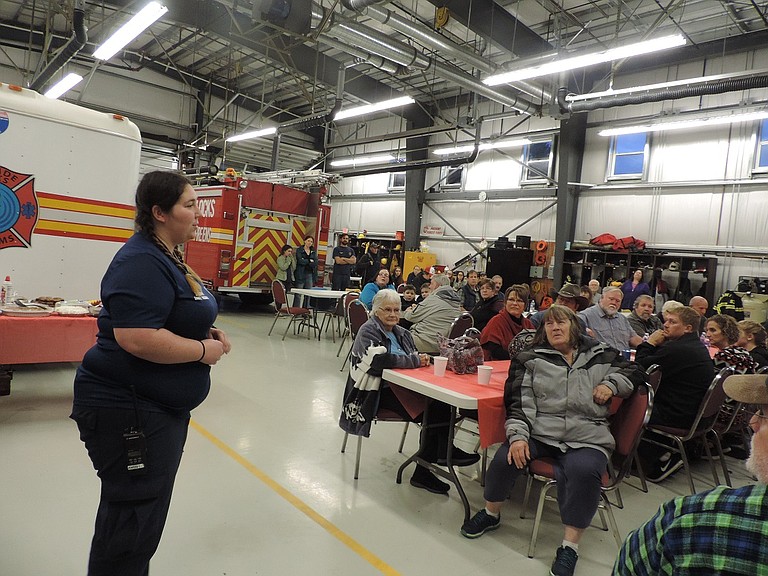 Wednesday, October 25, 2017
"First responders, first in line for food!"
Upon that instruction from Nancy Renault, 100 people in Cascade Locks Fire Hall stood Sunday night and applauded the firefighters and responders who helped Cascade Locks in the face of the destructive Eagle Creek fire when it did its worst in early September.
The occasion was the Firefighter Appreciation potluck at the fire hall, the sixth annual, but this year bearing a certain extra meaning, noted Mayor Tom Cramblett and others.
"Frankly, there's no reason this town should still be here," he said, referring to the high-level fire threat to the community.
Before the meal began, dinner organizer Renault said, "This is for all our community, because we all had to pitch in and be safe."
Martha LaMont read remarks on behalf of Renault, "whose voice is a little tired today."
"We are here tonight not just for our annual dinner, but to thank the firefighters and ambulance both here and in Stevenson and all the other departments who put their lives on the line to save our town," Renault said. (See her full remarks, below.)
Cramblett said, "These guys did a great job, and Sheriff Matt English and his guys, they were here day and night, everywhere I went, the deputies were patrolling the town, always on the move."
Columbia Gorge Lions presented a check to Cascade Locks Fire Chief Jessica Bennett "for the fire department and all they do."
Firefighter Kelsey Bennett said, "It's pretty cool, to be able to do what we love and give back at the same time." Of the Eagle Creek fire, she said, "It's been crazy, it's been an adventure. Tiring but fun."
"We just want to thank everyone for your stupendous support over the last couple of months," said Jessica Bennett. "It's been amazing, you guys are one of the best communities for supporting us and the fire department when we really need it and we really appreciate it. Thank you very much.
"This is the sixth year (for the potluck) and every year it's really great they way they come out," Bennett said. "It's good to know they're still supporting us and are willing to help us out."
Cramblett said, "It's pretty impressive what went on, but on the other hand, (Cascade Locks firefighters) have always done a good job. This fire overwhelmed all of them, but the fact is we're in an area where we have great resources around us. The folks who came to help did a great job, stayed on top of it. Because frankly, there's no reason why this town should be here. You look at the fuel load around the town, and we had wind and then the east wind and back with the west wind and it didn't get any of them. And that's because there was a lot of effort out there.
"That's what it was, a good county-wide and bi-state effort. The other side of the Gorge helped out too," he said. He credited the Red Cross shelter in Stevenson, noting the "really good atmosphere over there," in particular for the elderly and people with pets. "It was pretty impressive to see what everyone did."
Cramblett also praised the work of the incident command at fire camp in Odell. "They were organized, every day going over the process. It was pretty amazing to see how cooperative they were," he said. "It was laid out every day and everyone was right on track with what they needed to do."
One resource that was always available was the sternwheeler Columbia Gorge, of which Cramblett works as captain. The vessel holds 500 people and is equipped with a powerful generator.
On Sept. 3, watching from Forest Lane with Port Commission President Jess Groves, as the smoke plume roiled above the western Gorge, Cramblett said the sternwheeler stood ready, "and I have the keys."
On Oct. 22, Cramblett was able to say, "We never had to use the boat but, by golly, it was there."
Words of thanks
Through LaMont, Renault made this statement at the potluck:
"We are here tonight not just for our annual dinner, but to thank the firefighters and ambulance both here and in Stevenson and all the other departments who put their lives on the line to save our town, from Jessica Bennett, who went without countless days of sleep, to all the firefighters who were here for several weeks working tirelessly to save our homes and businesses.
"Our thanks also go out to Sheriff Matt English and his deputies, who patrolled our town every day and evening and to the 911 dispatchers who were instrumental in coordinating the efforts of all personnel, we are truly grateful.
"We also want to acknowledge the restaurant owners and workers in Cascade Locks who gave their all to feed the firefighters without having any revenue from patrons during the closure of Interstate 84. And to Albert Choi, Columbia Market owner, who kept the market open under Level 3 evacuation with sometimes limited items on the shelves, but knowing that local residents depend on Columbia Market for food. Also thank you to the Oregon Food Bank for providing 150 emergency boxes to us.
"We are all so appreciative of your efforts and will be enterally grateful for those who gave their all for us."
LaMont added, "And in case you haven't noticed, people are stopping by on their way through town to compliment the department on their nicely landscaped grounds, which are kept that way by faithful volunteers who water, weed and keep the place looking pristine. Thanks to Anne and Randy Holmstrom, and Nancy Joey Renault.
"And tonight, thank you, Samantha Versarian, who made this room come together.
"Sternwheeler delivered a large chicken and noodle, and cake. Everybody is pitching in and bringing food, and we're mingling, tying to introduced new people to town."