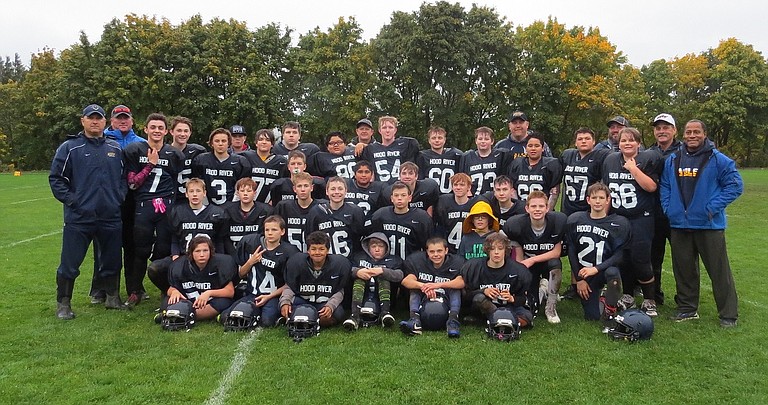 Originally published October 25, 2017 at midnight, updated October 25, 2017 at midnight
It was a great year for the HRV combined seventh and eighth grade middle school football team. Despite the Eagle Creek fire interfering with practices and causing a game cancelation, the boys had an excellent season.
The boys completed a near sweep of the Gorge with wins over White Salmon, Stevenson, The Dalles and Corbett. The only loss came in the first game, after very few practices, against Kings Way from Vancouver.
The last game was on Thursday, Oct. 19 against Corbett with a final score of 56-7.
Playing in front of a home crowd at Hood River Middle School and getting a big-game feel with Sean Spellecy announcing the action had the players revved up.
Corbett began with several first downs on short drives up the middle, but Hood River's defense held them at their own 35-yard line and then it was all Eagles from there.
Eagles' quarterbacks Trenton Hughes and Michael Frost combined for six touchdowns.
Hughes showed his speed, rushing for three scores in all, including one for 75 yards in the opening drive.
Frost broke several tackles to run 80-yards to the end zone and later passed to Mason Spellecy and Hughes for two more scores.
Shaw Burns ran in a fumble recovery and his second touchdown came on a kickoff return for a team total of eight touchdowns in the game.
Ryles Buckley, Joey Frazier and Gage Holman shared the load on the ground for the Eagles with several long gains by each player.
The Eagles defense, led by Alex Whitaker, Jayton Muenzer and Holman, held Corbett to only one touchdown.
A huge effort was made on the defensive side of the football as the Eagles recovered two fumbles and hit Corbett behind the line for a chunk of lost yardage.
The entire team made plays with the coaches aggressively changing line ups and rotating players. Every player grew in skills this season and it showed in the game.

Parents and families were grateful for the dedicated coaching staff this season featuring Head Coach Justin Frazier, Pete Hughes, Erick von Lubken, Andy Cantrell, Vince Wilson, Devery Brodie and Terry Bryant.
Signups for the 2018 Middle School season will be available in early summer on the Hood River Valley High School Athletics website under Middle School, Fall Sports.