Originally published October 25, 2017 at midnight, updated October 25, 2017 at midnight
The City of Mosier has selected Colleen Coleman as the new City Manager for the City, replacing Kathy Fitzpatrick who has taken a position with Mid-Columbia Economic Development District.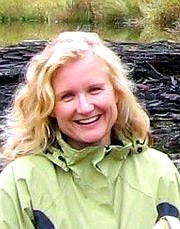 Coleman has 28 years' worth of experience in business development for science, engineering, environmental, architecture and arts organizations in the Pacific Northwest. Her background in public outreach, communications and fundraising on large and small urban and rural land development projects will guide her in managing the City of Mosier's upcoming plans to implement its 2020 vision, according to a news release.
"My work has focused on beneficial public/private partnerships, capital project fundraising, and budget and proposal development to implement civic parks and facilities, restoration projects, and large, public art exhibitions," Coleman said.
Coleman, who lives near Odell, was most recently communication strategist at Plas Newydd LLC in Ridgefield, Wash.
She has also held positions as public relations director for Pacific Northwest College of Art in Portland, marketing director at Inter-Fluve, Inc. in Hood River from 2004-2011, and Natural Systems Design from 2012 to 2016.
•
The outgoing city manager from Mosier has recently garnered state recognition for leadership.
At a Friday conference, the Oregon American Planning Association's "Distinguished Leadership Award" will go to Fitzpatrick.
Letters supporting Fitzpatrick's nomination noted her outreach and project leadership, such as the Gorge Hubs project. For the past two years, local communities along the Historic Columbia River Highway State Trail have been developing the informational/travel centers.
In a nomination letter, Kristen Stallman with Oregon Department of Transportation wrote, "Kathy is a distinguished leader. She embraces power of planning and guiding her hometown's future."
"This award is incredibly meaningful, because it's not just for me — it's for all of Mosier's residents who have invested their hearts and souls in the planning and visioning for our small city for many decades," Fitzpatrick said in an email.