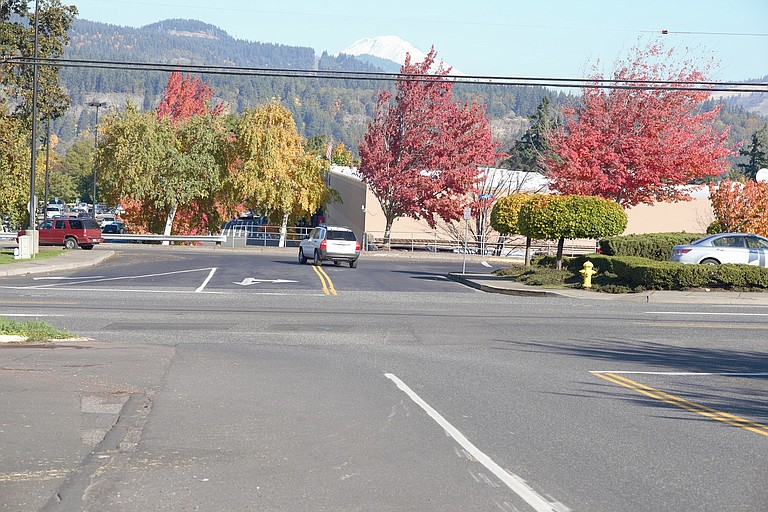 Originally published October 25, 2017 at midnight, updated October 25, 2017 at midnight
Recycled materials in Oregon are heading to landfills.
Hood River City Council learned Monday that Oregon Department of Environmental Quality has notified local governments and handlers that as of Oct. 18, materials normally processed as recycling will be discarded instead.
As reported in the Oct. 11 and Oct. 14 Hood River News, Chinese import policy has, at least temporarily, put a stop to what has been the primary market for Oregon recyclables, largely due to Chinese authorities' concern that non-recyclable products or substances are contaminating shipments.
In other business, council heard an update on the Children's Park play structure design process. A meeting Thursday offers the community a chance to weigh in on what they want or do not want to see in a new structure, to be replaced this winter and spring with a new and likely larger one. (See page A9 for details.)
DEQ issued a memo Oct. 17 that anticipates the Chinese termination of some mixed paper and plastic grades effective Jan. 1, 2018. The policy will remain in place for six months, with interim review after three months.
DEQ noted that China has announced a new and exceedingly stringent recyclable contamination standard of 0.3 percent.
"This has created a condition where the primary market for the bulk of Oregon's recyclable materials is severely constrained and in jeopardy of disappearing," the memo states.
As a result, "DEQ, working closely with representatives from the recycling industry and local governments, has initiated a short-term, stop-gap solution to help alleviate the flow of materials throughout the collection and processing system." The memo continues:
"When all options to find markets for recyclable commodities have been exhausted, DEQ concurs that landfilling these materials on a temporary basis is an unfortunate but needed option at this time."
This represents no practical change to garbage and recycling pickup for City of Hood River residents, according to city officials.
Yard waste will not be affected, as the city contracts with the Gorge company Dirt Hugger to transform kitchen waste and yard debris into compost.
"We see that as a success," said City Council Member Becky Brun, adding a plea to local residents to "continue to be good recyclers."
Brun said, "It is important that people continue to separate their recycling and garbage, because hopefully this will be a temporary situation. Avoiding contamination is a matter of forming of habits, and we ask that people continue to separate their materials."
---
In the longest portion of Monday's three-hour meeting, the council approved wording for a resolution on in-lieu parking fees — which are the payments developers make in-lieu, or in the place of, building off-street parking spaces. After considerable discussion, council by a 4-2 vote approved wording of a proposed resolution setting the fee at $8,000 per space for 50 percent of the total number of spaces required, and $20,620 for each space in the second half of the requirement. The resolution, if passed, would affect residential construction, not commercial, would be for new building only, and will be voted on at its Nov. 20 meeting.
The move follows a request two months ago by Key Development to lower the in-lieu to $100 per space for a 70-unit housing project it wants to build at State and Fourth streets. (No formal proposal has been submitted to the city, however.)
Other local businesses have protested any change to the in-lieu policy as a response to one company's request. City officials, including Mayor Paul Blackburn, have urged consideration for the policy change, citing the need for additional housing.
The council has also pledged to work on a long-range parking solution, with local businesses involved, a plan that could involve construction of a downtown parking structure. In-lieu fees by developers, including Key Development, would pay into the cost of that structure.
---
In a long-awaited move, council also approved spending $274,301 on engineering for intersection improvements at Rand Road and West Cascade. Construction is scheduled for 2020-21, with a projected $2.4 million project cost to be shared by ODOT. The project will realign the intersection, provide pedestrian crossing, and install a traffic signal.
The State Department of Transportation will match the city's engineering contribution, leading to a total $548,603 engineering budget. ODOT and the city will also go 50-50 on the project's $450,000 right-of-way acquisition cost.
Rand and Cascade ranked high in the city's "Intersection Safety Review Analysis," released Monday after a three-month process. City department heads in July notified council of its "Big Six" list of intersections in the city believed to be the most hazardous. This summer, the city invited citizens to offer their input in a survey, on paper and online.
That survey is now available on the home page of the city website, ci.hood-river.or.us.
The top five intersections based on community feedback: Second and Oak, Cascade and Mt. Adams/Wine Country, 13th and May Streets, 13th and Belmont, and Rand and Cascade, with 22, 19 and 18, 14, and 13 responses, respectively, out of 121 total.
Children's Park
A community meeting on Children's Park will be at 6 p.m. Thursday at City Hall. Public Works Director Mark Lago said this will be an opportunity to learn about the preliminary design process and to give feedback "on what they would like to see, or not to see, from a parent point of view," Lago said. The feedback will be given to the contractor, Play By Design.
(See the city website for links on the Children's Park process.)
---
Meanwhile, local school kids are giving their input in a two-stage process: all elementary and pre-school students in the county have been invited to submit their design, "their special, awesome playground," Lago said. On the morning of Nov. 9, designer Lisa DeShano will interview students at May Street and Westside elementary schools and at Horizon Christian School, and use that input to come up with a working design to be unveiled that night at 7 p.m. at Hood River Middle School.
At that session, city officials will describe what happens next in the design and construction process and ask for volunteer help moving forward. Lago said DeShano's proposal will be open to comment for about two weeks.
"We need to finalize the proposal soon, for a parts and cost list, and then we find out how much the project will cost," Lago said. The city has budgeted $150,000 toward the project, estimated to cost around $300,000.
"We are hoping for contribution from Parks and Recreation District and with fundraising we expect to catch up the difference, and perhaps to add more items," he said. "Once we have the big design, we will see," he said.
"We can make it larger, we have the room, so we could be increasing capacity, possibly by using the natural landscape," to the south of the existing structure, Lago said.