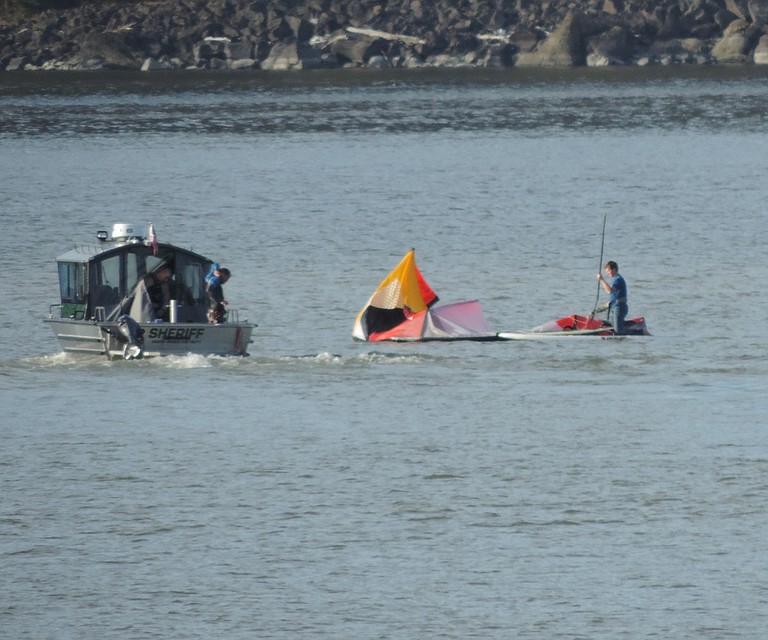 Originally published October 28, 2017 at midnight, updated October 28, 2017 at midnight
Conditions were calm, but cold, Wednesday as two river users and Hood River County Sheriff's deputies helped a kiteboarder from the water in an unusual rescue just off Event Site.
Winds over the Columbia River were light at about 2 p.m. when Bill Lane of Hood River launched, but then quickly the wind dissipated. Lane was fully in the water but could not get his kite aloft and the current was pulling him steadily out.
Lane tried self-rescuing but his kite was too light to get much buoyancy and he found himself getting colder despite his wet suit.
After a 45-minute struggle, he got help from deputies and kayaker Andrew McElderry, and a stand-up paddler. Lane was tired and cold, but unhurt.
It was just after 3 p.m. and McElderry was returning from Bingen rock when he heard cries for help.
"I looked up toward shore, and thought I saw a boat or kayak, and heard (the cry for help) again and paddled over and a saw a guy lying on his kite and a SUP'er coming over to help." McElderry saw an ambulance pull up at Event Site and the Sheriff Marine patrol approaching, and he helped Lane grab onto his outrigger.
McElderry said, "I pulled him another fair bit, and it was not easy, and when the sheriff's boat got close I said, 'You want to jump on that?' and he said, 'Yes.'" McElderry said, "It just makes me realize I was happy I had all my right gear on, including a vest I wear in the winter."
The paddler, whose name is Sean, pulled in Lane's kite and board and transferred it to the Sheriff's boat.
"I was a little cold and tired, because I had been swimming for a couple of hours," Lane said. "Well, it felt like a couple of hours." He added this account of what happened:
"Because the water was high the current grabbed me and next thing I knew I was being pulled in, I went into self-rescue but was getting sucked down," Lane said. "I wound the lines up on the kite and tried to flip but I couldn't flip (the board) over. I tried to lift one of the edges to get some wind but I couldn't flip it over so I ended up staying on top and use it as a raft and try to swim it to the side with the parallel current but it was not happening. The current's pretty strong, and was dragging me back out. It was still getting cold, and it was to the point where the suit wasn't functioning. I tried to get above the struts to stay out the water, but it's a lightweight kite."
Deputies Joe Wampler and Kyle Cozad sped Lane back to shore, where he was able to warm up in the cab of a Hood River Fire Department engine, and get a ride back to his car at Event Site.
Lane said, "The response was amazing. I was really impressed with everyone. When I was getting pulled in by Andrew and Sean I was thankful I was in Hood River."