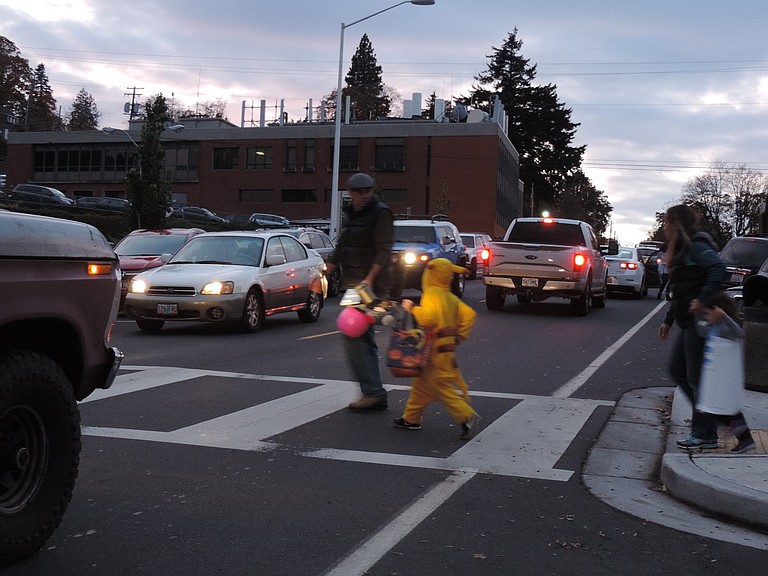 Saturday, October 28, 2017
Halloween festivities are sure to bring plenty of chills, thrills and fun gatherings to Northwest neighborhoods throughout the coming days.
Halloween is on the front page for a reason: despite its evolution to an all-ages festivity, if not frenzy, of the silly or scary, the downright macabre, and even "the sexy," it remains at heart a celebration for youngsters.
Still, more innocent alternatives prevail, including safe Halloween events at retirement facilities, community centers and businesses, and the traditional door-to-door trick-or-treating is a tradition yet to die out. Indoor events constitute an affirmed method of keeping children monitored and safe while still being able to say "a good time was had by ghoul."
Planning, responsible hosting and the right insurance can help protect homeowners and renters as well as their goblins, ghosts and other Halloween visitors, notes a press release from the industry group Northwest Insurance Council. "Candles, frightened pets and wet, dark or poorly maintained walkways all can prove dangerous for your family and trick-or-treaters," according to the council.
Also, if you're planning to host an adults-only Halloween party this weekend that includes alcohol, you could be liable for the safety of your guests — even after they leave the party.
According to the U.S. Department of Transportation, 55 drunk-driving fatalities occurred on Halloween night in 2015, up from 17 in 2011 and steadily increasing each year in between.
Talk about a frightening thing. More than 50 such fatalities last year comes to one per state, and even one fatality in Oregon is bad news.
Safe events for people of all ages abound in our community, but it is up to all of us to ensure Halloween horrors remain imaginary only.
We encourage attendance at organized "safe" events, listed on page A10, for kids' sake. Also, a lot of merchants and volunteers are getting into the spirit and they are deserving of community support for providing these fun alternatives. In the case of such events as the Elks/KidZone haunted house and party, and Immanuel Lutheran Church party, these are fairly elaborate affairs.
Yet despite these indoor and protected events nightly through Oct. 31, there exists a notably higher number of pedestrians, many in costume, on the streets and sidewalks. For that reason, high caution is needed this time of year.