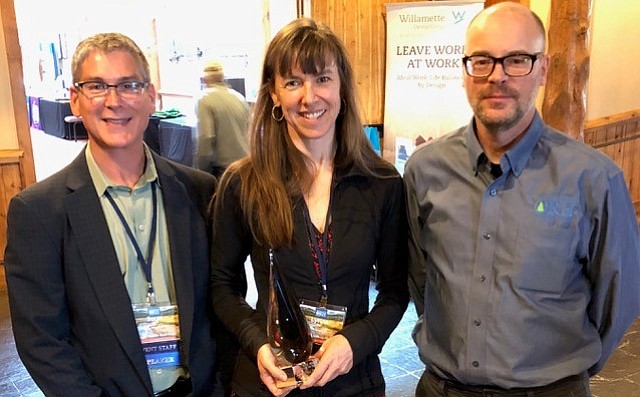 Saturday, October 28, 2017
Lynne Frost has received the 2017 Oregon Rural Health Hero Award from the Oregon Office of Rural Health. Frost is clinical operations director at One Community Health (OCH).
The Rural Health Office presented Frost with the award during the 34th Annual Oregon Rural Health Conference at Sunriver Resort Oct. 18-20. The recognition highlights an outstanding person, program or organization that has improved the quality and availability of health care in rural communities, said a press release.
As stated in an award summary posted by the Oregon Office of Rural Health, "Lynne is incredibly dedicated to her staff and patients, balancing administrative responsibilities with patient care. Yet, despite all of the things on her plate, Lynne always takes time to help her staff of over 75 direct and indirect reports to develop professionally and receive continued training. As a result of Lynne's advocacy, employees at One Community Health are given a training budget to use on training they deem useful each year. She invests in her staff, and it shows. Moreover, Lynne ensures that her staff are able to accomplish a good work-life balance and insists that they engage in self-care. Not only does this show her regard for all people, it also builds capacitation within teams that in turn allows excellent patient care to take place."
At the award ceremony, about 200 attendees watched a video testifying to Frost's impact and the work of her OCH team.
"So many nice words were said that I was a mild wreck when it came time to go to the stage and accept the award," Frost said. "I told the crowd there was nothing I've done that I've accomplished alone. So in effect, this award was something I received on behalf of the team."
The idea to nominate Frost came from a number of OCH staff members who had been told about the award from a former employee. They felt Frost's passion for rural health, her success in executing strategies and hitting vital goals, her advocacy for population health, and her achievements in launching and overseeing the School-Based Health Center at Hood River Valley High School fit the nomination criteria.
Frost holds a doctorate in nursing practice from the University of Portland. Prior to joining OCH three years ago, she worked in pediatrics for 23 years, starting as a nursing assistant and working up to become a certified pediatric nurse practitioner. Staff members wrote recommendations and testimonials about Frost's accomplishments, and her commitment to population health, policy, prevention, alleviating disparities and leadership excellence.
"After learning about the past people awarded and who have earned such recognition within their community, I was speechless," she said. "I had tears in my eyes, thinking that anyone would even consider what I do to be of comparable caliber to what they have done. I am simply showing up and doing my job as best as I can — that's it … and the truth is, I struggle accepting this award alone for my successes have not been the work of one but the collective efforts of the team that surrounds me."
According to Dave Edwards, OCH's CEO, the award is all about improving quality and availability of health services in rural areas — and it serves to reinforce these messages.
"I think Lynne would be the first to say, 'It takes a village,' but every village needs leadership," Edwards said. "Lynne has worked tirelessly to improve quality, and her team has responded. We now have some of the most consistent high-quality care of any health center in Oregon. Lynne has worked equally diligently to improve access, particularly at Hood River Valley High School. Lynne — along with key internal and external partners — have achieved something that had only been dreamed of in years past. It is very exciting for us to see Lynne get recognition for her outstanding contributions."