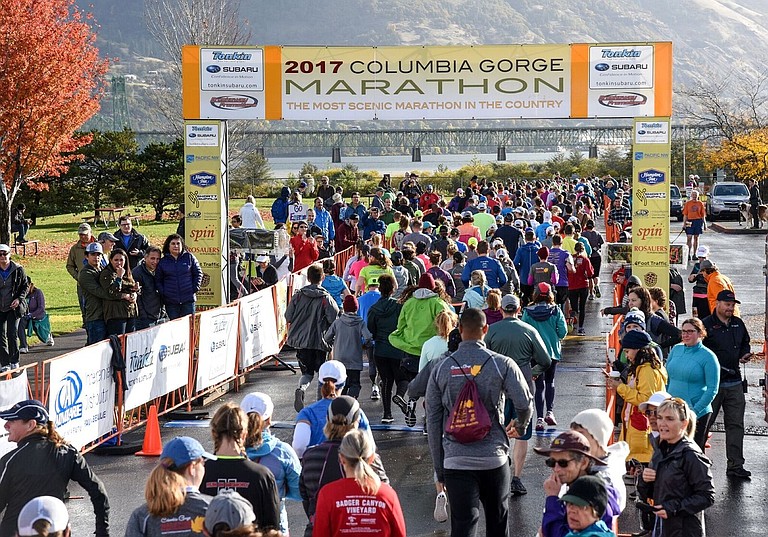 Originally published October 28, 2017 at midnight, updated October 28, 2017 at midnight
The annual Columbia Gorge Marathon took place last Sunday and was a huge success.
Competitors from 46 states and six countries made up the 1,525 runners in this year's event.
With family and friends joining the runners, it's estimated that another 1,500 were in attendance cheering on the participants and bringing in a total of more than 3,000 people — a huge impact on local economies.
"Out of the 1,525 runners, only 48 percent were from the Gorge, so the economic impact is going to be huge and much needed after this year's winter storms and wildfires," said Chad Sperry, owner of Breakaway Promotions, who helps put on this event every year.
The marathon also benefited both Hood River Valley High School wrestling and cross country, as well as the Assets Coming Together (ACT) youth programs and The Dalles cross country team. In total, the event raised over $5,000 between the programs.
"They all provided volunteers and it's only right that we give them a portion of the proceeds back. So, it has a huge benefit to these groups," said Sperry.
The 1,525 runners competed in many events, including Marathon, Half Marathon, Dog Leg Half Marathon, Half Marathon Relay and Marathon Early Start.
This year, the winner of the marathon was Eric Barten, who finished with a time of two hours, 53 minutes and 10 seconds.
Starting near Rowena, the marathon stretches 26.2 miles with a detour through the Mosier tunnels, finishing at the Hood River Event Site.
The second-place finisher this year was Ryan Marquardt (2:59.26).
In third-place overall was Lucy Le Garrec (3:03.21), a time that earned her first-place in the women results.
Second-place in the women's category for the marathon was Alice Nielsen (3:12.16).
The half marathon, a 13.1-mile race that starts in Mosier and ends at the event site, was dominated by Carrie Dimoff.
Dimoff, who finished with a time of 1:13.59, won by a wide margin.
The closest behind her was Jeffery Albeghini, who finished first for the men with a time of 1:21.24.
Jamie Gibbs finished second in the women category and third overall with a time of 1:25.13. With a second-place finish for the men and fourth overall was Royce Graham (1:26.15).
"Huge thanks locally to Tonkin Subaru, Shortt Supply and Rosauers, who help put on this event," said Sperry.
For more information on this event along with photos, visit www.columbiagorgemarathon.com.