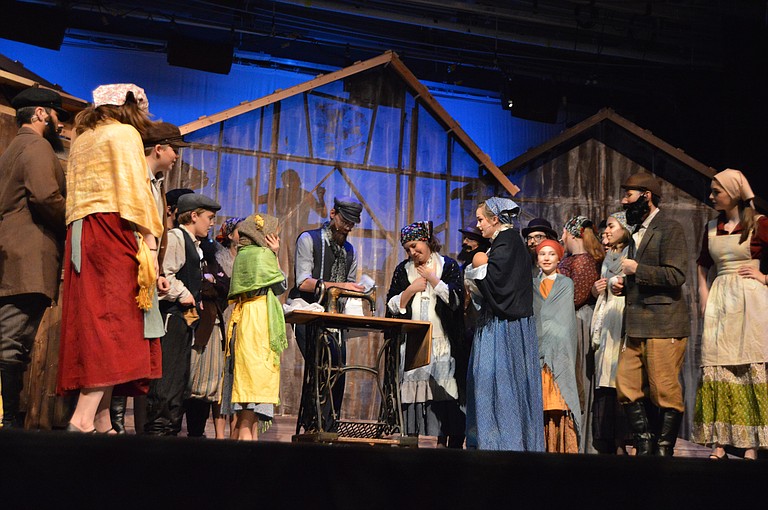 Saturday, October 28, 2017
Elementary and middle school students join their high school elders in "Fiddler on the Roof," opening this weekend in the Bowe Theater. Rachel Harry directs, with musical direction by Dan Keneally. Stage manager is Paul Hargrave and assistant stage managers are Zach Amsberry and Zach Barbour.
Shows are Oct. 27-28, Nov. 3-4 and Nov. 10-11 at 7 p.m., and Oct. 29 and Nov. 5 at 2 p.m. Tickets are $10 for adults and $8 for students and seniors, and are available at the door or Waucoma Bookstore.
Leading roles include Aiden Tappert as Tevya and JoJo Summerset as Golde and as their daughters, Lauren Church (Tzeitel), Lily Galvez (Hodel) and Katelyn McAllister (Chava). Lillie Tomlinson is the Fiddler.
Also in the cast:
Yente — Atari Gauthier
Shaindel — Ella Van Cott
Grandma Tzeitel — Carly Wyatt
Fruma-Sarah — Sofie Larsen-Teskey
Sphrintze — Lucy Hager
Bielke — Abriela Lopez
Woman 1 — Freya Chase
Woman 2 — Kelsey Stewart
Motel — Onar Smith
Perchik — Cooper Case
Fyedka, Russian solo — Luke Southall
Avram — Skylar Beard
Lazar Wolf — Liam Baker
Constable — Westlake Cannon
Rabbi — Alex Gamez
Mendel — Alex Bertadillo
Mordcha — Seth Kelly
Nachum — Ryan McEuin
Young Male 1 — Ethan Happy
Young Male 2 — Mitchell Grey
Sasha — Max Spears
Man 1 — Erick Lizama
Man 2 — Ren Tappert
Yussel — Rane Bieker
Ensemble — Sara Zeman, Aleeyah Enriquez, Kendra Wilkins
Orchestra: Piano — Linda Taylor; Keyboard — Sarah Wang; Guitar — Larry Wyatt; Bass — Michael Turley; Drums — CJ Thorp; Violin — Sophie Rowan; Violin (Fiddler) — Lillie Tomlinson; Clarinet — Nathan Parker; Flute, alto flute — Charlie Bickford; Trumpet — Hugh Amick and Kate Dougherty; Trombone — Bob Smith