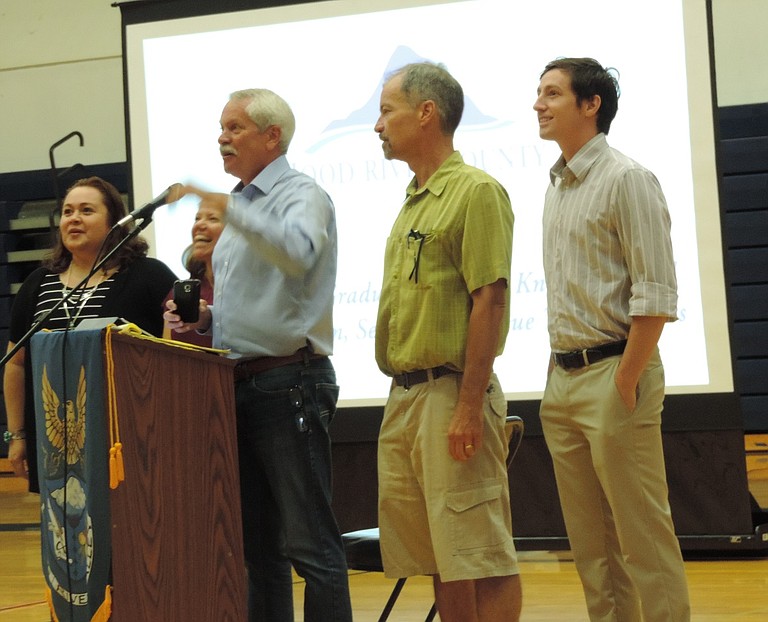 Saturday, September 2, 2017
What's old is new in some schools as the 2017-18 year starts up.
Tuesday is the first day of school for Hood River County School District and Horizon Christian School.
Hood River and Wy'east middle schools and Cascade Locks School saw extensive remodeling over the summer.
Coming Sept. 6
'Be intentional about relationships with everyone. Build a community in your classroom that elevates the voices of students in the minority."
— Read the full text of Superintendent Dan Goldman's message in the next edition.
The front is new at Wy'east, but not complete: parents and visitors will park at the adjacent Hood River County Fairgrounds while work is finished on the east access points for cars and buses. A graceful new awning covers the main entrance, while inside classrooms and hallways have received extensive upgrades.
Elementary age students and sixth graders in Hood River County School District, and all Horizon Christian School students return to class on Tuesday, while the start of school is staggered on Wednesday and Thursday for all HRVHS students other than freshmen.
At HRMS, virtually every floor and wall is newly painted or covered, the school has all new plumbing and heating-ventilation systems, and work will be completed this weekend on the new roof and seismic retrofitting of the Multipurpose Room.
Some parts of school buildings might be in disarray when students converge next week; staff and contractors are spending part of Labor Day weekend moving back into freshly-done classrooms and offices.
Most students are signed up and ready to go, but Hood River Valley High School registration will take place Tuesday, Sept. 5. All students are required to attend at their assigned time for schedule pickup, student ID picture and to complete the registration process for the year. Many schedules have changed since packet pickup, so it is very important all HRVHS students are in attendance, school officials noted. This is a school day for all high school students.
Assigned times are on the Hood River Valley High School website hrvhs.com.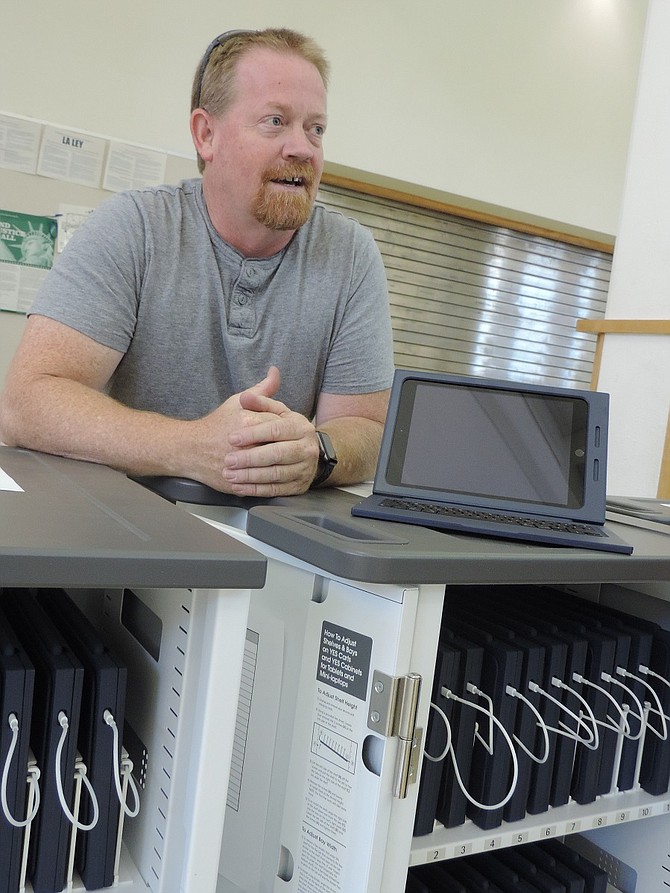 HRCSD welcomes 14 new staff members this year (see the Sept. 6 edition for details).
Horizon's middle school and high school students will attend two-day retreats at Mount St. Helens and Camp Jonah near Trout Lake, to start the year. The K-12 private school has an expected enrollment of 180 this year. New staff members are Mim Nellermoe (music and high school) and Kristen Marble, a former teacher who has returned to Horizon to teach first grade.
In a case of blending historic with modern, district technology aide John Vann installed a digital instruction station in the old gym at HRMS, and building a sliding door made from the wall section cut out to make way for the flat screen.
HRMS, Wy'east and Cascade Locks saw a major upgrade in student technology this summer: each student will be issued an iPad for instructional use throughout each day.
Tod Hilstad, the district information technology manager, spent the summer on this and other technology upgrades. "His efforts have been phenomenal, it's for the kids and learning," said HRMS Principal Brent Emmons. At Thursday's district staff assembly, Superintendent Dan Goldman called out Hilstad for his long hours all summer, but Hilstad credited his team, the school principals and staff, and contractor Kirby Naglehout Construction.
"The challenge with IT is you have to learn it faster and quicker than everyone else, and then build it," Hilstad said.
Construction may be done, but the building continues in Hood River County schools.
In Thursday's all-staff back-to-school assembly at Hood River Valley High School, Goldman exhorted staff to work to create individual relationships with all students, and to take a stand for social justice and empathy in the wake of violence such as seen in Charlottesville last month.
He pointed out drama teacher Rachel Harry, 2017 Emmy Education award winner as a mentor who has fosters a challenging learning environment that inspires compassion, collaboration and respect among students.