Originally published September 2, 2017 at midnight, updated September 2, 2017 at midnight
Don Benton, Hood River's grand uncle, died Tuesday at age 68.
Benton battled two forms of cancer in recent years, but continued to be actively involved in the community, always with a smile, through pain and fatigue from repeated therapies and surgeries. He commonly asked of others' welfare instead of talking of his own, regaling friends with stories and talking of events and programs he cared about.
Benton was known for attending auctions and benefit events and buying multiple items, sponsoring others, and leaving ample cash donations afterward.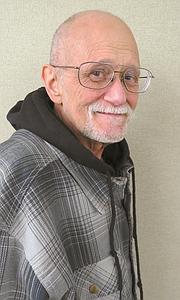 "He was part of the glue that holds us together as a community. What a legacy he has left. I can't begin to express how much I will miss him," said Janet Hamada, executive director of The Next Door Inc., who served on other boards with Benton.
Don and his wife, Bonnie, gave money to numerous organizations in the community, as well as dedicated their time to those groups. In 2011, Benton was honored by The Next Door Inc. with the Dana Lance Volunteer of the Year Award. The Bentons also established a Donor Advised Fund with the Gorge Community Foundation.
In the Benton spirit, the hosted cups of coffee flowed all week at his downtown "office."
Owner Nate DeVol said, "He would walk up, sneak his card by, and tell staff to put up $100 or so. And he was very adamant that no one know it was he."
"Don Benton was a great one and will be sorely missed," said Erick Haynie of Hood River, current Rotary Club president.
Benton is survived by his wife, Bonnie, daughter Lea Ann (and Eddie) Pounders, granddaughter Lily Pound- ers of Vancouver, sister Wanda (and Brook) Peterson of Orlando, Fla., niece Sandy Trail, nephew Mike Keegan, and great niece Katie Trail. He is also survived by his best friend, brother in arms, and best man, Phil Thaler.
A memorial will take place on Sunday, Sept. 10, at 6:30 p.m. at Anderson's Tribute Center, 1401 Belmont Ave. Donations may be made to the Don Benton Memorial Cancer Fund, FISH Food Bank, The Next Door or Helping Hands Against Violence. Donations can be sent in care of Anderson's Tribute Center.
Two of Benton's closest friends, Heidi Venture and Kristin Reese, crafted his obituary, which will appear in the Sept. 6 edition.
Venture said, "He took the time to meet the staff and get to know every single nonprofit he served. He took his role very seriously. He understood his legal and ethical obligations, and he paid attention. If he said he'd do something, it got done, and on time."
"Don was a great Rotarian, a truly giving soul, and a pillar of our community. Don embodied the Rotary motto of placing others above self. He lived humbly, and happily so, so that others could live better," Haynie said. "He will leave a permanent mark up our club and our community. The sorrow of death is borne hardest by the living when we suffer the pain of loss for a great one."
Hamada said, "Don was the definition of warmth, charity, and compassion all rolled into one person. And, in the 11 years that I knew him, he never deviated from that person despite his health struggles."