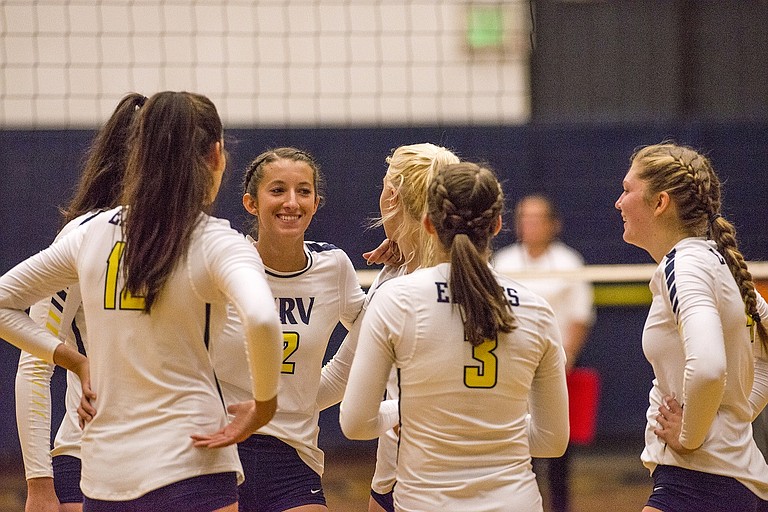 Saturday, September 2, 2017
After a long off-season Hood River Valley volleyball was finally back in action Tuesday night.
Not only were the girls ready for their 2017 campaign to get under way, so were the fans. Vannet Court was nearly filled with people waiting to get their first glimpse of this year's volleyball team. From coaches of others sports and their athletes to family, friends, and community members, it seemed as if nobody wanted to miss the show.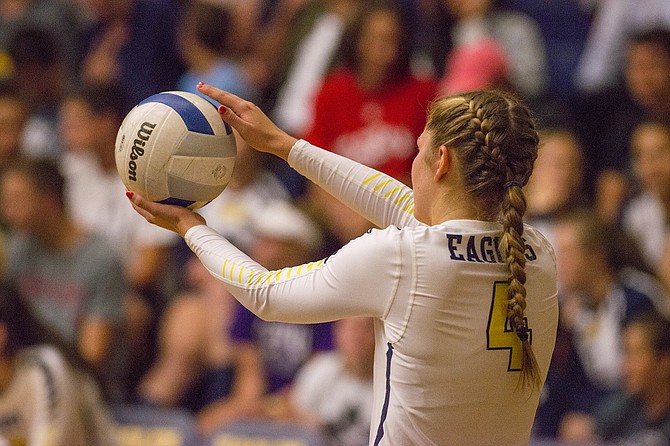 No really, this team put on nothing short of a show in their first game of the season sending home the Redmond Panthers in three quick sets.
The first set for the Eagles they won 25–8. They were performing all aspects of the game at a high level. Whether it was passing, serving, hitting, or digging, it all looked effortless for the girls. There was a unique flow to this team and at first, I had a hard time describing how they looked, but with time I realized it was simple: muscle memory. It almost felt like you were watching a routine that had been practiced repeatedly, it was a very smooth style of play.
The Eagles went on to defeat Redmond in the next two sets, 25–14 and 25–16.
Leading the way in aces for the girls was senior striker Hannah McNerney, ending up with eight on the night. Closely behind her was Emily Curtis with six. The team passed the ball very well with 12 perfect passes to only one receiving error. Curtis led the team with 12 assists and McNerney was a close second with 10. Last year's conference player of the year Shae Duffy was the leading hitter with 10 kills on 16 swings, and Chloe Kurahara added four digs on the night.
The girls had one day of rest until they traveled to David Douglas on Thursday night in Portland.
"Tonight's game gave me a whole bunch more gray hair," said Head Coach Scott Walker.
The Eagles dropped the first two sets by a score of 18–25 and 21–25, and to escape an early season loss they had to figure it out quickly. "David Douglas was passing the ball really well," said Walker. "We didn't get an ace until the middle of the third game." But better later than never, the Eagles were able to turn things around and come out of Portland with a win. They finished the last three sets winning by scores of 25–18, 25–18, 15–6.
Katie Kennedy and Duffy led the team with two aces apiece and the team ended up with seven aces on the night. Kennedy James and Kennedy led the team in passing, both with five perfect passes. Kennedy added 16 dig's to lead the team for the game. Curtis had the most assists with 21 set assists. Kennedy also led the team with 13 kills on the night. She also was the team's leader in blocks with four.
"It was a great come from behind win," said Walker. The Eagles next game is a home matchup against Mountain View High School on Sept. 5 at 5:30 p.m.