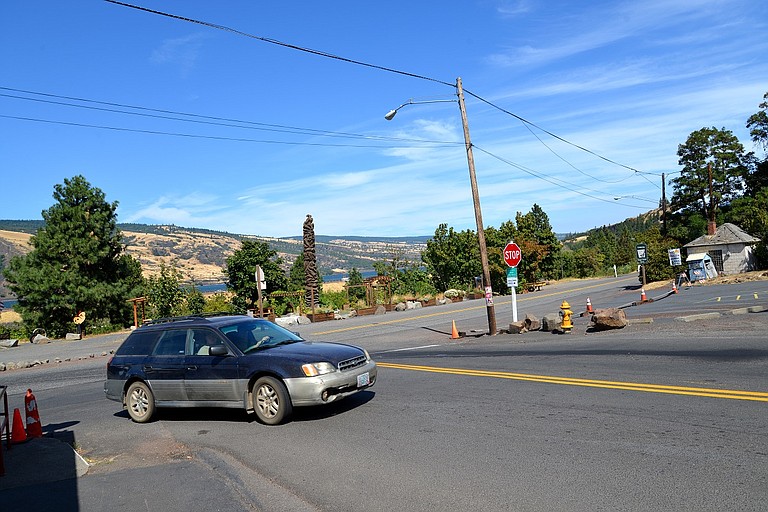 Originally published September 2, 2017 at midnight, updated September 2, 2017 at midnight
Leaders in Mosier are taking a hard look at road improvements for busy intersections along and near the town's main thoroughfare, U.S. Highway 30.
And this weekend, those plans take physical form in a "temporary design test" activity, which runs Sept. 2-9.
Temporary chalk drawings and other markers will let Gorge community members experience a handful of possible road improvements to come.
The City of Mosier, with funds from Oregon Department of Transportation's growth management program, has asked for input and help re-designing two problem junctions in the middle of town: U.S. Highway 30 and Washington Street, and Washington and Third Avenue.
It's part of a "tactical urbanism" project the city is launching alongside transportation partners, allowing people who use the streets in Mosier to help design safer ways for everyone to share the road.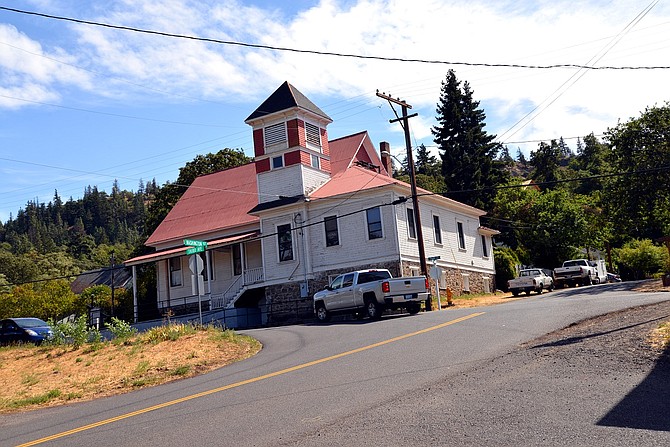 Kathy Fitzpatrick, Mosier city manager, said the city will adapt designs as people weigh in with their own ideas and priorities.
The goal, she said, is encouraging a dynamic where "Mosier becomes a place (where) you don't just drive through us, you drive to us."
The city has partnered with ODOT and Portland-based Alta Planning on the project.
Describing the urban planning process, Fitzpatrick said, "It's a growing tool that a lot of departments of transportation are using." Portland, for instance, has taken on similar pedestrian-based activities.
According to test diagrams, some temporary elements rolling out in the activity, starting Labor Day weekend, include pedestrian warning signage, a chalk curb extension, hay bales or street furniture, and bike stalls.
Mosier, population roughly 450, has juggled conflicts from various transportation modes converging downtown.
"I can't allow my child to walk to school or get an ice cream cone," commented one Mosier parent who lives only blocks away from the school and from Route 30 Classics ice cream shop, according to an email from Fitzpatrick. "It's just too dangerous. Cars are driving too fast and there is no safe place for kids to walk or bike."
Orchardists have been concerned about navigating their fully loaded trailers through a tricky intersection in the middle of downtown Mosier that is usually overflowing with people and bikes, she explained.
Many of those orchard community members have agreed to drive their long rigs through the newly designed intersection this weekend to give their feedback and ideas.
The intersection work essentially parallels similar endeavors in Hood River, where city officials have launched surveys gauging the "Big Six" intersections in most need of fixes.
Mosier recently received grant support for Highway 30 pedestrian improvements, including a $550,000 grant from ODOT.
Fitzpatrick said the agency may begin preliminary engineering and other conceptual work by late 2018. By that timeline, construction would begin in the following year.
The city has been working on a comprehensive "Mosier Transportation System Plan," which it expects to adopt in spring 2018. To learn more and provide feedback, visit cityofmosier.com and click the Projects tab.
For more information on the intersection activity, contact Mosier City Hall at mosiercityhall@mosier winet.com.