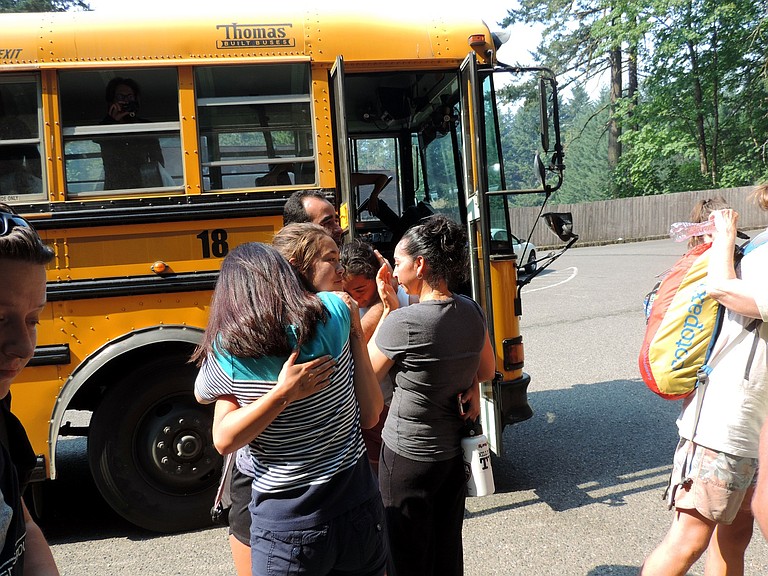 Originally published September 5, 2017 at 1:42 p.m., updated September 5, 2017 at 1:42 p.m.
This article expands upon what appeared in the Sept. 6 print edition, and includes comments of Deputy Bob Stewart.
Tunnel Falls is not designed to sleep anyone, let alone 140 people, but it was the scene of the biggest and most famous impromptu campout in years in Hood River County.
All 153 of the fire-stranded hikers on Eagle Creek Trail got out safely Sunday afternoon, making the 14-mile hike to Wahtum Lake, south of Punch Bowl, while they had started out Saturday planning to walk perhaps three miles. The hikers had gone from Eagle Creek trailhead to Punch Bowl Falls when the Eagle Creek Fire erupted and cut them off, meaning they could safely only go south. The rescue happened with the help of agencies and rescue groups — and the hikers themselves.
"It was a team effort between Sheriff's Office, Crag Rats, Pacific Northwest SAR and the Forest Service, and Cascade Locks Fire Department. They all filled roles along the way. without them can't do the work we do which is SAR," said Sheriff's Deputy Bob Stewart.
On Saturday, 14 hikers, mostly Pacific Crest Trail through-hikers, were able to hike out to Wahtum Lake, where rescuers met them and bussed them back to Eagle Creek hatchery trailhead.
"Initially, we thought we could hike them all out Saturday night, but it became evident that because of the sheer number and the distance, they would have to spend night on the trail," Stewart said. A total of eight people from Crag Rats, Forest Service and Pacific Northwest SAR headed down the trail to spend the night among the hikers, starting at 9 p.m.
In the overnight group, several individuals stood out:
Lumi Berman, 3, kept hikers' spirits up, said her parents Jeremy and Maria Berman of Portland.
Maya Merrill of Salem celebrated her 16th birthday with 139 friends, and a Portland couple had a first date they'll never forget.
"Overall, it was one of the best hikes I've ever been on," said Noah Brown, 16, of Salem, who hiked with Merrill and 10 fellow Salem high schoolers on a summer's end "day hike" — and made 130 or so new friends in the next 24 hours.
A group of about 10 young adults saw to the safety of the group they lovingly called "the minors." Grateful parents distributed hugs and snacks at the Eagle Creek hatchery Sunday as three Hood River County School District buses arrived from Wahtum Lake, all hikers accounted for.
"I've never had a birthday like that. It was really something," said Merrill. "I was with like the best people, really positive, helping people."
"I've never experienced anything like this. I think this is a first even for the rescue people," said James Tomlinson of Chicago, who was hiking with the Bermans. "Everyone was calm. If people had something, they'd give it to someone else. It was a teamwork kind of thing," Tomlinson said.
The rescue was "a team effort," said Rob Donez of Portland, an Air Force medic who many hikers credited with able leadership on the overnight trail sojourn in which most hikers had little more than the clothes on their backs; those with food and water, and water filters, shared what they had. Responders brought blankets, water and food between 2 and 4 a.m., and stayed with the group through the morning hike out between 7 a.m. and noon. Crag Rats, Pacific Northwest Search and Rescue, U.S. Forest Service, and Hood River County Sheriff's Office personnel were stationed at Wahtum and made their down the trail to make sure all hikers were safe.
Donez had just moved to Portland and went with Cassie Smith on what was to be a three-hour hike for a first date.
"It wound up a day and a night and another day," Smith said.
"I just tried to keep them moving," Donez said.
Smith said, "They could see Rob knew what he was doing, so everyone kind of assumed I did too. I was his cohort." She served as runner, going up and down the trail between two groups with phones who were able to communicate.
"The kids were great," Donez said. "We had one case of first aid. All 140 of us stepped up. It was pretty wonderful to watch."
"It was pretty remarkable," said Deputy Chris Guertin with Hood River County Sheriff's Office. "It's 14 miles from the trailhead to Wahtum Lake. Those folks endured the uphill. A lot of Eagle Creek is fairly easy until you get back in there, but it does get steep.
"It's an unprecedented situation and it worked out really well, especially given the area. It's pretty remote," he said.
Stewart said, "I give a lot of credit to (deputy) Joe Wampler, our contract forest patrol guy in summer, along with Sgt. Joel Carmody to manage the SAR." He also thanked the Hood River County School District for providing school buses on short notice, including the one that took out the initial 14 hikers from Wahtum Lake.
"Chris Guertin and I spoke Saturday night and early Sunday morning to plan how to evacuate people, run supplies, and get buses up a narrow road (to Wahtum Lake)."
Added Stewart, "I fill big shoes because I filled in for Mike Anderson." Anderson, who died Aug. 25, had been SAR coordinator.
Originally, the rescue team planned to take the hikers out via the Eagle Benson trail, a shorter route but one that ran along the western edge of the month-old Indian Creek fire closure area.
"We determined Tunnel Falls was better, while not exactly hospitable, but it was far enough away from the fires.
"Rather than squeeze them between an active fire and a new one, we felt if we can hike them around Tunnel Falls and spend the night there, and it was a great warm summer evening, a lot of people in tank tops and board shorts, not too terribly miserable temperatures," Stewart said.
Note: The Indian Creek fire is no longer a separate fire, as of Wednesday morning; see main story.
"One thing we did with Crag Rats is we had supplies driven to Wahtum Lake and had Crag Rats, U.S. Forest Service and Pacific Northwest SAR folks load up on water for the hike down, to get snacks and food down to them, and get some of them some basic supplies and triage any sort of existing injuries or medical conditions."
An elite SAR team went north on the rugged Indian Springs Trail, which connects to the Eagle Creek, in case some of the hikers diverted that way; the SAR team then doubled back up Eagle Creek trail. All were accounted for.
"Everyone was in surprisingly good shape health-wise, a few younger children; the average age was late 20s or so," Stewart said. "It's typically a pretty young crowd that hikes up to the Punch Bowl area."