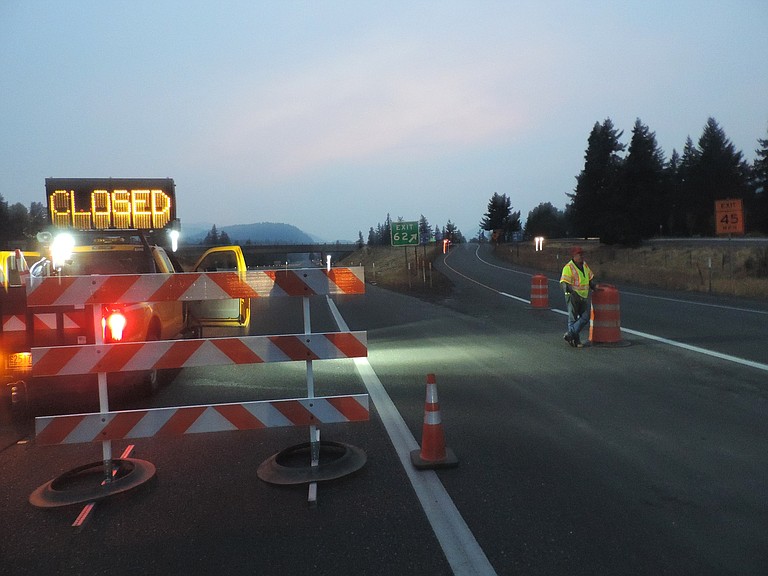 Originally published September 5, 2017 at 1:37 p.m., updated September 5, 2017 at 1:37 p.m.
Just in from the Hood River County School District: The Hood River County School District is working collaboratively with first responders and emergency management agencies regarding the Eagle Creek fire and its impact on Cascade Locks. We are working to coordinate transportation for Cascade Locks students to Hood River. Cascade Locks Elementary will temporarily be relocated to Westside Elementary School. Teachers and staff have gathered materials from the school today and are working on setting up classrooms for your children. Westside, Hood River Middle and the high school are currently safe for your children and we are urging parents to send their children to school. We are currently working on the logistics of transportation with the road closures. We are planning on having bus service from all evacuation shelters, including Skamania County Fairgrounds. We will continue to keep families updated with any changes and bus route information via our webpage, Facebook, Twitter, and phone calls.
The Hood River County Library District has closed the Cascade Locks library branch until the fire evacuation order is lifted.
For more information, contact the district at 541-386-2535, info@hoodriverlibrary.org, or visit hoodriverlibrary.org.
The Hood River County School District closed Cascade Locks Elementary on Tuesday, Sept. 5, for what would have been the first day of school. All other sites were operating on a normal schedule, although students were kept inside buildings for recess and PE classes.
Port Marine Park in Cascade Locks is also closed.
Tri-County Hazardous Waste collection event in Odell on Saturday is cancelled.
Barb Ayers, Hood River County Emergency manager, suggests people take the following precautions due to reduced air quality:
Be aware of smoke concentrations in your area and avoid the places with highest concentrations.
Avoid strenuous outdoor activity in smoky conditions.
If you have heart disease, asthma or other respiratory ailments, or are over 65, you have a higher risk of illness from wildfire smoke.
Small children and pregnant women are at increased risk. People in any of these groups might consider leaving the area until air quality improves.
People suffering from asthma or other respiratory problems should follow their breathing management plans or contact their healthcare providers.
No matter how far you can see or what the air quality monitors are reporting, if someone feels that they are having health effects from the wildfire smoke exposure, they should take extra care to stay inside or get to an area with better air quality. They should also see their doctor or health professional as needed.
Remember, local smoke levels can rise and fall rapidly, depending on weather factors including wind direction.
Transportation:
Interstate 84 remains closed from Troutdale to Hood River due to rocks and rolling debris entering the roadway. Washington State Route 14 is open to passenger vehicle traffic, but closed to commercial vehicles. Commercial vehicles are being routed to Highway 26. Check www.tripcheck.com for road conditions in Oregon and http://www.wsdot.com/traffic/trafficalerts for road conditions in Washington.
East winds are expected to continue through today. Wednesday is forecasted to bring partial cloudiness with winds switching to westerly 6-8 mph gusting to 15 mph after noon with increased relative humidity.

ODOT has canceled the Columbia Gorge Express bus service for the upcoming weekend of Sept. 8-10, Friday through Sunday, because of the Eagle Creek Fire.
Shelter locations:
Skamania County Fairgrounds
710 SW Rock Creek Drive
Stevenson
Eagle Creek Wildfire
Mt Hood Community College
26000 SE Stark St
Gresham, OR 97030
12:45 p.m. Tuesday Post offices update:
CORBETT -- The U.S. Postal Service is advising that any residents of the Cascade Locks and Bridal Veil areas who have been forced to evacuate their homes because of the Eagle Creek Fire may pick up their mail at alternate locations until further notice.
Cascade Locks postal customers may pick up their mail at the Stevenson, WA, Post Office, 90 SW Russell Ave, Stevenson WA 98648. The Stevenson Post Office's retail hours are from 8:30 a.m. to 5 p.m. Saturday mail pickup, if needed, will be available from 7 a.m. to 3 p.m.
Bridal Veil postal customers may pick up mail at the Corbett Post Office, 36046 E. Historic Columbia River Hwy., Corbett OR 97019, until further notice. The Corbett Post Office's retail hours are 8:30 to 11:30 a.m. and 12:30 to 5 p.m. weekdays. Saturday mail pickup, if necessary, will be available from 6:30 to 9:30 a.m.
Customers are asked to present photo identification to obtain their mail.
As a result of law enforcement authorities' evacuation orders, the Bridal Veil Post Office at 47100 W. Mill Rd. and Cascade Locks Post Office at 415 NW Wanapa St. are closed at this time.
Decisions on future changes to mail delivery will be made and updated after consulting with local emergency managers and law enforcement officials.
The Postal Service receives no tax dollars for operating expenses and relies on the sale of postage, products and services to fund its operations.
Evacuation Map:
http://www.flashalertnewswire.net/images/news/201709/1816/107593/Evac_ANSIE_land_20170904_1936_EagleCreek_OR_op.pdf