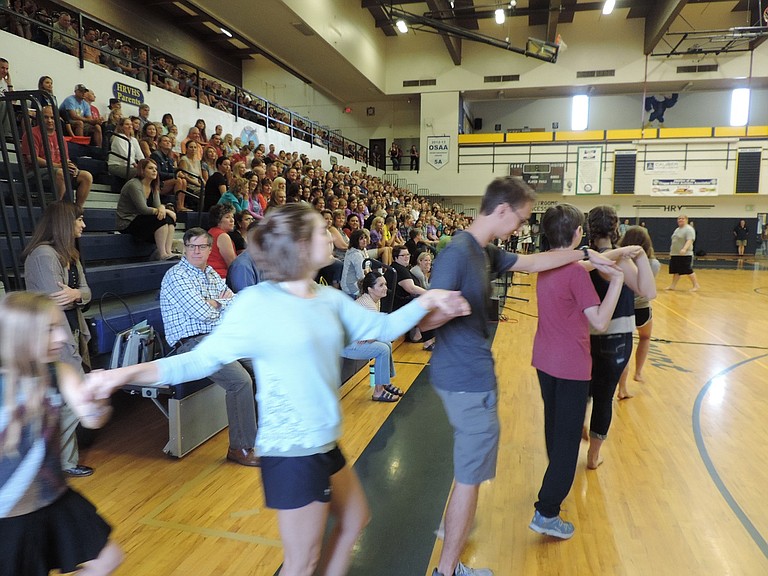 Wednesday, September 6, 2017
This is an edited version of Dan Goldman's prepared speech at the Aug. 30 all-staff back-to-school assembly, in which he stressed both the need to embrace technology in learning and for teachers and other staff to engage in true relationships with each other and students, to make sure all students feel accepted where they are welcome to fully experience their learning environments. Included is a link to video featuring Hood River Middle School students expressing "I believe":
•
In early August, I had begun preparing my remarks for today. I felt fairly prepared… and then, Charlottesville happened and I have to tell you, I ripped up my entire speech.
I had already planned to talk about our district-wide efforts to ensure equity and opportunity for all our students … from the courageous work done last year by our school board to pass resolutions protecting undocumented students while at school ... and their work to craft and unanimously pass a very powerful Educational Equity Policy —something I urge each of you to read. To the work of our administrators, and now each school's Equity Learning Team who will be working with the National Equity Project over the course of this upcoming year to explore the intersection of schooling and systems of advantage and disadvantage. To the work of our students, like our student-leaders at Hood River Valley High School who crafted and signed a powerful letter to the community declaring tolerance and love for all their fellow students — and the work at Hood River Middle School to produce a wonderful video called "I Believe" to combat potential division between students at the school.
Video:
HRMS I Believe:
youtube/h6Gw5Hk95WA
I was going to talk at length about what we had done last year to create a safe and welcoming learning environment for our students because I was so proud of the work we'd accomplished around these issues. But after Charlottesville, the words I had written just seemed so passive — as if there's no continuing emergency for educators — for us — to take on issues of humanity, empathy and justice in a much more direct way in our daily practice. And I don't mean to politicize this issue … this isn't a red or a blue — a liberal or a conservative issue. This is a humanity issue — this is a "who really belongs" issue.
To see swastikas paraded on American soil and such disgraceful hatred of "others" based on things like skin color, religious beliefs and sexual preference made me emotionally ill. Since I was already physically down and out, I spent days glued to those events, watching news from CBS, to FOX to CNN to try to understand the various narratives. On Facebook, I saw a range of reactions from my friends in education. Another educator wrote these words, which really got me thinking about my own role as a white, male educator … they said … "Lots of my white teaching colleagues are saying, "How could this happen in America?" But teachers of color are saying, "We've been telling you that this is happening in America." What was shared amongst all of these educators, was a conviction that the events in Charlottesville cannot go unchallenged.

So … I ripped up my speech. I shortened this piece down to fit the time we have today, but honestly, after watching it, I was just so ashamed of the passivity of my initial message — and in myself. Since that moment, in considering what to say today, and in watching news about Charlottesville and reading about educator's responses to the rising hate in America, award winning teacher Mian Franzinger Barrett wrote, "Who grew this hate? Who planted it? Who nurtured it? Who protected it from exposure to education and love?"
As teachers, our job is not solely to pour mathematics, science, language arts or any other content knowledge into the heads of our students. It is our duty to our profession, to our society, and to our students to lovingly teach them to learn and grow as complete humans.
He goes on to challenge each of us … he writes … "Recognize that humanity and radical anti-racism is our curriculum for every subject."
In reality, last year we had a presidential election, and because of how divisive it was —and continues to be — I think we mostly avoided talking about humanity, social justice, and empathy in our classrooms. Just at a time when we as educators had the obligation to ensure our students know how to discuss these things without denigrating and fighting one another. And ... to be able to construct meaning without fear of getting shut down by an opposing viewpoint. It's our duty to assure our students know how the constitution works, how our election process works, about civics, and most of all about empathy and humanity for one's fellow human being. Again … Empathy and humanity are absolutely apolitical — no political party owns or scorns the ideals of humanity and love for one another.
So I ask how do you plan to teach empathy and humanity in your classroom this year? Because students need to feel safe — and that you care — before engineering or language arts or music content can be learned at high levels.

If you're a science teacher, for example, where in your curriculum and your daily classroom habits are you creating the space for — and elevating — the connection of your content, to the American ideals of freedom, justice, compassion, self-determination, and brotherly love? In P.E., where in your curriculum and daily practices is creating the safety for students to learn and practice kindness and tolerance?
Over the last four years as your superintendent, I've been in nearly every classroom across the district. I'm telling you, that you have the professional ability, the emotional competence, and the general capacity to take on injustice ... and to facilitate the absolutely necessary teaching of empathy and humanity in your daily practice.
Let's recognize our immense power as educators here. The reinforcing nature of silence cannot be our pathway with our students, their families or ourselves. If nothing else sticks after this morning, I am begging you to explore how you elevate the voices of the traditionally oppressed in your classes, to moderate the dominant narrative, and to address empathy and humanity directly and daily.
Easy to say, hard to do, right? Like I said, none of us individually holds all these answers. But we do know some things, for sure.
Be intentional about relationships with everyone.
Build a community in your classroom that elevates the voices of students in the minority.
Be apolitical … humanity is not a political issue. And ... as Charlottesville just showed us … silence is not an option. Don't be afraid to fail here … your principal, your school board, and I have your backs. We can do this! You can do this! Empathy, humanity, relationships, and love. Let's have the best school year ever!