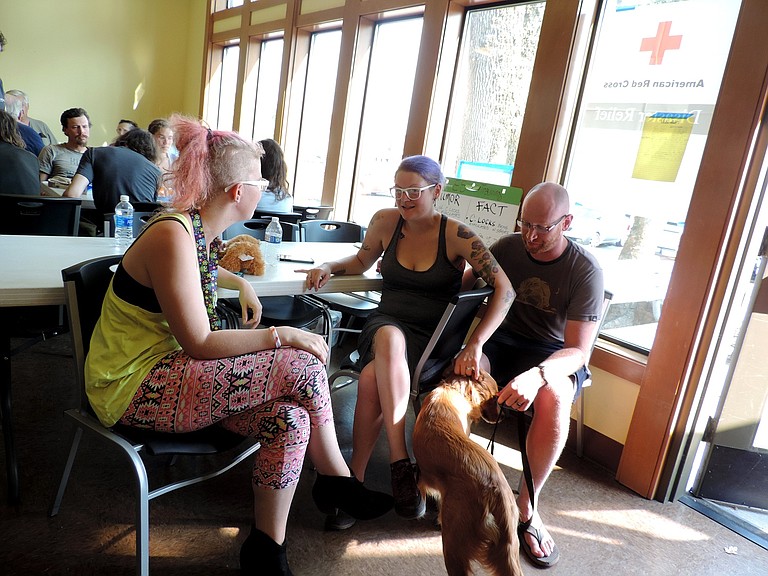 Originally published September 6, 2017 at midnight, updated September 6, 2017 at midnight
By Tuesday morning the evacuation orders in Cascade Locks had been heightened and "everybody's ready" to get out of their homes, according to Joe Wampler, deputy with Hood River County Sheriff's Office.
More than 100 people had left their homes and moved into the shelter hosted by American Red Cross at Rock Creek Community Center in Stevenson, with another 200 or more camping in tents or trailers just outside.
The location provided a panoramic view of the towering plumes of smoke from the fire that threatens the homes and businesses of Cascade Locks.
Dylan and Danielle Herndon departed their Forest Lane home before they got the evacuation order, leaving their home "in high hopes" of an early return. However, at press time that return was totally dependent on containment of the fast-growing fire.
Shelter recipients found air conditioning, food and water, stuffed animals, and shaded shelter for pets and animals at the adjacent Skamania County Fairgrounds.
Another Cascade Lock resident, who gave her name as Miersaydies, said she had everything packed up when she first heard of the fire, knowing the potential danger. She was waiting to connect with the father of her two children, staying with him in Carson.
"I really appreciate this. It's nice to know that since our homes are in danger, there's a place we can go, and know we are safe," Miersadies said.
The Herndons grabbed up important papers and their dog, Cole, and made calls to family and friends who were caring for their four children.
"This was our weekend to go kayaking, and then this happened," Dylan Herndon said with a smile. They needed a few hours to get in touch with friends and family and would regroup the kids and go stay with relatives.
"We're really grateful for a safe place. It's one less thing to have to worry about," Danielle Herndon said. "Even before we had to evacuate, we knew we had a place to go."
Stevenson residents including Colleen Wahto responded by coming to the shelter with donations and offers to help in any way needed. Wahto and her sons, Corrin and Will, were returning from a visit to family in eastern Oregon when they heard about the fire, and came directly to Rock Creek with personal hygiene supplies. Will and Corrin, both teenagers, were ready to help out; both had extra time, as their employer, the Columbia Gorge Sternwheeler, was idled due to the fire.