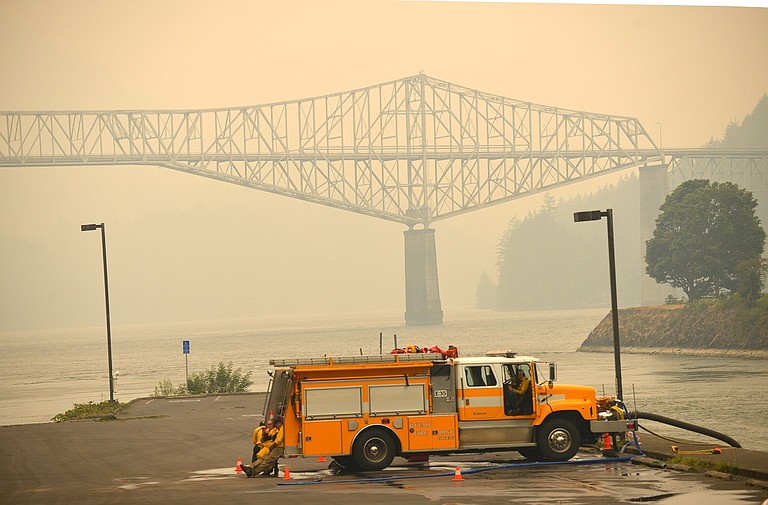 Originally published September 8, 2017 at 1:28 p.m., updated September 8, 2017 at 1:28 p.m.
The battle against the Eagle Creek fire — though far from over — pushed ahead this week, as crews squeezed containment lines to 7 percent.
The fire, in its seventh day, is burning about 33,000 acres just southwest of Cascade Locks Friday morning. More than 900 staff make up the team combatting its growth — one of the largest crews in Oregon.
Highways remain closed, with Oregon Department of Transportation giving no estimate for Interstate 84 reopening between Hood River and Troutdale Friday. Highway 14 in Washington offers the main alternative for passenger vehicles. Some train and river boat traffic resumed Thursday.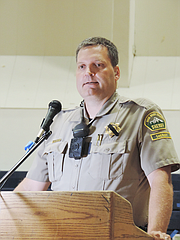 Oregon State Police confirmed that that the blaze was apparently caused by a 15-year-old Vancouver male using fireworks in the Eagle Creek canyon; the case is under investigation but no charges have been reported by press time.
Weather experts delivered good news Thursday night: perilously windy and hot conditions leveled off somewhat, along with a quarter-inch to half-inch sprinkling of rain.
"It will not be enough to put the fire out, but it will be enough to slow it," Shawn Weagle, National Weather Service meteorologist, said. "Any bit of moisture helps, especially after the summer we've had."
Forecasts say winds will pick up over the weekend, including some west wind that may rile up the fire's east expanse.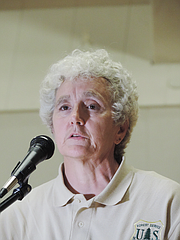 On a fortunate note, Weagle said, "The conditions are nothing like they were when (the fire) ran west" earlier this week. The fire shot west about 12 miles, reaching past Multnomah Falls. It also jumped across the Columbia River and sparked a fire near Archer Mountain.
Smoke has cleared somewhat since the explosive days. Clearer horizons have allowed emergency aircraft back into the sky.
Traci Weaver, U.S. Forest Service spokeswoman, said improved visibility allowed the fire team to fly out a Chinook helicopter Thursday, scooping up water from the Columbia River and dropping bucket loads onto the blaze near Cascade Locks.
"Aviation resources" will be back in the air Friday, Weaver said at a media briefing. Burnout operations by crews near Cascade Locks were successful, with more planned near Corbett, she said.
Thousands of scorched trees and piles of rocks line I-84, keeping ODOT crews busy clearing the roadway. Rian Windsheimer, ODOT Region 1 manager, said Friday the agency may open portions — such as westbound lanes — before total reopening.
It will be a long recovery for wildlife at scenic destinations, but Lt. Damon Simmons, Oregon Fire Marshal's Office spokesman, called the fire a "mosaic burn" which will leave patches of healthy trees along with the destroyed areas.
Meanwhile, Gorge communities have come together in response to the fire's wide-sweeping impacts.
Hundreds evacuated from Cascade Locks are still displaced. Communities in Dodson, Warrendale, and Corbett were also evacuated. American Red Cross shelters in Stevenson and Gresham are serving 215 people as of Friday.
"We're doing okay," Cascade Locks Fire Captain Jessica Bennett said Wednesday. "We're hoping to bring people home soon and get businesses back in operation — it's a huge economic impact in our small community. This happened on Labor Day weekend."
Many have dropped off piles of supplies at the fire station, which Bennett said crews appreciate, but she suggested citizens now take action to boost morale, such as putting up encouraging signs and donating money to the cause.
Cascade Locks Mayor Tom Cramblett was put under evacuation order but he's stayed in town through the ordeal.
"This is gloomy. You've got this smoke over you the whole time," Cramblett said Wednesday.
But he praised the team effort locals have mustered, saying, "When you watch what (is happening), you're just impressed with the town … the people step up to the plate."
Most businesses shuttered their doors. A handful reopened intermittently, serving firefighters free meals and other goods.
No homes in the Hood River Valley have been put under evacuation order of any level, as of press time Friday morning.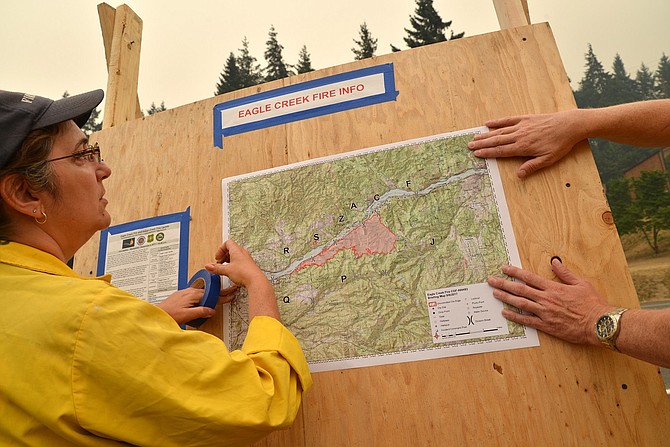 Hood River County Board of Commissioners issued an emergency declaration Sept. 5, and closed all county-owned public forest lands. All public forest lands west of Dee Highway and north of Mount Hood were put under Level One evacuation notices. These are public lands where campers, hikers, and hunters may currently be recreating, but no private homes.
Matt English, Hood River County Sheriff, said his department will take a "conservative" approach issuing evacuation notices, so residents have as much time as possible to prepare.
English emphasized the sheriff's office makes the call on evacuation orders, and residents should check notices from the county directly for the most accurate, timely information.
As for the fire outlook, structure protection and defending fire lines near communities will demand an overarching team effort. An Inciweb post estimates the fire will be contained Sept. 30, though much is subject to change.
Shawn Sheldon, incident manager for northwest interagency team 6, said agencies involved have banded together in a unified command — and successfully protected towns and valued resources, like scenic trails, Multnomah Falls, and Portland's Bull Run Watershed.
"All those people coming together did an outstanding job of protecting those things we hold dear," Sheldon said.
•
UPDATE Oregon State Fire Marshal's Friday Report:
Relative humidity reached 100 percent in many areas as low clouds moved in as far as the Pacific Crest Trail on Benson Plateau above Cascade Locks. Night crews reported, however, that there was some unmeasured fire growth on the ridge above Cascade Locks. No Infrared imagery was available overnight.
Today, crews will continue with structure protection and will focus efforts on the western, eastern and southern flanks of the fire. As weather allows, more burnout operations are planned to secure the fire line near the Bridge of the Gods. This will increase smoky conditions, but will help in securing the fire's edge.
Fire crews will be working today to remove brush from Forest Road 2030 around the perimeter of the Bull Run watershed as a fire break to protect the drainage.
Yesterday, after the smoke dispersed near the river, helicopters were able to cool down hot spots on the steep terrain near Cascade Locks. There are currently 10 helicopters assigned to the fire that will continue dropping water as weather conditions are suitable for flying.
As of this morning, the fire is holding at 33,382 acres and is seven percent contained. The U.S. Coast Guard is re-opening the Columbia River to night-time passage of commercial boats. Interstate 84 remains closed from Troutdale to Hood River due to debris on the roadway and the potential of rolling rocks and falling trees. The Oregon Department of Transportation will begin removing the first of at least 2,000 hazard trees today that need to be felled before the highway will be safe to reopen.
The Office of Oregon State Fire Marshal has updated the number of structures destroyed by the Eagle Creek Fire to four. One structure was a full time occupied residence. The additional three structures were non-full time residences that were unoccupied. OSFM will continue to assess the areas where the fire burned as conditions allow.
A community meeting was held in Hood River last night with an estimated 615 citizens in attendance. Thousands more followed the meeting through live-stream video.
For real time and current evacuation information, please contact the Multnomah, Hood River, or Skamania County Sheriff's Offices.