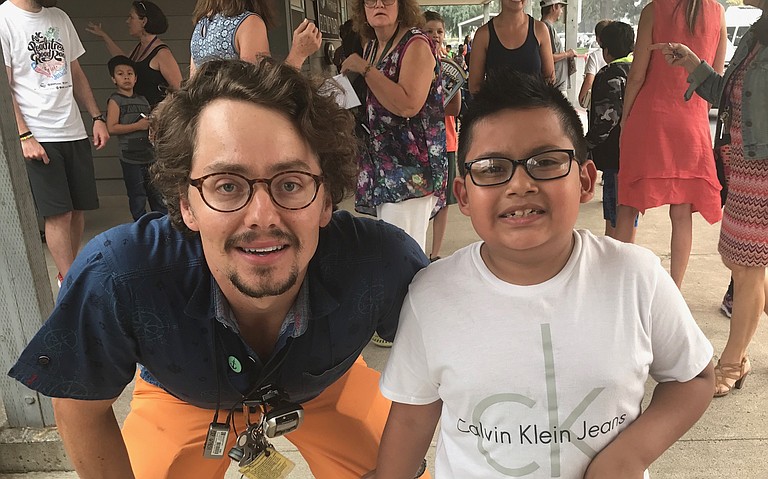 Originally published September 8, 2017 at 1:20 p.m., updated September 8, 2017 at 1:20 p.m.
"We had a unique first full day."
That's how Principal Sarah Braman-Smith summarized the start of the new year at Wy'east Middle School in the midst of construction projects and a fire base camp next door.
"Overall, it's been amazing," she said, saying that firefighters have "embraced the fact the fairgrounds committed to helping us out. We've had very successful pick-ups and drop-offs."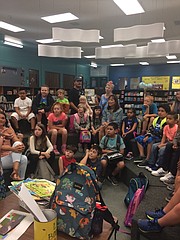 Base camp for the Eagle Creek fire is at the Hood River County Fairgrounds. The school's new east access point for buses is yet to be completed, and the fairgrounds had agreed prior to the fire's start that the school could use the grounds for that purpose.
Wy'east staff, fairgrounds staff and firefighting personnel have all collaborated to help kids get on and off the busses, she said. The district's transportation office has also erected signage to make the transition go smoothly.
"We all know we need to be flexible," Braman-Smith said. "We're still very much under construction — and the construction is also being impacted because of fire, because (Interstate) 84 is closed. We have to be able to monitor and adjust.
"You've got all of the machines for the construction, and all of the firetrucks having to coordinate and work together," she said. "I can't say enough how lucky we are to have the fairgrounds as our neighbor and be able to work together to make sure this happens."
Wednesday was a "nontraditional" start to the year, she said, for a variety of reasons — the fire alarm was set off due to smoke in the hallway from open doors, and the bell system wasn't working — but "the community has just been great. I appreciate our staff, community, and most importantly, our learners," she said.
Cascade Locks Elementary was closed Tuesday due to the fire, and classees were moved to Westside on Wednesday. Staff from both schools welcomed students as they arrived, as did three members of the school board: Chrissy Reitz, Rich Truax and Corinda Hankins-Elliott, who came with muffins and juice for each classroom, said Hood River County School District Superintendent Dan Goldman.
Cascade Locks Principal Amy Moreland said she watched her students come into the new situation "with a look on their faces like you'd expect — scared, real quiet and reserved," but by the end of the day, they were "beaming."
"They left smiling and laughing, which I think was really nice for their parents. It was hard for them to leave their kids there," she said.
"I have to say that is all because the Cascade Locks staff is just incredible," she said. "They have rallied in a way I didn't know was possible … They have really positive attitudes."
Westside staff, students and parents have also been incredibly kind, she said. Not only have they offered space for Cascade Locks families to stay in Hood River, they've made sure the kids have felt welcome.
"I was prepared for our students to want to stay with Cascade Locks staff the whole day, and they were playing with Westside kids by lunch," she said.
Teachers and staff from both schools are working together, Goldman said. Cascade Locks staff and students are now set up in two portable classrooms and one stage classroom.
"On the Cascade Locks side, first of all, I'm really proud of our staff and how they've been flexible," he said. "They set up beautiful classrooms at Cascade Locks school and they're recreating that on the fly. They're so committed and happy to see those kids and welcome those kids. And I think that's just a tribute to Amy Moreland as principal, and her whole staff.
"I can say the same thing for the Westside staff. They worked all night to get classrooms together. It's really great to watch everyone coming together."
Moreland said the transition was "fabulous. It went really smoothly. The Westside staff and students were absolutely wonderful, super welcoming."
She said that Cascade Locks staff had limited time to get into the school and grab supplies, and they focused on curriculum.
"We didn't grab pencils and crayons," she said.
Westside staff found and shared materials and books with Cascade Locks teaches, Moreland said.
Additionally, the Education Foundation Board — led by Reitz, Goldman, Chuck Bugge and Laurie Stephens — put together food, backpacks and toiletries, and were able to send each child home with a bag of essentials, from towels and toothpaste to snacks.
School had been canceled in Cascade Locks on Sept. 5, on what was supposed to be the first day back. Goldman said that 24 elementary students from Cascade Locks came to Westside on Wednesday out of an expected enrollment of 70.
(At Hood River Middle School, Goldman said 75 percent of Cascade Locks students came, with 80 percent at the high school level for freshman orientation.)
Parents were mostly responsible for getting kids to school, Goldman said, although busses had been sent to the Red Cross shelter site at the Skamania County Fairgrounds in Stevenson for that purpose.
"We decided we could not drive busses into evacuation zones, and didn't want to promote kids waiting for the bus in evacuation zones," he explained. He went to the shelter that morning to greet kids and talk to families. About 15 total kids were picked up at the shelter.
Schools were closed across the district Thursday due to poor air quality, which sparked some controversy.
"The reality is … by the code, we cannot put kids in schools that have subpar air quality," Goldman said. "We can't run our systems, which pull air outside to the inside, and we're not allowed to turn those systems off and have kids in school."
Goldman also said that "we could not have kids waiting for busses" in the smoky air.
"It's frustrating for all of us — we want to have school so badly, but we can't have kids and staff show up in a workplace like that either," he said.