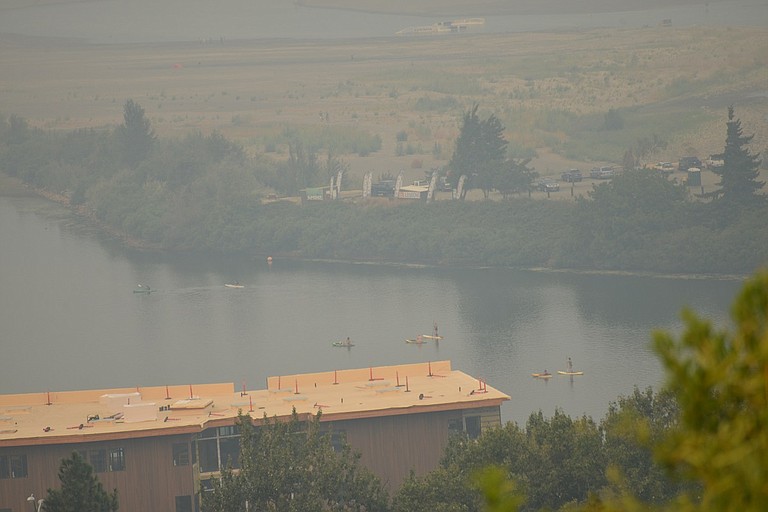 Saturday, September 9, 2017
Heavy, unhealthy smoke in the Hood River area has prompted questions regarding the use of masks. The best protection is to avoid smoke altogether by staying inside.
It is normal for everyone to have symptoms like headaches, scratchy throat and eyes, cough, shortness of breath, and irritated sinuses from prolonged smoke exposure. Check on vulnerable neighbors. If you have severe or worrisome symptoms, contact your doctor; only call 911 if it is an emergency.
Should I use an 'N-95' Mask?
If you have to go outside, the best mask is an N-95 mask that is properly fitted. N-95 masks do not protect you from the smallest particles and toxins found in smoke.
Even with a mask, people are still breathing the smallest particles and toxic chemicals like carbon monoxide and other volatile organic compounds. This is why it is dangerous to participate in outdoor activities during unhealthy smoke events. Hood River County Health Department urges you to stay inside with windows and doors closed. Set fans to re-circulate / recycle.
What about other masks?
Paper, dust, and/or painters' masks as well as bandanas (wet or dry) do not work for smoke; they do not protect your lungs. It is best to stay indoors and limit your exposure to the smoke.
How do I protect my family?
• Limit your exposure to the smoke;
• Stay indoors;
• Use air conditioners with recycled air, using mechanical or electronic air cleaners;
• Keep windows closed while driving in a vehicle;

• Reduce physical activity levels;
• Minimize other sources of air pollution (smoking, burning candles, and vacuuming).
More information:
Additional information about smoke and the health effects is available on the Hood River County Website (www.co.hood-river.or.us).

The latest information is available at:
• InciWeb: inciweb.nwcg.gov/incident/5584
• Hood River County website: www.co.hood-river.or.us