Saturday, September 9, 2017
"Everything gets turned around …" — Neil and Tim Finn
Things are confusing, with smoke filling the air and cool temps inverting like fall on the heels of summer heat.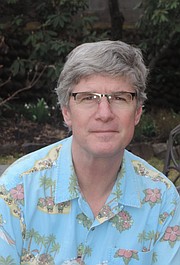 Witness the ash drifting all around, and January's road cinders resting in piles on many a curb or corner.
"Four seasons in one day/
Lying in the depths of your imagination…"
It's from the band Crowded House.
Winter-spring-fall-summer, in no particular order seemingly within a 24-hour period: Who would imagine all of this?
And 25 years after their recording, the song lyrics feel more weirdly relevant than ever.
You see Good News Gardening advertising bulbs "to plant now for spring color": normal enough, but it's disorienting when mixed with the roguish recipe given us by this aggravating, oddball summer of eclipse and ever-present fire.
We went in two weeks from the sun blotted out by the moon for 2 minutes to the sun blotted out by smoke for hours on end.
Then a day or more of school gets cancelled — for smoke, not snow — and it's hard to know what season this is.
When does school get cancelled, for any weather reason, in September?
The next lines in the song seem prescient:
"Worlds above and worlds below/
The sun shines on the black clouds/
Hanging over the domain …"
How quaint seems last month's eclipse hubbub with everyone looking to the sky in late August, for very different reasons than we do now.
We've moved in quick step from ISO eye gear to N-95 mouth masks.
How do things turn around so quickly?
"Even when you're feeling warm/
The temperature could drop away"
Was the song written for our new situation?
"Like four seasons in one day."
As you read this, on what would be a balmy late-summer day, we are forced to stay inside as much as possible. But this is not January.
In one couplet the song moves on to a general condition of being human,
"Up the creek and through the mill/" To the storms and fires and climate change reality:
"Like all the things you can't explain …"
We adhere to our weather forecasts — who wouldn't? — but:
"Doesn't pay to make predictions/
Sleeping on an unmade bed
Finding out wherever there is comfort there is pain
Only one step away …"
Just think: the way things are going, it could be mere weeks before those road cinders will prove particularly convenient, and we'll be scooping them up and spreading them on our sidewalks.
"… Like four seasons in one day."