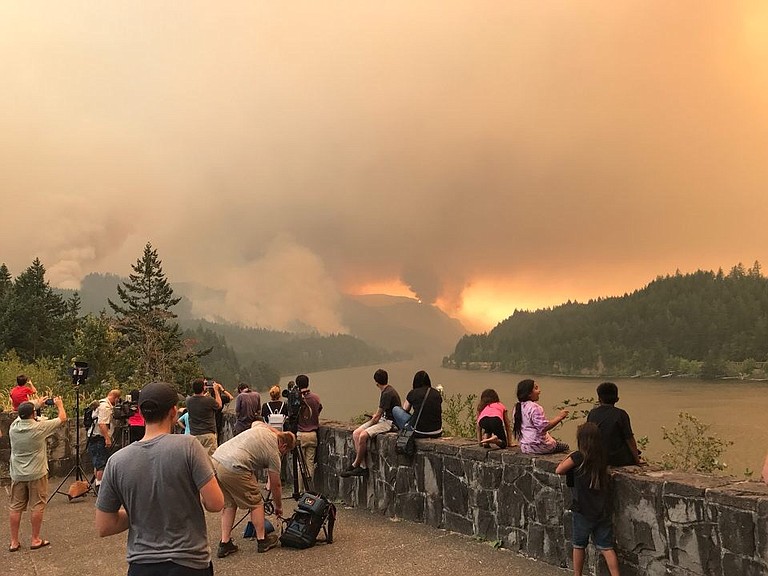 Monday, September 11, 2017
The Eagle Creek Fire saw some growth over the weekend, up to about 34,000 acres, but crews dug in and defended key areas. The blaze is still 7 percent contained.
Evacuation levels have stayed the same since Friday, when Hood River County Sheriff's Office updated evacuation notices to include communities in the west Hood River Valley. (Details listed below this story.)
The fire is holding at the lower edge of Herman Creek and light winds today are expected to blow from the east, pushing the fire back on itself.
Two informational community meetings will be held tonight: 7 p.m. at the Marine Park Pavilion in Cascade Locks, 395 S.W. Portage Road, and 6 p.m. at the Edgefield Amphitheater, 2126 Halsey St., in Troutdale.
Eastbound I-84 will remain closed at least another week.
Interstate 84 eastbound will stay closed for "at least another week," according to Oregon Department of Transportation. Highway 30 remains closed with no schedule to reopen.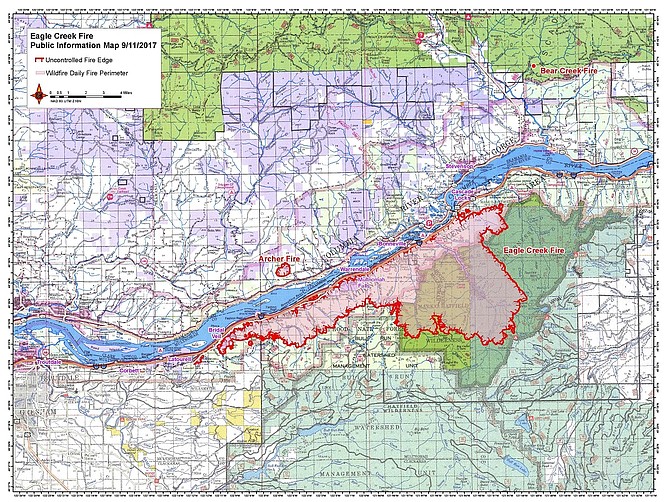 ODOT removed 2,000 trees that were in danger of falling onto the highway. "The biggest impediment to our re-opening of the highway is the threat of falling rocks, most of which are around the Tooth Rock tunnel," ODOT said on Facebook.
The U.S. Coast Guard, however, reopened commercial river traffic on the Columbia River.
Weather conditions appear milder than last week, when the fire made its westward run.
"Air quality is pretty bad through the Gorge right now," Lt. Damon Simmons with Oregon State Fire Marshal's office said, but that's likely because the smoke is "sitting," in the region, not due to increased fire activity.
Crews spent much of Sunday completing a burnout operation to protect Cascade Locks.
Firefighting resources include 24 crews (four Type 1, 13 Type 2, seven Type 2 Initial Attack), 84 engines, 11 helicopters, 38 dozers, nine water tenders, and a total of 979 personnel.
According to a Hood River County Sheriff's Office social media post, Oregon State Fire Marshal crews finished structure protection work in the Level One Evacuation area in the west Hood River Valley. OSFM crews will continue to operate day and night shifts mainly along Interstate 84.
Due to diminished risk to structures, OSFM has started reducing the number of crews assigned to the fire.
Mop-up work continues on the western edge of the fire, as does the endeavor to put in a fire line on the eastern side of the fire in the western forest lands of Hood River County.
"We would like to remind everyone that all forest lands, both county and U.S. Forest Service, are closed west of Highway 35," staff at the sheriff's office said in the post.
•
Evacuation Details:
Hood River County:
Level 3 (Go!): Cascade Locks south of WaNaPa Street.
Level 2 (Be Ready): Cascade Locks north of WaNaPa. UPDATE: The current Level Two evacuation area on the northeast half of Cascade Locks was extended to Viento State Park, staying along the I-84 corridor. This includes the in-lieu site and the whole area of Wyeth. Level Two means that people should be ready to leave at a moment's notice.
Level 1 (Get Ready): Public land west of Highway 281(Dee Highway, Lost Lake area) and north of Mount Hood. UPDATE: On Friday, a new level 1 evacuation was issued for communities west of Hood River: This new Level One area runs from Collins Road in Dee at the south end to I-84 on the north end, and includes all areas west of the following lines: Country Club Road south to Reed Road, running due south to Hwy. 281, continuing along 281 to milepost 12.5, then following the Middle Fork of the Hood River until it comes parallel with the south end of Collins Road.
Multnomah County:
Level 3 (Go!): Warrendale to Bridal Veil, Dodson to Larch Mountain, LaTourell, Corbett east of the 38700 Block of Highway 30.
Level 2 (Be Ready): 38700 Block of Highway to the Sandy River.
Level 1 (Get Ready) Troutdale: east of 257th, north of Stark and west of the Sandy River.
Skamania County:
Level 3 (Go!): Archer Mountain west of Deville Road.
Level 2 (Be Ready): Smith-Cripe Road, Franz Rd, Dim Mill Rd, Archer Mt Rd east of Deville Road.
Level 1 (Get Ready): Mabee Mines Road.
A Red Cross shelter at Skamania County Fairgrounds in Stevenson has stayed open. About 146 people are staying at the shelter, Red Cross spokeswoman Monique Dugaw said Monday morning. More than 100 from Multnomah County are also being served at a shelter at Mt. Hood Community College.