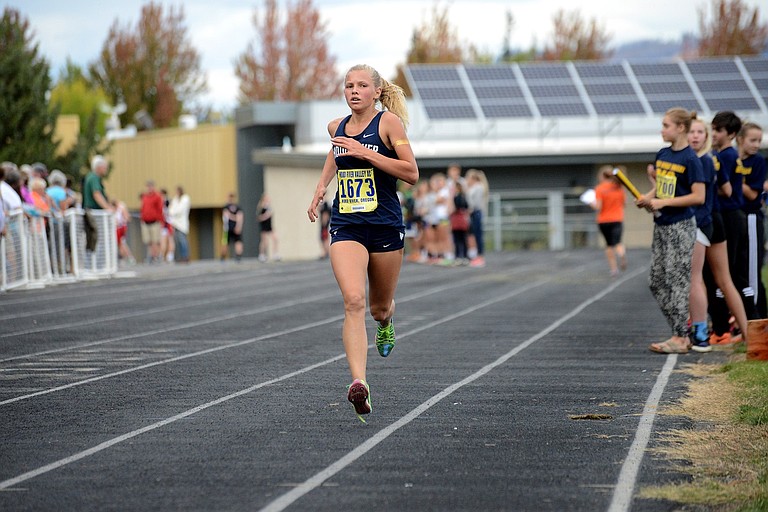 Wednesday, September 13, 2017
After the girls and boys cross country teams brought home second and third place from the Ultimook Race Nike Invitational on Sept. 2, both teams were back in action this weekend as they traveled to Western Oregon University to compete in the Ash Creek XC Festival.
Unlike their first invitational of the season, the Ash Creek Preserve is a course where the dynamics of the race is a flat and fast course.
Heading into this meet, HRV's only options for practice were either inside of the high school or at Snap Fitness, where they ran on treadmills. Some of the athletes even held small practices at their homes for teammates to come to. As you can imagine, preparing for a cross country meet using any of these methods probably isn't the best way.
"We had a challenging week before this race, considering all that's going on," said Head Coach Brandon Bertram. "But with the little preparation we had for this meet I thought the biggest win is that we were still in striking distance despite everything that's been going on."
Out of the 25 teams who competed in the girls varsity 5k event at the Ash Creek XC Festival, the Eagles took sixth place. HRV boys ended in 11th place out of 35 teams in the boys varsity 5k.
Frances Dickinson, a sophomore at HRV, led the girls with a time of 20 minutes and 18.71 seconds, which was a personal record for her and was fast enough to get her placed 16th out of the 190 girls who competed.
Behind Dickinson were junior and freshman Evelyn Nunez and Chloe Bullock respectively. Nunez, in 52nd place, finished the meet in 21:45.62, while Bullock was seven spots behind her with a time of 22:06.10.
Sophomore and junior Eva Jones and Josie Petersen also competed in past weekend's event for the girls team.
Jones and Petersen finished seven places apart, with Jones in 61st place with a time of 22:10.13 and Petersen in 68th place crossing the finish at 22:21.51.
"With the girls team, I saw we had intentions to compete at a high level," said Bertram. "We started off strong but by the time the middle and back end of the race came around, we weakened and that'll be an area we focus on heading into future meets, being stronger on the back end of a race."
On the other hand, the boys were led by senior Braxton Wilson who, in his second XC meet ever, finished in 38th place out of 255 participants with a time of 17:28.23.
The closest Eagle behind him was freshman Josh Haynes who in 47th place finished in 17:43.52. Connor Truax, a senior leader on this XC team, finished in 18:00.29 earning him 64th place.
Finn Peterson and Omar Quintana ended the race in 18:14.34 and 18:54.69 earning them 75th and 115th place finishes.
All finishing below 200 were Muir Emmons, Ben Kaden and Oscar Powell for the Eagles.
"The boys had the same problem the girls had, finishing the back end of the race," Bertram said. "We need to be stronger there come November when the state meet rolls around, and for both the boys and girls the way to improve that is working on team tactics."
Despite everything that has happened leading up to their tournament last Saturday, "this meet was a good opportunity for us because we had never gone to it and it's a showcase for many 5A schools," said Bertram. "We got to see a lot of competition early in the season that we usually don't see until state."
The next meet for the HRV cross country team is the Hood River "Skip Sparks" XC Festival, which is a home meet for the Eagles on Sept. 20.