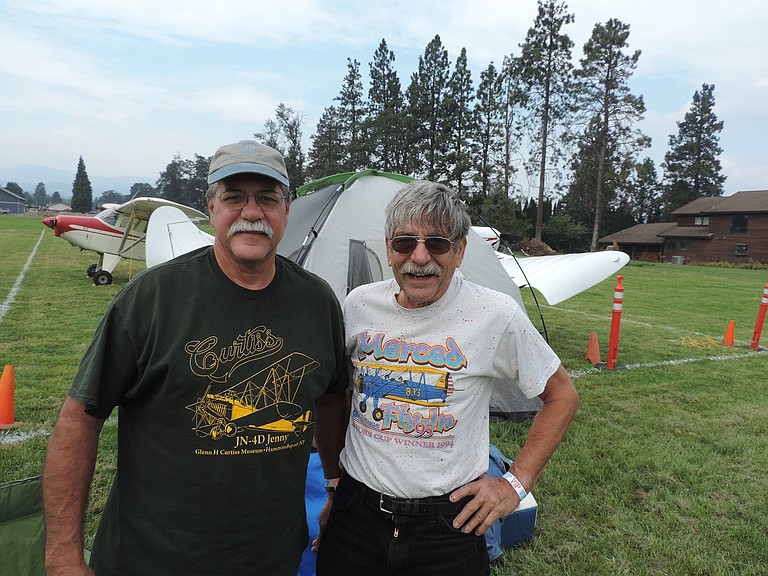 Wednesday, September 13, 2017
To the surprise of no one living here, the Eagle Creek fire had a damping influence on turnout at the Hood River Fly-In.
"But despite the prevalent smoky conditions, everyone who came out to WAAAM had a grand time,' said Fly-In coordinator Ken Olsson.
The Fly-In celebrated the 10th anniversary of the opening of the Western Antique Aeroplane and Automobile Museum (WAAAM) in 2007. Fewer than three dozen airplanes braved low visibility, detouring around flight restriction zones which had been imposed as part of the firefighting effort. With the closure of I-84 both visitors and volunteers faced a more arduous than usual trek from Portland metro to Hood River and many canceled their planned trip.
"We didn't want to miss it. We've come every year, and this is the big one," said Frank Cortright of Yreka, Calif., with the 1917 Curtiss JN-4D "Jenny" on display.
"This is the best Fly-In there is," Cortright said. "In this many years, you're bound to have bad weather.
"We love the Jenny and there was the chance we would see it fly, which is kind of special because they do not do so every year."
"But we didn't want to get stuck, gotta be back by Monday morning," said his friend Vernon Fueston, of Montague, Calif. They thought of flying, but knew how smoky the conditions were. "For two weeks, we've been watching it. At the 11th hour, we said, 'We don't want to miss it, let's drive.'"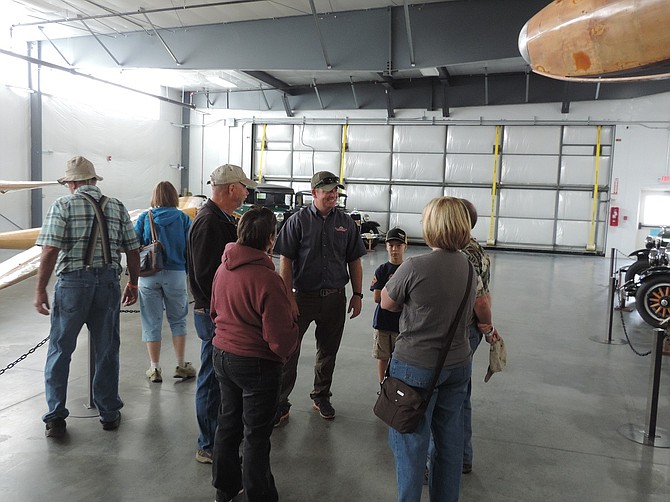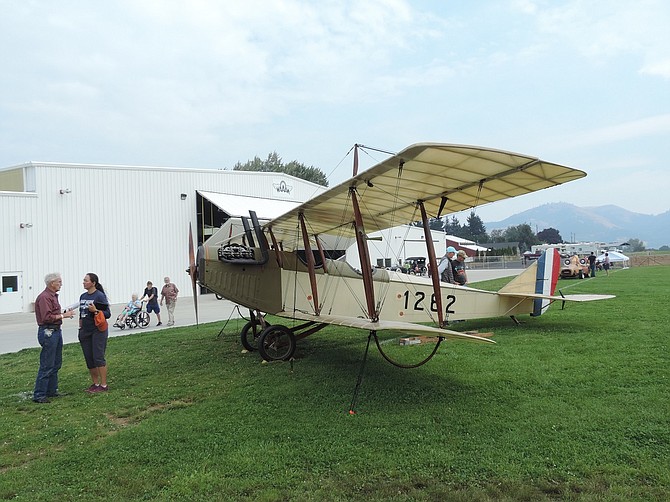 They left behind Cortright's Cessna and Fuesto's Cub Citaborea (aerobatic spelled backwards).
One of the arriving airplanes came to Hood River to stay. The 1928 Boeing Model 40 that has been on display in the museum over the past several winters flew in Friday evening to take residence as a permanent part of the WAAAM collection.
The museum's the crown jewel is the "Jenny," now 100 years old. At 10:30 a.m. on Sunday, Museum Founder Terry Brandt, flying the "Jenny," led a flight of four antique biplanes in several laps around the airfield. The other airplanes in the flight were a 1925 Waco Model 9, a 1927 Swallow and 1929 Command-Aire. All four biplanes are powered by 90 HP Curtiss OX-5 engines.
Olsson and Museum Director Judy Newman agreed that this impeded Fly-In was not unforeseen. "You can bat a thousand for a while, but eventually the law of averages catches up with you," Newman said.
The Car Guys brought out antique cars and offered rides to guests. Among the cars were the 1917 King Eight, this year's 100-old car, and Eric Gleason's 1918 Stanley Steam Car, next year's centenarian.
Airplane Judging Awards
Home Built —Vans RV-7A, Dan Delano; Warbird — Cessna U3A, James Ostrich; Classic, Cessna 182 — Terry LaRue; Antique, Piper J5A — Glen Marshall; Biplane, Waco-UPF-7 — Kevin Kreiter; People's Choice, Globe Swift — Hank Puckett; Grand Champion, Stinson 108-1 — Cliff Schrock.
Starting a Curtis Jenny at WAAAM Fly In