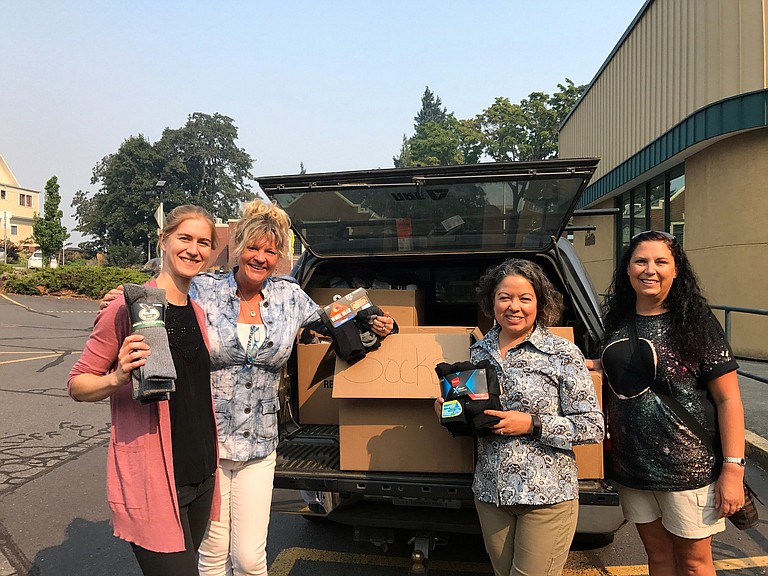 Originally published September 15, 2017 at 1:54 p.m., updated September 15, 2017 at 1:54 p.m.
Hood River News received a generous outpouring of goods from community members and businesses this week in its sock drive for Eagle Creek firefighters.
Donated socks filled not only the donation barrel set up at the News' front office, but also multiple boxes and bags, all brimming with donations. The News staff estimated they received well over 1,000 pairs of socks.
There are almost 1,000 firefighters assigned to fight the wildfire.
Because the sock need has been met, representatives at Unified Command now recommend that donations include food that will boost energy and morale, such as:
Jerky
Energy or granola bars
Trail mix
Ziplock bags (sandwich size)
Pistachios
The News will continue to pick up and deliver limited supplies of food to incident command for dispersal.
"The fact that everyone wants to help in some way is a tribute to where we live — we're fortunate to be in such a supportive community, whose members enjoy giving back," News Publisher Chelsea Marr said.
"That said, another way of doing so is to support our local businesses. They've all experienced a downturn in activity these past few weeks, as freeway traffic came to a halt because of the fire. Please show them you care by shopping and dining locally."
Our heartfelt thanks,
-Hood River News Staff