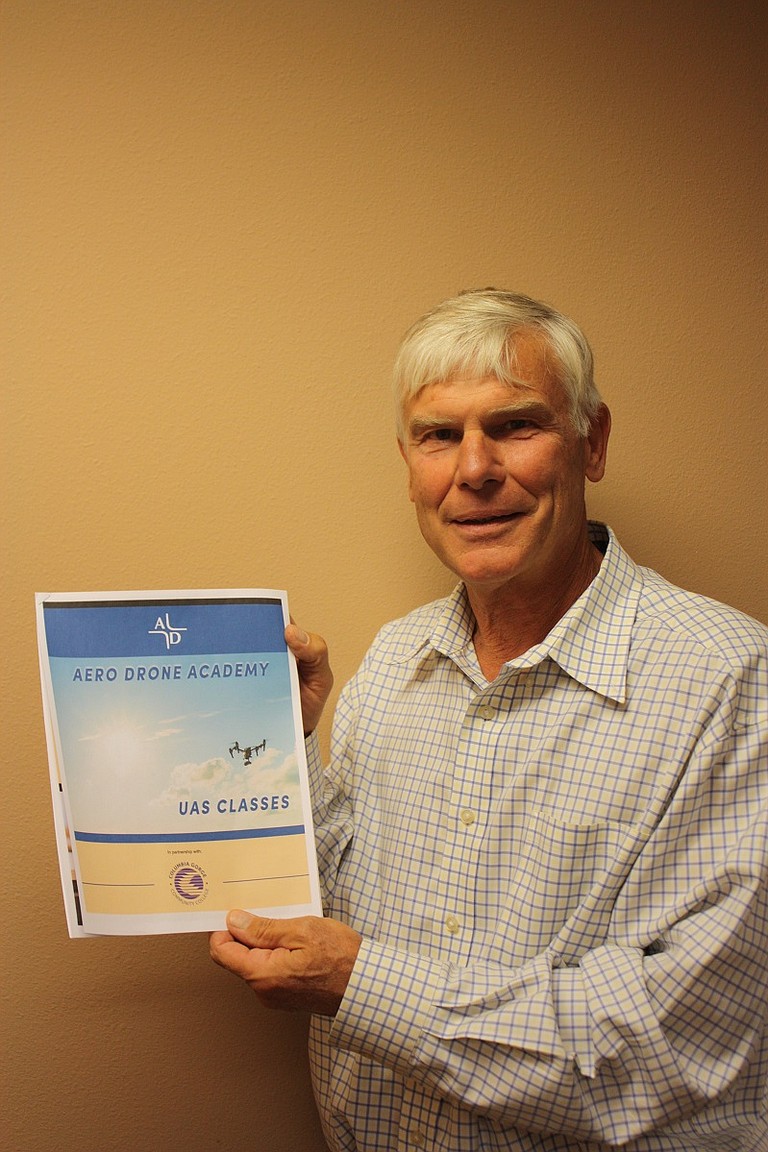 Saturday, September 16, 2017
Tygh Valley is becoming a little bit more of a "Mecca" for drone activity in Oregon. A growing startup business — Tygh Valley-based Aero Drone Corporation — is opening a new front in its operations with a plan to create software to help manage fleets of drones.
Aero Drone's software division is led by Russell Hargrave, a longtime Mosier resident who joined the company as president and CEO in May. According to Hargrave, the business wants to be the market leader in fleet management software and services.
"Our intention will be to sell to the market today, but to focus on the market for tomorrow, which will be mostly fleets," Hargrave explained.
Hargrave, who has lived in Mosier for the past 27 years, has vast experience in the technology field. He previously served as information technology (IT) director for software giant Intel, and brings more than 25 years of IT management and development experience to the business.
"My whole background is software development and IT," he explained.
The company's owner, Mike Davis, founded Aero Drone LLC in February of 2016 as a drone training and flight services business. He just started the software side of the business in May of this year, changed the company's name to Aero Drone Corporation, and then brought Hargrave in to run it.
"Aero Drone is going into software in a big way," Hargrave said. "That's where we're aiming — not just to fly drones, but to manage the business. We will write the software or partner with others."
"I'm thrilled to have Russell Hargrave lead Aero Drone as our new president and CEO," Davis said. "Russ' background in IT and data-centric vision for Aero Drone deepens our reach and participation in the frontier drone market. Our ability to develop software and data solutions in response to our first-hand experience flying drone missions and training FAA-certified UAS (unmanned aerial system) pilots allows Aero Drone to provide real solutions for drone professionals in the field today, and prepares our company for a future where fully autonomous flight is standard."
Aero Drone currently has five part-time software developers, who are based in Hillsboro, and seven drone pilots working in Tygh Valley. In Tygh Valley, Aero Drone has the advantage of operating in "Class G" unrestricted airspace, which provides the company with nine square miles of airspace that are ideal for training and testing drones.
Hargrave pointed out that the UAS market is moving swiftly. Because of industry changes and evolutions, he described the software currently being used in the drone industry as "disjointed."
"Our advantage, compared with other software makers producing products to solve real-world drone management problems, is that we are actively competing in the drone flight service industry," Hargrave explained. "This means our developers don't need to guess what capabilities are needed and what the requirements are."
Sherry Bohn, business operations manager for the fledgling company, said Aero Drone software packages will enable companies to manage fleets of drones "safely, reliably, securely, and profitably." The company's software will be programmed to automatically capture, store, and analyze flight and maintenance data to ensure the client's drones are complying with applicable policies and regulations.
Hargrave said Aero Drone is currently developing two "proof of concept" (POC) software programs.
"To get funding, we're introducing POC software to show our software capabilities," he explained.
One program is being designed to ensure a specific drone's pre-flight screening checklist is adhered to.
"We'll offer a customized checklist," Hargrave said. "The software can prevent someone from flying if they don't do the checklist. You have to go through it or it won't let you fly. That ensures the customer has its individualized checklist gone through."
According to Hargrave, the second software program offers "field data acquisition."
"Which essentially is a field cloud to allow data to be sucked off the drone while it is in flight, rather than having it land so a memory stick can be switched out of it before it goes up again," he explained.
Hargrave is confident investors will be found who will be able to help Aero Drone fund its software development plans.
"I am optimistic," he said. "We have an established business with flight services training and consulting, and have proof of concept. We're credible, have a position of authority in the business, and have very senior developers. These are people who have worked 10 to 20 years, and the challenges (with creating the new software) are no bigger than other things they've faced."
Hargrave said Aero Drone intends to create programs that will fit with different styles and sizes of drones.
"Our software should work really well across all types of drones; whatever's out there," he said.
Hargrave envisions drones becoming increasingly versatile and sees companies greatly increasing the number of drones they use, as well as expanding their uses.
"I see it as a trend," Hargrave said. "It's very important to intercept the market that's there, and design for the future. What is around the corner are drones that are vastly more useful. The business will explode, and it's already exploding. That's another reason I'm optimistic about funding. It's a target-rich zone."
Hargrave said he already has plans to meet with three different "angel" investors later this year.
"We're also open to finding someone who wants to get more personally involved, someone excited about drones rather than just the next investment they are going to make," Hargrave added. "We're putting together the collateral we'll need to convince them. I'll be talking to potential investors in the fourth quarter of the year, starting in October."
Hargrave said he believes finding investors in the Northwest is the best approach for Aero Drone as it moves to make a big splash in the drone software market.
"We'll build on what we know and who we know," Hargrave said. "I've been around this game for a while. Oregon is rich with innovators and innovation. I'll be surprised if we can't find someone in Oregon, Washington, or California. I like Oregon, and I'm going to start right here."