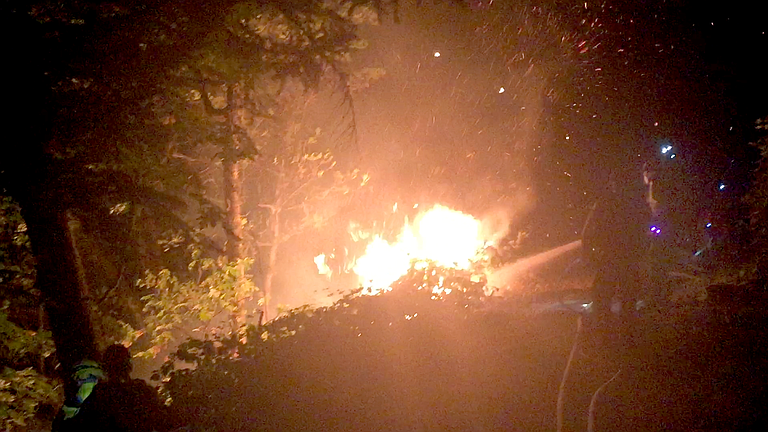 Saturday, September 16, 2017
Moments before a small fire broke out along Indian Creek Trail on the Heights Tuesday night, a caller told Hood River Police a group of juveniles were using fireworks.
The fire — estimated at less than two acres — burned between Third and Fifth streets, just south of Pine, on Sept. 12 and was reported at about 10:30 p.m.
Local, state and federal fire crews were able to control and knock down the fire within an hour.
Police said the exact cause of the fire is unknown. However, a citizen called authorities and reported multiple juveniles in a dark colored pickup truck had stopped near Horizon Christian School on Pacific Avenue and shot off aerial fireworks. The call was made about five minutes before the fire was reported.
Hood River Fire Captain Manuel Irusta said the fire burned just below the trail and extended about 100 feet down toward the drainage.
"No damage was done to the trail. It was closed during the event through mop-up, but reopened at noon on Sept. 13. Several hazard trees were removed near the trail," Irusta said.
The fire was a hundred percent contained at 3:30 a.m. Crews finished mop-up and knocking out hot spots at noon the next day.
Officers and deputies from the Hood River Police Department and Hood River County Sheriff's Office notified nearby residents of the fire, but there were no evacuations.
As of Friday, Hood River Police have not publicly named any suspects or made arrests in the case.
If anyone has information about the fire's cause, please contact Hood River Police Department Detective Anthony Frasier at 541-387-5257.
About a dozen agencies responded the incident, including Hood River Fire, West Side Fire, Wy'East Fire District, Parkdale Fire District, Cascade Locks Fire, Mid-Columbia Fire (The Dalles), Oregon Department of Forestry, U.S. Forest Service National Scenic Area, Hood River Police Department, Hood River County Sheriff's office, City of Hood River Public Works and Pacific Power.