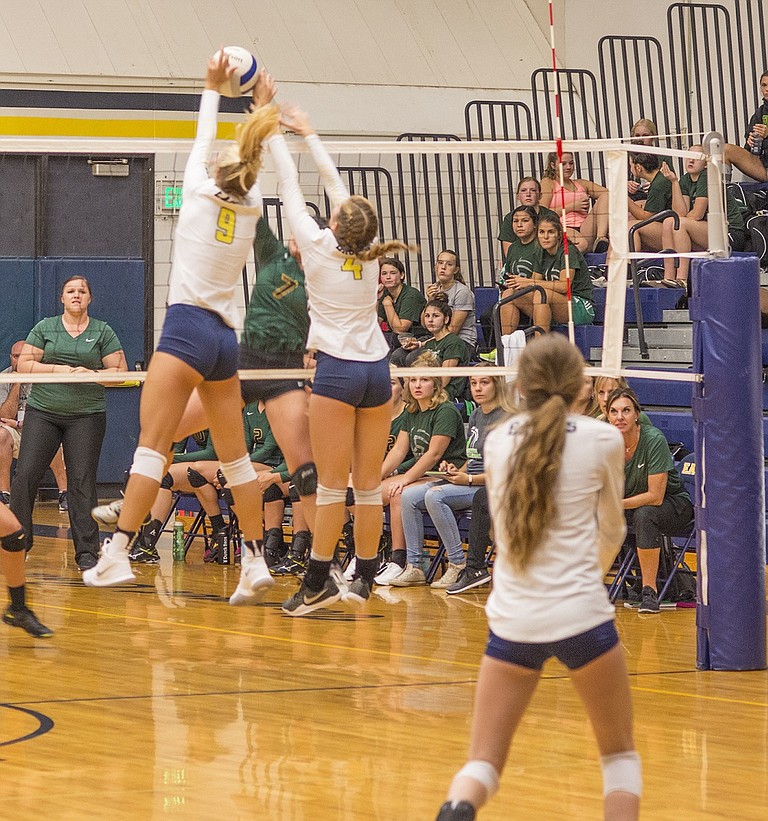 Saturday, September 16, 2017
On Tuesday, Sept. 12, the Eagles opened league play against their conference rival from Pendleton.
The HRV volleyball team started the season 2-0, but in their last four games they've gone 1-3, with their most recent loss coming at home against Pendleton.
The Buckaroos came into this game 4-0 and had yet to lose a set during regular season play this year, and that didn't change after their matchup against the Eagles.
"We just made too many mistakes against Pendleton," said Head Coach Scott Walker. "Our hitting, serving and setting errors really did us in."
Pendleton won each of the three sets by a score of 25-22. The score appears to show that the Eagles played well, but a score never tells the whole story.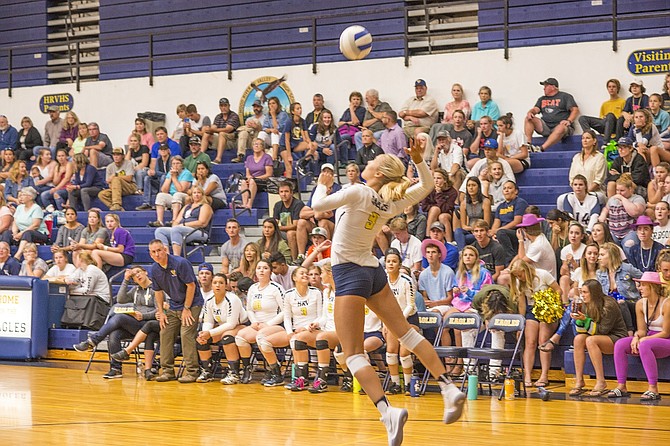 Out of the 136 kills attempted by the Eagles, only 36 of those were successful kills, while 25 were errors.
On aces, HRV attempted 66, but only four were successful and 10 turned into errors.
Lastly, the team had a total of 33 assists with only three errors, but this was on 143 attempts.
Although there's a lot of things that didn't go right for the girls on Tuesday, Walker explained that they were still able to take a positive out of this game.
"We passed much better than we did last Saturday against Thurston. Our goal is to pass a 2-plus percent on the game and against Thurston, we passed a 1.28, which is really poor," said Walker. "But on Tuesday we passed a 1.84, which is a good sign for us moving forward."
Katie Kennedy and Shae Duffy led the team with 12 and 11 kills respectively against Pendleton.
Ace leaders were Kennedy, Duffy and Emily Curtis. Kennedy had two for the night and the two others had one.
With a total of 19 assists, Hannah McNerney led the way for the Eagles and behind her was Curtis with 14.
The Pendleton game wasn't the showing these girls hoped for in their first league home game of the season, and planned to get things back on track Thursday, Sept. 14 against Columbia.
However, with an announcement that came around noon on Thursday, that school would be cancelled two hours early it meant that volleyball would have to cancel their game against Columbia and postpone it until a later date, which is to be announced soon.
As of now, the girls will travel to Century High School this weekend for a tournament.
Teams from 4A, 5A and 6A will be at this tournament, including: Forest Grove, North Salem, Madison, Woodburn, Corbett, and North Eugene.
The only team heading into this tournament with a winning record is North Eugene, at 8-0 overall.
Forest Grove is currently 2-6, North Salem 1-9, Madison 2-5, Woodburn 0-5, Corbett 1-3, Century 0-6, and the Eagles at 2-3.
The Eagles opening opponent for this tournament has yet to be determined.
After this weekend the Eagles will play the Hermiston Bulldogs (2-4) at home on Sept. 19. Two days later they'll travel to The Dalles (1-3) for their first matchup against the Riverhawks this season, game time is scheduled for 6:30 p.m., but fires could possibly postpone it.