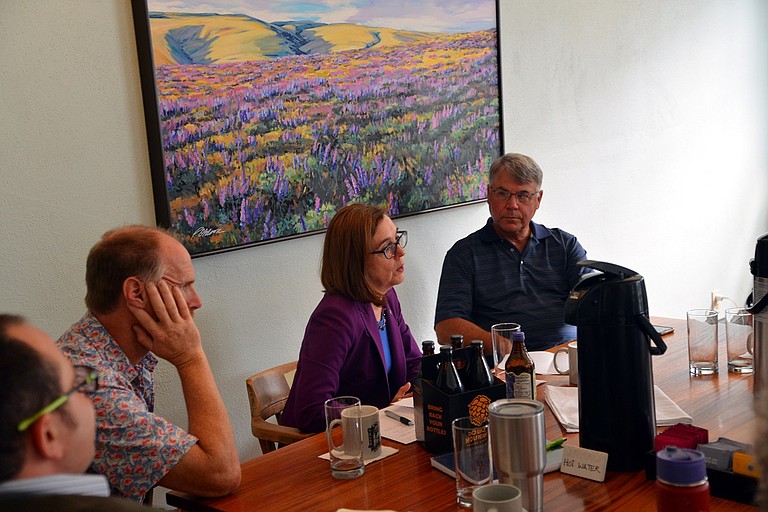 Originally published September 16, 2017 at midnight, updated September 16, 2017 at midnight
Businesses go through numerous challenges in any given year and many of those are things that they can prepare for. However, the fire burning throughout the Gorge is not one of them.
Fire and heavy smoke surrounding Hood River have forced many local businesses to unexpectedly reroute shipments and accounts for delays and a decline in customers.
Local businesses Good News Gardening and Hood River Hobbies are two that have been experiencing difficulties.
For 36 years, Good News Gardening has been responsible for bringing life into the gardens and patios across town. But owner Rhea Hergenrather said that right now, "these fires are trying to take the life out of us.
"As any open-air business, we depend on the good old Hood River air for our garden," Hergenrather said. "But as of now, we don't have that."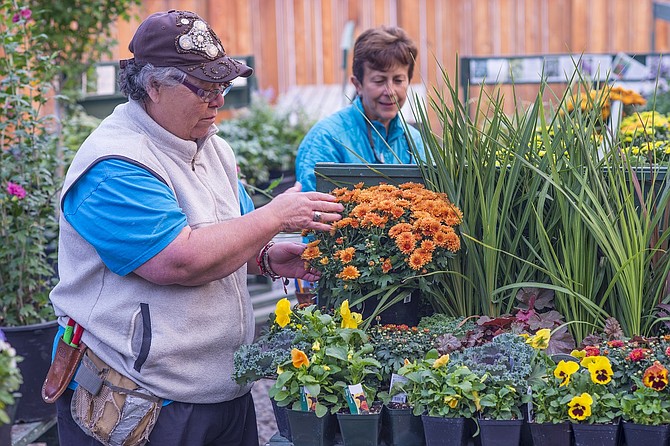 Although for Hergenrather and her business, air quality affecting the garden isn't the main issue for her business; it's customers and employees.
"Our biggest issue is that our employees and customers don't want to be outside working and talking when there is a thick cloud of smoke in the air," said Hergenrather.
And because of that, she's seen more people leave work and fewer people come in because of the smoke. When asked about her customer numbers this week, she
jokingly put her answer in perspective: "There are customers?"
Shipping has also been a huge issue for this business as truck drivers have had to "go the extra mile," Hergenrather said. "Shipment has been challenging, to say the least, as our drivers have been travelling the long way around the mountain, and luckily for us, our shippers have been doing everything they can to get here with fresh produce."
The fire prompted the closure of Interstate 84 between Hood River and Troutdale, with U.S. Highways 35 and 26 offering the main commercial truck route as an alternative.
However, if drivers are late with shipments, Good News Gardening is fortunate enough that these fires began near the end of their produce season, as much of their own garden produce was ready for use.
In some ways, these fires have helped the garden rather than hurt it.
"Right before the fire, it was really hot outside and our garden didn't need all that heat towards the end of the season," Hergenrather said. "But the smoke shaded our garden and cooled it down. The ash from the wood fire also is helpful as it has vital nutrients for crops."
But the fire is doing more damage than good, and like many of the other businesses across the county, Good News Gardening was unprepared for these turns of events.
"This isn't something you can budget for. When things like this happen, you have to just figure things out one step at a time," Hergenrather said. "And that's what we're trying to do."
Miko Ruhlen, owner of Hood River Hobbies, also expressed concerns about where her business currently stands in the wake of these forest fires.
"We are definitely seeing a decrease in business this September as our sales are off by 20 percent compared to prior years," said Ruhlen.
This time of year, Ruhlen's business is typically packed with tourists, as people come into Hood River Hobbies looking for outside toys to use and take advantage of in the nice weather, but the smoke outside has put a halt to any of those activities.
However, even in a time when tourism is a huge part of business for many companies, local customers are still doing their part.
"We are fortunate that we have a lot of local customers and a small staff," said Ruhlen. "Our after-school programs are also doing very well and are probably helped somewhat by the smoke as people look for indoor activities."
Similar to many of the other businesses in Hood River, Hood River Hobbies is also experiencing shipment troubles due to the highway closures.
"We have some big gaming events coming up and are concerned that we might not see products in time for the events, as closures have negatively impacted our ability to meet special order requests," Ruhlen said.
Despite the decline in business, Ruhlen and her staff are doing what they can to help the community.
"We have seen a reduction in tourism and a reduction in local traffic, but we also feel the stress from our friends and neighbors and are doing what we can to help them store things and prepare for evacuation," Ruhlen said. "We are deeply concerned about the impacts to the natural areas of the Gorge."
From the ice storms in the winter to the fires that burn throughout the Gorge today, this has been a difficult year for many local businesses and the people in Hood River. Despite these challenges, there are continued efforts around the Gorge to stay strong.